Back to blog
Top 10 Team Collaboration Articles Of 2019
on 19 December 2019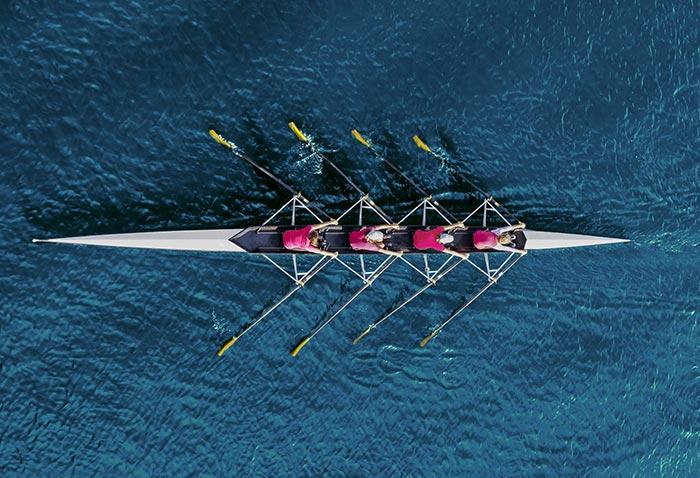 It's near year-end, which means it's time to reflect. Team collaboration was a hot topic throughout 2019—in fact, a Google search on the term for the past year returns nearly 500 million results!
Here at Glasscubes, we're all about helping teams collaborate better. A productive team is a happy team after all. That's why we curated 10 team-focused articles below you can use to help your team collaborate better in the new year. Enjoy!
The 10 Best Glasscubes Articles On Team Collaboration
If you don't read any other article on team collaboration, make this one a priority—and bookmark it! From hiring to company culture to motivation and team building, this article covers all the facets of remote work and how to manage your team across different geographies and time zones. Get tips on overcoming collaboration barriers, bringing your team together, keeping them on the same page, and getting work done successfully.
Soft skills help you manage your team and keep them on track, but business today is too fast-paced to rely on these alone. That's where technology comes in. Numerous tools and solutions are available on the market for you to implement in your organisation to streamline your team's workflow. And this article gives compelling reasons on why you should take such an approach.
Speaking of productivity, are you clear on how to measure it? In this article, experts share their methods for measuring efficiency. See if there's an approach you haven't used before. Then check out their recommendations on improving efficiency, and try a few out for yourself.
Communication is foundational to success—particularly when a workplace is virtual and your team is spread out across the globe. Check out this article for tips (like muting your mic on calls) and tools (like screensharing solutions) that will help your team communicate more effectively with one another when they're not just a cubicle away.
Looking for tech solutions that support collaboration? This article covers nearly a dozen collaboration tools across four categories: project management, communication, file management and file sharing, and general team management. Users of these tools share how and why they use the solutions in their business.
Technology is a key part of effective team collaboration. In fact, it's so important, here's another article on tools you can implement in your team's workflow. These tools run the gambit from calendars to signature solutions to browser extensions that help you save time. There's bound to be something in the list that piques your (or your team's) interest. Try one out!
Microsoft Teams, Slack, and SharePoint are three common solutions teams use to communicate. Users compare and contrast each solution, providing benefits and drawbacks within the context of their organisations. If you're considering one or more of these solutions, this article will help guide your decision.
We mentioned above how important communication is for team collaboration. It's often helpful to create a communications plan that details how your team will interact with one another and in what ways. This article provides a template on creating an internal communications plan with a few key sections. Use it to ensure your team is communicating in an organised fashion.
While there are many benefits to forming cross-functional teams, doing so doesn't always work out well. Experts who have led cross-functional teams share their experiences to give you a sense of what to expect and how to make the best of the situation.
After reading the preceding article, you might be cautious about forming a cross-functional team. If you do decide to give it a try, here are several approaches you can take to set them up for success.
Upgrade your team collaboration efforts in 2020 with Glasscubes.
Glasscubes was designed to help small businesses and teams work together seamlessly—without having to wait or depend on IT for setup and support. It helps you keep work organised and team members on the same page.
Our solution acts as your go-to collaboration hub for getting work done efficiently. Never miss a beat when all your teammates are just a threaded discussion away. Ensure everyone is on track for success with task management features that help everyone be in the know about who's doing what and when. Give everyone their own space with unique workspaces you can spin up whenever you want—for whatever you want.
With Glasscubes, you can:
Store and share files in a secure location, complete with automatic version control. You can even create approval workflows and view clear audit trails of user actions.
Assign and manage tasks for different members of the team, and track them to completion.
Create customised workspaces for each project team in your portfolio. Team members can share resources and communicate with one another in their specific workspace, and you can access them all for easy oversight.
Glasscubes is your best bet for making 2020 your team's best yet. Start your free trial today.