Back to blog
Microsoft Teams vs. Slack vs. SharePoint: Users Weigh In
on 16 July 2019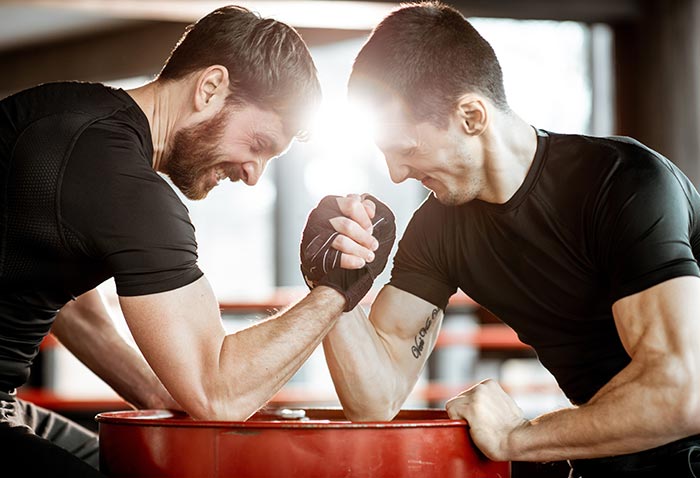 Microsoft Teams vs. Slack
Microsoft Teams vs. SharePoint
SharePoint vs. Slack
These three collaboration tools have been pitted against one another since their debut in the market. We previously put together a detailed post on Microsoft Teams, but how does Teams compare to its biggest competitors in the market—Slack and SharePoint? Check out the input below from past and current users of the platforms to see which one comes out on top in different business contexts (and which collaboration platform is giving these giants a run for their money!).
Microsoft Teams vs. Slack
First up in the comparison is Teams against Slack. Here's the scoop from Olga Mykhoparkina of Chanty.
Mykhoparkina has used both platforms separately and in conjunction with one another. Of the two, her preference is Slack. She appreciates how many more integrations Slack has compared to Teams, and how easy it is to set up. Teams can take a full day to get going, and in some cases setup may even require assistance from the IT department.
From her experience, she also finds Slack to be more intuitive than Teams, and its usage more widespread. "Most of the teams I work with use Slack, so considering that and the great integrations it was a natural choice for me."
SharePoint & Slack
Martin Cozens of Banc pairs both SharePoint and Slack at his company. His team uses Slack for project collaboration, team messaging, company announcements, and status updates. "We also use it to share articles among the team and to just let off steam through personal conversations. Slack's communication features and intuitive, user-friendly design fits the pace and culture of our business."
On the other hand, Cozens' team uses SharePoint for sharing project files, enabling team members to edit documents with coworkers and external parties. "This centralises the most important tasks in one place, which streamlines the collaboration process. Overall, both Slack and SharePoint are essential to running our operations smoothly."
Microsoft Teams vs. SharePoint vs. Slack
Many people have had experience with all three collaboration tools; here are a few who weighed in on the strengths and weaknesses of each.
A Clear Winner
Rob Black of Fractional CISO has clients who use one or more of the three collaboration tools, so he has user experience across the board. For context, his company works in an advisory capacity, which means communication is the most important aspect he looks for in a collaboration tool.
Based on his usage of all three tools across clients, he favors Slack over Teams and SharePoint. The aspects he most appreciates about Slack are:
Different channels for communicating.
Desktop and mobile apps that handle notifications well.
Convenient features for sharing data, such as providing a website preview when sending a link.
However, there is one area where he feels Slack is lacking, especially since he has multiple clients: It doesn't clearly inform the user as to which Slack instance a new message is for, and which thread is relevant when clicking the notification. "Managing files over time could also be improved. If you send a file in a Slack channel, there isn't really a way to have it point to an updated file."
Black says that every organisation he works with that uses SharePoint has numerous complaints, all of which tend to be rooted in SharePoint's dependence on folder structure. (Tweet this!) Even though organisations set up their own folder structure, "over time, folders lose their alignment with the business' needs. Unfortunately, this structure is very hard to change, making it difficult to find documents quickly."
He also calls out that, like the folder structure, SharePoint permissions are challenging to manage. For example, when someone uploads a file into a folder, it isn't always immediately visible to the appropriate users. "We have to do virtual gymnastics to get the other members of the folder to be able to see the file."
As far as Teams goes, Black says, "I wouldn't wish [it] on my worst enemy." One big issue he points to is configuration. It took four man-hours and multiple phone calls over a two-week period to get things set up properly, resulting in what he refers to as a "horrible onboarding experience." Even after getting set up with Teams, he found its user interface unintuitive.
Overall, he finds Slack to be the best of the three platforms, though he's still searching for a solution that does everything he needs.
Evolution Sometimes Requires Change
Matthew Fox of Valiant Technology has also used all three collaboration tools in some capacity. When he led a development team, he used Slack as a communications hub. His team's development environments and various systems regularly reported activity to Slack, which provided the team with centralised status updates and performance information. "This, combined with a Slack bot to automate daily standup meetings, streamlined communications and kept everyone on the same page with very little effort, freeing up more time to focus on improving our products."
Despite using Slack for two years, after Microsoft released Teams, Fox's team decided to reassess their collaboration tools. The newer platform allowed video calling for multiple users, which his team found extremely useful, along with several other features that suited their needs.
Though Fox notes that both Slack and Teams address most of his team's communication needs well, Teams had more to offer. In addition, they were considering using SharePoint, so Teams was a natural fit given that both are part of the Microsoft Office 365 ecosystem. "Teams paired with SharePoint offers a much richer collaborative experience than Slack. If you're already an Office 365 subscriber, the decision to use Teams over Slack is an easy one."
Different Tools For Different Things
Kerry Rosado of Microsoft is a rare case. "I actually use all three tools in my daily work as a program manager. Each has a different purpose." She uses Teams to connect quickly with her manager or other team members, and join conference calls. With SharePoint, she shares files with her team; she finds the platform especially useful when multiple team members need to contribute or make changes to a document. Lastly, she uses Slack to connect with anyone who isn't necessarily part of her team or internal Microsoft network.
When it comes to Microsoft vs. Slack vs. SharePoint, Glasscubes is the surprising winner.
While not as well-known as the top players in the market, Glasscubes is steadily being discovered by organisations looking to handle all their collaboration needs with one tool. The platform is your go-to collaboration space for ensuring your teams are always on the same page—whether they're a cubicle away or spread across continents.
Centralisation is a prime aspect our solution takes to heart. You can keep everything—from files to discussions to tasks—in one location so nothing gets lost. Plus, everything is indexed, meaning the information you're looking for is just a search away. The interface was designed with easy usability in mind.
With Glasscubes, you can:
Store and share files in a secure location, complete with automatic version control. You can even create approval workflows and view clear audit trails of user actions.
Assign and manage tasks for different members of the team, and track them to completion.
Communicate practically anywhere through threaded discussions on the general message board, on specific files, on assigned tasks, or through instant messenger.
You can get Glasscubes up and running in a matter of hours—no training required. So request a guided demo of Glasscubes today and give your organisation the collaboration boost it needs!
Want to see how Microsoft Teams compares to Skype for Business? Check out the features users love—and learn which use cases work best for each platform—in this article.