Back to blog
Working With Remote Teams: The Ultimate Guide
on 18 August 2020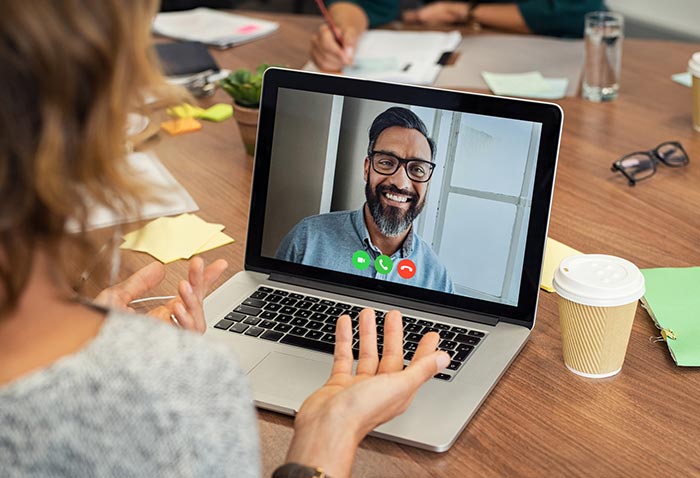 Remote teams have become a norm in the business world. Whether they are hybrid—partly remote, partly onsite—or completely distributed all are part of companies that have embraced the idea that work isn't limited to a downtown office building, no matter how shiny its windows may be!
Why have remote teams become so popular?
Allowing for remote work provides greater opportunities to find the best talent. More than 70% of today's full-time professionals work remotely at least one day per week, according to a 2018 study, making this a standard expectation for their next employer.
Building a remote staff increases worker productivity. Many studies indicate that professionals who spend at least part of their days working from home are happier and more motivated.
A largely telecommuting staff decreases operational overhead and real estate costs.
While managing remote teams is similar to managing onsite ones, there are some unique challenges to consider. (Tweet this!) We've organised these into four main chapters. You can tackle each in your own time. Just remember to bookmark this page so you can easily refer back to it later!
Chapter 1: Hiring Remote Workers—The Ins & Outs
The move toward hiring remote staff has given businesses all over the world a greater degree of flexibility. It's now possible to build a team that is effective and cost-efficient without housing everyone under one roof. However, the idea of hiring remote staff can be daunting for anyone doing it for the first time. Thankfully, there are some easy tips that will guide you smoothly and painlessly through the hiring process.
1. Confirm Each Candidate's Ability To Work Remotely
Not everyone is able to work effectively outside the office. Some workers are easily distracted by personal matters when working at home, or other people when working in a public place. Alternatively, the lack of a traditional work structure can negatively impact performance, especially for those who have never worked remotely before.
Combating loneliness is another concern, according to Alex Robinson, HR Manager at Team Building Hero. "Loneliness is one of many unique challenges to working productively away from the office. Someone inexperienced may not be able to overcome these obstacles, so it is safer to hire someone with a good track record. If you want to move forward with a candidate who is new to remote working, then consider short term 'test projects' to evaluate their ability to stick to deadlines, work efficiently, etc."
2. Use Video When Interviewing
Traditionally, the last step in the interview process is meeting face-to-face. That may not be feasible if the person is located far away, which means you'll miss out on that in-person connection.
Video conferencing is the next best thing. Markelle Harden, chief content coordinator at Classy Inbound, notes that having multiple video meetings enables you to gauge body language, availability, punctuality, and the candidate's work environment, which means the meetings don't need to be long or in-depth. "While prior remote work experience is always a plus, it's still not a guarantee that your candidate is flexible when scheduling meetings, punctual, or distraction-free during meetings."
3. Look For People Who Can Work Together
Just because a remote team doesn't sit together doesn't mean they don't have to work together. Indeed, team collaboration can be even more important when everyone is far apart. The right tools can help bridge geographical gaps, but you also need to consider how suited individuals are to working solo and with others.
Patricia Barnes, owner of Redheaded Patti, shares how she determines whether candidates are a good fit: "Host a final interview with each of your top candidates and other members of the team to see how they work together. This chemistry is possibly the most critical factor in choosing a new member of a remote team."
4. Be Aware Of Time Zone Differences
Going remote means your recruiting is not limited by distance, and you have the chance to access skills that might not be readily available closer to home. However, this also presents factors you don't have to worry about with an on-site team, such as time zone differences. To prevent communication delays, you may try to avoid hiring a new team member who operates in a time zone that's too different from your own or the majority of your team.
In some cases, though, this may not be an issue. For example, your remote team may already be scattered around the world and is accustomed to working at different times. Similarly, your team may not have work that requires a lot of synchronous activities or real-time responses. Also, some remote workers are flexible enough to adjust their working hours to better fit those of the team, making their time zone less of an issue.
5. Consider Cultural & Language Differences
Working with people from different countries naturally presents cultural and language differences, which can add complexity to remote teamwork. For example, will everyone be able to communicate with each other smoothly and comfortably? Is there a common language everyone must know fluently? What differing cultural norms must be considered by all team members?
Still, it can be beneficial to have a multicultural or multilingual team. This can open new possibilities in terms of breaking into foreign markets and uncovering new ideas. It can also help identify better ways of working. But to ensure these differences don't hinder teamwork, you'll need the right tools in place—ones that focus on making communication seamless.
6. Consider Bringing On Contractors
The allowance for remote work can also extend to non-employees. Some efforts require specialised skills you don't need on an ongoing basis. For example, you might need an accountant to crunch the numbers for constructing a new manufacturing plant. Or you may want to revamp your company's website and need a web developer. Whatever the situation, seeking a remote contractor or consultant could fit the bill as a temporary resource.
And while you can often find these resources through the typical methods, such as job boards, there are many sites aimed at connecting third-party freelancers and agencies with clients. Whatever your approach, there's less commitment involved with engaging these types of resources. Plus, their role may not require team interaction, which removes another layer of complexity.
Once you have a remote team assembled, how do you build the sort of company that keeps them together? Keep reading for tips on developing and sharing your company culture with remote workers.
Chapter 2: Company Culture—The Greatest Challenge For Remote Teams
Company culture refers to the shared traits, behaviour, and values within a company, such as how people communicate, manager-employee interactions, and how the staff treats customers. A company's culture is exemplified in even small, daily interactions—chats with co-workers at the water cooler, shared lunches, informal meetings with a manager, etc. It's developed from the top down. In other words, management sets the tone for the rest of the organisation.
Unfortunately, since remote workers can't experience these aspects first-hand, it's hard to communicate them—especially if the workers are fully remote. But here's a few things you can do to change that.
1. Judge All Team Members Equally
When only part of your team is remote, you spend time in person with the remaining part of your team. This can sometimes lead to bias, even if you're not aware of it. It's only natural to connect more with people you see face-to-face frequently versus someone you only communicate with occasionally via phone or video.
However, it's important to check any bias you have when it comes to how you treat each person on your team; otherwise, remote team members can form a very different picture of your company's culture compared to on-site staff. David Chaudron, managing partner at Organized Change, shares one objective approach to preventing this. "Set clear performance metrics that are consistent across the team, yet still reflect their individual situations. All team members can then strive for excellence fairly and form a more cohesive image of your company's culture."
2. Find Ways To Mirror In-Person Practices
We often take for granted the little things we do in person that we don't or can't do in emails or on calls. For example, casual conversations around the office or after work drinks are common occurrences. Remote workers miss out on these opportunities to socialise and connect with team members that either work in the office or also work remotely.
One way to counteract this is to encourage casual chats or calls among team members, whether they're before or after your regular meetings, or entirely separate check-ins. Think of it like stopping by someone's desk. Reaching out to a team member just to make sure they don't need any help, or asking how they are doing goes a long way in communicating the type of culture present in the office.
Tammy Bjelland, CEO of Workplaceless, underscores this company culture tip: "Foster a culture of inclusion and connection. For virtual teams, you have to intentionally create opportunities for your team to connect with one another. Unlike in a physical office, you have to set aside time and virtual space to allow for both casual and official communication. And make sure you include everyone! This seems like common sense, but too often in virtual teams (especially those that are hybrid), certain team members can be left out."
3. Remember Nothing Replaces Face-To-Face
While technology can help you and your team stay connected, it never fully replaces in-person interactions. Video comes close since you can read body language, but people often behave differently when in front of a camera. The social aspect of working in an office is a large part of company culture, and having get-togethers is a step toward solidifying shared values. That's why it's important to bring your team together when it's feasible to do so. You can connect, cultivate relationships, and ensure your company culture is fully expressed to those who telecommute.
This is a sentiment championed by Zach Selch, a global sales mentor. "When I was leading an international sales team, I would hire three people at a time and bring them in to our headquarters for a month-long orientation. They would get to know everyone, see how things were done, learn why what we did was important, and so on. At the end of the orientation, we'd throw a pizza party to make sure everyone did enough socialising before returning to their home country. We also tried to make sure they came back once or twice a year for brief visits. These in-person experiences really helped ingrain our company culture."
But culture isn't the only intangible area where managing remote teams can be challenging. Keep reading to see what steps you should take to be a great leader.
Chapter 3: Management & Communication—How To Lead Remote Teams Effectively
As the leader of a remote team, you must be mindful of actions both you and your team should take to maintain positive team dynamics and accomplish your goals. Managing virtual teams is about knowing when to give, when to take, and how to make sure your team has the resources they need to communicate and collaborate with one another. Let's look at a few of these below.
1. Delegate, Don't Micromanage
Micromanaging is a trait shared by more than a few managers. Over the years, numerous published studies and workplace training sessions have helped curb this non-productive habit. However, with the rise of remote work, the trait seems to have crept back in. This isn't surprising, as some managers aren't comfortable with not being able to physically observe workers throughout the day. Even when remote workers produce work that's equal to their on-site peers, some managers still let doubts creep into their heads about the productivity levels of their remote employees.
Don't give in to this trend. When you assign tasks to your remote employees, set clear deadlines and ensure they know your virtual door is open for questions or help. Resist the urge to check their progress constantly, as it only results in distracting and delaying them. Understandably, though, if a remote worker is underperforming, step in to seek a solution.
Instead of micromanaging, delegate effectively. This encourages the team to work independent of you, leading to greater productivity. Your team shouldn't need to ask for your input on every issue that pops up. You want to empower your team to make everyday decisions on their own or through collaboration with other team members.
2. Keep Everyone On Track
As a leader, you're the captain of the ship. You have to make sure your team is always on the right path, and is doing the right things at the right time.
To ensure his team is headed in the right direction, Nicholas Christensen, founder of Lottery Critic, has his team send out weekly progress reports. "I created a template that I have my team fill out and send me every Monday. It asks for a brief description of their current status and estimated completion date, completed work from the previous week, work expected next week, a wish list of things they want to work on, and any issues they're currently facing. This keeps me in the loop and helps me identify potential problem areas."
3. Set Expected "Core" Working Hours
While this may not be feasible in all situations, to ensure communication remains fluid, set a range of "core" working hours. This is a small window of time when all team members are expected to be available and actively working. These working hours help encourage synchronous collaboration, which is often necessary.
In the case of remote workers that live within commuting distance, you could alternatively have them come into the office on a semi-regular basis. For example, these commutable remote workers could visit the office on alternating Tuesdays to reconnect with other remote workers and on-site staff. Also, they could be invited to on-site events they would otherwise miss not working in the office.
4. Schedule, Schedule, Schedule
Remote work can turn into an exercise in futility unless you set a clear schedule of activities. As a leader, it's wise to create a daily and weekly schedule of planned tasks, such as standing team calls, expected client meetings, deliverable due dates, and so on. This is especially true for agile remote teams, where time is scarce.
Teams that remain well organised maintain a higher level of productivity than teams whose week-to-week planning leaves them wondering. You want your entire team on the same page, whether they are working in San Francisco or attending a business seminar in London.
A tool that helps you keep track of tasks and schedule calendar events for the whole team would be of tremendous value for this type of remote team collaboration.
5. Employ The Right Tools
Knowing how to manage virtual work teams means understanding that basic tools like email don't cut it. Email excludes team members from the conversation and buries information in long chains of exchanges. It also leaves gaps in communication that we tend to fill in with in-person interactions. Since those types of interactions are limited or nonexistent with remote work, it's best to utilize solutions with more robust capabilities.
For example, contacting a team member should be as easy and quick as it would be if you were in the office together. This allows for issues to be quickly resolved and for relationships to better develop. Chat and calls are good choices.
In addition, you should be able to see what tasks have been completed with ease, instead of having to hunt someone down for an update. Task-tracking in list form or via visual boards works in this case.
6. Clearly Define Roles
Great leaders establish clear roles and goals for their teams, especially when part or all of that team works remotely. Remote workers may not always be able to get in contact with you immediately, so they need to know who to turn to for different needs. Each member should have a clearly defined role within the team, which should be clearly communicated to the rest of the team. What role you assign team members will vary based on their skillset and the project at hand. Defining roles will help avoid communication and deliverable delays.
7. Allow Distractions To Happen
This may seem counterintuitive, but something great leaders should accept is that distractions happen when working remotely. Your remote team might be spread all over the world, and at any given time, at least one of your employees or independent contractors has veered off course. This happens in the office as well, with employees often interrupting others with a question or a request.
Distractions may decrease productivity temporarily, but they also provide downtime to help team members recharge and remain highly motivated. At the end of the day, focus on the output, not the input. Decide what your expectations are, and avoid worrying about elements that are out of your control.
Knowing how to lead remote teams is will get you far. But to cross the finish line again and again, you need to keep them motivated. Read on to learn about some great team-building tips.
Chapter 4: Motivation & Team Building—The Best Ways To Keep Your Remote Teams At 100%
Any working team needs motivation to stay connected and productive over the long term. But with remote workers, you need to make a few extra strides due to infrequent or nonexistent in-person interactions. (Tweet this!) Not to mention the inter-team dynamics that occur on hybrid teams, where some members are onsite. Here are a few ways you can make sure your team stays on top of their game.
1. Make Them Feel Part Of The Team
Out of sight, out of mind is the old saying. And unfortunately, it's truer than anyone would like to admit. The reality, especially with hybrid teams, is that we often neglect remote team members simply because we aren't around them. They can quickly feel isolated and forgotten about if days pass by with no contact or check-ins from their manager or onsite peers. This lowers motivation levels.
The easy remedy, of course, is making the effort to stay in touch with your remote workers—whether that's organising team calls or video conferencing, or just taking the time to call each member individually. Make it habit to reach out a few times per week. Schedule it in your calendar if you must! A brief call can go a long way in keeping motivation up and making them feel part of the team.
"You need to highlight the little wins more often. It's difficult to build rapport with remote team members, and, as such, praise and recognition from managers is even more important," says Jeff Rizzo, CEO at Slumber Yard.
Rizzo goes one step further with his team. He recognises that remote workers don't enjoy some of the benefits on-site employees don't really think about, like a never-ending supply of coffee. "We created a small budget for incidentals that only applies to remote employees. For example, we had a monthly coffee budget of $50 for remote employees. If they wanted to go to a new place to work, or just needed a midday pick-me-up, they could go to a coffee shop on the company's tab. Small perks like this make it clear to remote employees that the company is forward-thinking and is invested in their success."
2. Recognise Their Contributions
Recognition is an important part of motivating your team. When they've done a good job, let them and the rest of your team know. Traditionally, you'd likely stop by someone's desk and congratulate them for closing a sale or resolving a complex customer issue, but that isn't possible with virtual teams.
Seek alternative methods for recognising the work of remote workers. For example, send them a digital card thanking them. Or set aside a few minutes on your next team call to talk about their success. You could even schedule an impromptu video conference with the team and share good news with everyone at once. Even a simple instant message thanking them for their great work can make a difference. Just be sure to be clear and unambiguous with your message, as you can't rely on the subtleties that can come from communicating with someone in person.
3. Encourage Feedback
Getting feedback from colleagues who work remotely is not the same as working around a table together. Communicating within an office setting is typically effortless. You can chime in to a coworker or your boss sitting at your desk without lifting a finger. In contrast, remote workers have to purposefully communicate using the tools they have available. And they can't rely on body language to determine whether it's appropriate to provide their input.
Hence why it's important to over-communicate that you're open to feedback. So that when they sit in front of their keyboard wondering whether they should ask that question or give their input, the answer is a resounding yes!
4. Assign A Point Person
When working remotely, information can slip by you simply because you weren't at the office. Even a single day away can result in missing important details, like information relating to a specific project or a change in policy, practices, or procedures. Thus, it's essential to designate someone on the team to be extra vigilant in relaying important information to remote staff, as well as the point person for remote team members to ask questions.
5. Add Some Lightheartedness
Yes, this is work, but that doesn't mean everything has to be all business all the time! To build your team and motivate them, you need to add a bit of color to an otherwise dull canvas.
As Fiona Adler, founder of Actioned, shares, "Have a theme for fun each day. Set up a new channel or communication method that's specifically for sharing non-work-related topics. For instance, on Mondays, you could share something personal you did over the weekend. Another day you could share a photo of a recent meal, or ask what your team is reading or watching on TV. When remote team members know each other better, it breaks down all kinds of barriers and builds more respect and willingness to help each other."
Chapter 5: The Future Of Remote Work In A Post-Pandemic World—Impact And Trends
"The impact of the pandemic on remote work has been remarkable," says Karl Armstrong, founder of EpicWin App. Work-from-home setups that seemed impossible for some companies prior to the pandemic have quickly become commonplace. "Adapting to this new arrangement was challenging. Yet it unlocked the opportunity to change our way of thinking and improve our businesses."
Ryan Malone, president of PDH Now, speaks to one of the challenges in working with remote teams: perspective. He says for those who worked remotely prior to the pandemic, there was often anxiety and tension between them and peers who worked onsite. "As a remote worker myself, I have often been forced to defend my case to coworkers. The pandemic forced many of those coworkers into the same scenario and eliminated much of the animosity surrounding the practice. Now people have a better idea on how to work with a remote team."
Malone also believes the pandemic has forced many professionals to become more comfortable with video calls and the associated technology. "Potentially, this could bring teams closer together as they become accustomed to seeing coworkers in their home environment, even if only through video."
As for what will change with remote work moving forward, consider the below post-pandemic trends that are already emerging.
1. Remote teams are becoming ubiquitous.
"Remote work, previously considered a privilege or perk by companies that had the policies and infrastructure to support it, will now be considered the norm," says Cory Colton, principal executive coach at Inflection Point Coaching. In-person work may become a secondary approach—more of a special need for specific cases. In addition, those who do work onsite will know how to work with a remote team having become accustomed to it throughout the pandemic.
2. Companies are looking at commercial real estate differently.
Stemming from the first trend, companies are reassessing their real estate needs. Colton says the rise in remote work will force companies to redesign spaces to accommodate intermittent attendance in the office. "This may take the form of hoteling space in the office with flexible communication infrastructure, and modular conference nooks for people that need to gather at a moment's notice. Our corporate office may begin to look like one of the already existing communal workspaces, like We Work or Roam."
Malone agrees with this concept, noting that some companies will reevaluate their need for office space entirely, decreasing their commercial footprint and enabling fully remote teams. "This flexibility will not only allow for location freedom, but also time freedom as many workers will be able to discover their peak productivity times since they're not tethered to the traditional office environment and structure."
3. Leaders are adjusting their workplace policies.
"Companies are having to reframe and rethink their HR policies surrounding etiquette, attendance, subsidies for office equipment, reimbursement for household utilities, and so on," says Colton. They will also have to consider that some employees may choose to return to full-time work in the office. Thus, company policies must reflect the dual reality of in-office and at-home work arrangements.
Colton suggests that employers ask these questions: How can we retain and develop the best employees while rethinking how we compensate them for the changing needs of remote work? How can we make our policies more flexible?
4. Talent acquisition and management is shifting.
Bringing new employees into your organisation is always a risk, but remote work requires unique skills and characteristics. And considering a pandemic that's left many people unmotivated, Armstrong says being proactive is a particularly important trait to look out for in candidates. He recommends investing in someone who has the initiative to solve problems on their own, and has a nothing is impossible mentality. "You need workers who will step up regardless of what's going on because passivity will kill your business."
Colton notes that you must also adjust your talent management framework to incorporate remote work concepts. For example, talent management personnel will need to reframe the way they partner with leaders to understand current talent needs. In addition, they'll need to reassess how best to identify high-potential employees and rising stars, since there often won't be an in-person component to help build relationships and gauge achievements.
"Leaders will need to manage work differently as well," says Colton. This includes focusing more on milestones and work outcomes rather than everyday interactions. In addition, consider how you incentivise, recognise, and reward employees.
Like this article, Glasscubes is the only solution you'll need to manage your remote teams.
Glasscubes has you covered when it comes to remote team management. Collaboration, communication, file sharing, and project management are all included—everything a virtual team needs to succeed.
Managing remote teams is just easier with Glasscubes. Here's why:
Your remote team needs to communicate easily and efficiently—i.e., the opposite of email. From instant messages to threaded activity feeds, your team can chat, @, like, and create feedback polls to their heart's content.
Your team needs a way to share stuff with one another—reports, marketing proofs, contracts, sales proposals, and slew of other documents. Flinging those things around in emails or random file sharing services is a no-go. Use Glasscubes' centralised, secure file repository, complete with automatic version control and built-in approval features. You can even control access to individual files and audit who's viewed them and when.
Your team needs to track its work tasks—from small and simple to large and complex. As your team grows, so does the volume and complexity of work. Glasscubes makes it super simple to manage projects and the resources needed to complete them. Assign tasks to users, maintain threaded conversations around each task so nothing gets lost, and see the status of working projects whenever you want.
Glasscubes enables your virtual team to do all this through unique workspaces, which you can create and customise to your liking for a specific purpose, such as for department announcements or smaller team projects. Your team members can even create a workspace for themselves!
Remember: Remote team collaboration begins with Glasscubes. Start your free trial today.