Back to blog
11 Must-Have Project Management Skills You Need To Succeed (For PMs, By PMs)
on 18 October 2018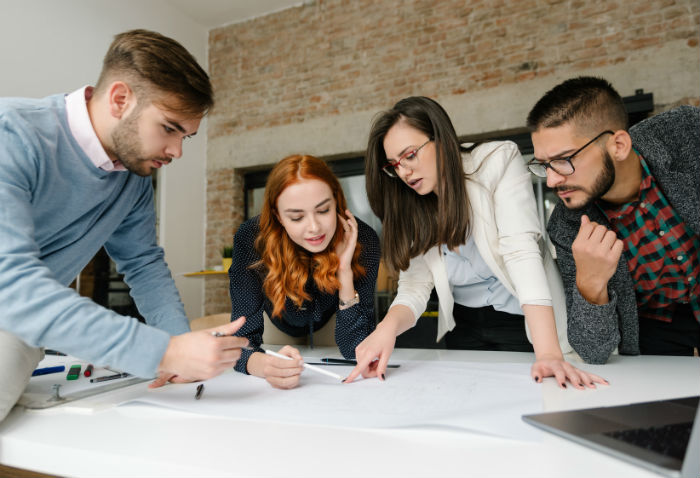 There's no question that project management continues to be a growing and important profession. Knowing which project management skills to focus on can make a huge impact on your career. That's why we reached out to veteran PMs across multiple industries to curate the essential project management skills list below.
Whether you're just starting out in project management or you have numerous projects under your belt, here are 11 project management skills you can develop to be more effective in your profession. (Tweet This!)
Project Management Technical Skills
1. Methodology
Kris Hughes, Content Marketing Manager at ProjectManager.com:
"Gaining knowledge of foundational methodologies like Agile and SCRUM is essential to success as a PM. These methodologies are the backbone of any project management lifecycle. Other methodologies can be learned through continuing education, but starting with these gives you a great base to build upon."
Kyle Sloka-Frey, Project Administrator at Aces Design:
"Being familiar with specific methodologies, such as Agile, is one of the many technical skills needed for project management. Even if the projects you're managing aren't extremely technical in nature, it's critical that you hone the skills necessary to break down projects into small pieces, judge their difficulty, and queue them for completion."
Want more expert advice on project management methodologies? We asked veteran PMs to weigh in on five popular ones in a previous post.
2. Project Management Software
Kris Hughes, Content Marketing Manager at ProjectManager.com:
"All project managers will work with PM software at some point in their career, so a general familiarity with the most popular tools will serve them well, especially when interviewing. Even if you aren't familiar with a specific tool the company uses, such as Asana, knowing a similar tool like Trello will help you assure the interviewer you can quickly get up to speed after being hired."
Remy Kouffman, CEO at Blue Sails:
"Project managers don't need to be technically inclined or have a background in development/engineering, though it can surely help. They instead need to focus their time and effort on becoming familiar with the processes and software tools their team uses. Management and communication tools like Jira, Asana, Slack, and the Google Suite have become a critical part of project management and are in many ways a prerequisite for the job."
3. Scheduling
Steve Pritchard, HR Consultant at Anglo Liners:
"Any good project manager will have a firm understanding of work scheduling. As the PM, you're responsible for ensuring deadlines are met. You need to be able to not only schedule work activities but know which team member to assign to each task. Additionally, being familiar with a work scheduling tool will help you keep track of everything."
Nate Masterson, CEO at Maple Holistics:
"Scheduling is the foundation of any project. Every project will have a deadline and it's the responsibility of the project manager to ensure that everyone knows not only what they're doing, but when they're doing it. If either of these aspects is off, the project could experience delays. This means the project manager needs to be organised and have fine-tuned time-management skills."
4. Quality Management
Shawn Breyer, Owner at Breyer Home Buyers:
"A project manager can cruise through a project on schedule and on budget, but if the work is not properly monitored to meet the customer's expectations, then the rework associated with the project could cause delays and wipe out the budget. It's important to continually assess work against what the customer expects to receive, and make sure that your team is meeting that standard."
5. Budget Management
Kris Hughes, Content Marketing Manager at ProjectManager.com:
"Even if you're not a 'numbers person' at heart, to be an effective project manager you still have to make numbers your ally. Budgets and resource allocation are critical parts of the project management lifecycle, and you'll need to constantly evaluate and assess how these aspects are affecting the success of the project."
Project Management Soft Skills
6. Communication
Melissa Drake, Owner at Brilliant Transformations:
"Communication is the number one soft skill project managers need to get things done. They need to be able to communicate with executives (to provide project status updates) and the team (to lead and direct activities). A large part of this communication involves knowing how people work best and providing ample support to challenge them to contribute to the overall project and meet required deadlines. Done effectively, project managers communicate with empathy, compassion, and a bit of intuition to maximise individual efficiencies of their team and create greater synergy."
Nate Masterson, CEO at Maple Holistics:
"The ability to communicate well is a skill that will undoubtedly get you placed as a project manager. You need to understand and be understood—both sides of the coin are important. Consistent and effective communication is a key project management skill."
Kris Hughes, Content Marketing Manager at ProjectManager.com:
"If project managers were referred to as anything else, it would be communicators. A PM needs to hone well-polished written and verbal communication skills to effectively work with all project stakeholders. They must be able to chat, email, and speak with everyone from technical staff to executives to client points of contact. In addition, they need to be active listeners, treating each conversation as important as the last, and taking away key points for future reference."
7. Leadership
Amie Thompson, CEO at Creative Allies:
"It's imperative that the team respects the PM and that the PM has been given some authority to make decisions about how the team is run. They must lead the team through any challenges they might face, which requires patience and the ability to work under pressure.
When I started a project management office (PMO), I needed to recruit and hire PMs to fill the team. It was important to have one or two PMs that were more technical to help with technical projects or conversations. However, it was more critical to look for people who could lead and problem-solve under pressure. One of the biggest inhibitors to success in my career has been having people on the team who cave under pressure."
Kris Hughes, Content Marketing Manager at ProjectManager.com:
"The best project managers understand how to be servant leaders and ensure that each member of the project management team is working together and utilising their skills to the best of their ability. This may involve putting together team-building exercises and providing one-on-one coaching."
8. Problem Solving
Amie Thompson, CEO at Creative Allies:
"Identifying a problem is one thing, but leading the team to find solutions is another. Projects of any reasonable size or complexity will always have challenges. A good PM anticipates problems and thinks creatively on how to solve them, engaging with appropriate team members where necessary. If the problem is big, you need to be able to break it down into smaller parts and seek a solution for each part individually."
9. Flexibility
Gabe Gibitz, Owner & Digital Guru at Blue Guru Digital Marketing:
"A project will not go according to plan. This is a reality you must accept as a project manager. That's why you need to be flexible in getting things back on track. Just recognise that you may be heading in a new direction or your destination may be different than when you started. Either way, you must be able to pick up the baton you (or someone else) dropped and start running again."
10. Decision Making
Nate Masterson, CEO at Maple Holistics:
"A project manager needs to oversee many different areas throughout a project's lifecycle. This will inevitably require tough, complicated, and sometimes contradictory decisions be made. Due to time constraints and other factors, these decisions often need to be made quickly and with limited information. Thus, you must be able to work well under pressure and be prepared to take accountability."
11. Empathy
Kris Hughes, Content Marketing Manager at ProjectManager.com:
"One soft skill that's important, but often overlooked, is empathy. If there's one certainty about projects, it's that they will change—and change often. Given this, it's vital for project managers to be empathetic about how these changes affect the professional and personal lives of their employees. The PM will need to communicate their understanding of the changes, manage morale, and address individual concerns."
Even the most skilled project managers need support to keep projects on track. Let Glasscubes help.
Whether your team works onsite or remote, Glasscubes is there to make even junior PMs look like project management veterans. That's because Glasscubes is a cinch to set up, requires no training, and includes essential project management features like Gantt charts. With Glasscubes, you can keep all your project management activities centralised and readily auditable—communication, file sharing, task scheduling, and more.
Hone your project management skills with our comprehensive solution. Start your free trial of Glasscubes today.