Back to blog
Remote Team Collaboration: 20 Of The Best Tools
on 9 March 2022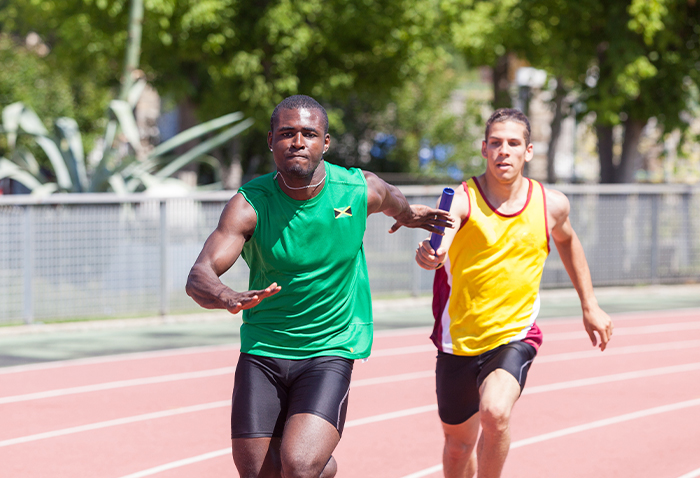 Remote team collaboration can be challenging, especially if your organisation hasn't done it on a large scale before. Letting a few employees work away from the office occasionally is one thing, but transitioning a large share of your workforce to remote work requires formal planning.
What is remote team collaboration?
Remote team collaboration is the act of enabling team members to work together as seamlessly as possible despite differences in geography and time zones. Traditional work collaboration assumes people are located in the same physical space, such as an office building, the majority of the workday. With remote collaboration, you must consider geographic distinctions as part of your operations.
For example, all the typical management and collaboration issues are more visible when your team is spread across different locations and time zones:
How do you effectively keep track of task completion and project progress?
How do you stay in touch when the team member you want to talk to isn't just a cubicle away?
How do you ensure your team members have access to all the files necessary to complete their work?
Remote collaboration tools can help solve these challenges; it's up to team leaders to choose the right one(s) for their purposes. We asked a number of business professionals—from CEOs to business owners to team leads—to weigh in on the best collaboration tools for remote teams across key management and collaboration categories. See their input following each tool's description below.
Remote Collaboration Tools For Project Management
Asana is a work management platform that helps teams stay organised. You can assign and prioritise tasks, set deadlines, and comment on task threads. Adjust the visual representation of tasks to whatever suits your style—to-do lists, cards, or timelines. The platform even includes a workload feature that shows a snapshot of each team member's current capacity.
User Reviews:
Anastasia Churazova, Chief Marketing Officer at Nuclino:
"We deal with a lot of small tasks and were having a hard time keeping track of who's responsible for what, so we started using Asana. When planning a project, we split it into tasks and sub-tasks, assign them to the responsible team members, and set their deadlines. Each team member can view their planned tasks in a list or within a team calendar, allowing for accountability and efficient time management."
Remy Kouffman, CEO at Blue Sails:
"Asana has become a critical add-on to JIRA, a development management system, and can sync up to JIRA and Slack. Asana enables us to focus more on project management with business stakeholders, while JIRA is more for the development/tech side of our business."
Like Asana, Trello focuses on giving teams a way to stay organised and on top of work. Cards are a primary feature of Trello, and you can add comments, attachments, due dates, checklists and more to them. Card movement is updated in real time for viewing by all other members.
User Reviews:
Megan Pruitt, Co-founder of Date Night In Boxes:
"Trello is a game changer for project management. It's a great tool for keeping my remote team involved and organised throughout the life of a project. Plus, the various boards you can create are great for task visualisation, which is necessary for a team like mine that includes a lot of creative, visual-oriented people."
Stephen Hart, CEO at Cardswitcher:
"For project management, we tend to use Trello. It's a great visual way of representing what work is planned, what work is ongoing and what work is done. Personally, I get a huge sense of achievement when I see all the cards piled up in the 'Live' section."
Priyanka Dalal, Business Growth Marketer at priyankadalal.com:
"Trello is great for project management. I like how an entire project can be captured on the Trello card or board depending on the project's scale. It makes it easier to see and track progress. Moreover, it doubles as an archive of all the work done, which is useful for future referencing and internal audits."
Favro is a planning and collaboration app for keeping things organised. The platform allows team members to visualise progress in a way that works for them—kanban, timeline, and sheet. You can add automations to Favro cards so that actions occur as soon as preset conditions are met, for example, moving a card into a particular column automatically assigns that card's task to a specific team member.
User Reviews:
Lance Cummins, President at Nectafy:
"Favro is probably the least-known tool on my list for managing remote teams, but it's been a surprisingly powerful remote project management tool. It enables us to see at a glance what we're working on, what's stuck, and what needs to happen to get it to the finish line. It's actually the source of truth for our entire company because if it's not on Favro, you're not working on it."
Basecamp is a project management solution that focuses on bringing teams together to work on different initiatives. You can break up work into various projects, each containing items related to that project—message boards, documents, tasks, etc. You can even add scheduled check-in questions to be asked when and to whom you want, such as asking your whole team what they'll be working on for the week every Monday at 9 am.
User Reviews:
Christine Wang, founder of TheSkiGirl:
"Basecamp is a great project management tool that my team uses daily. It allows you to easily and efficiently set up and track any number of projects. The solution also allows for great internal communication, whether you want to set up tasks, to-do's, or brainstorm new ideas on a project. It has an intuitive interface and has streamlined our organisation in a way that's increased productivity and accountability. I would highly recommend this tool."
Will Ward, CEO of Assistive Listening HQ:
"Since we started using Basecamp, we've saved a lot of time in meetings, and there's a lot more clarity with our work. I think the solution is so useful because everything related to a project is in one place. The message boards make it so we don't have to email each other anymore. The entire history of the project can be understood just by scrolling through the board. Overall, Basecamp adds a lot of efficiency to our workflows."
Remote Collaboration Tools For Communication
Google Hangouts is a communication software that lets your team chat, voice call, and video conference with one another from their computers or mobile devices. You can start one-on-one message threads or add up to 100 people in a group chat, and have your chats synced across devices. Video calls can be held with up to 10 people.
User Reviews:
Stephen Hart, CEO at Cardswitcher:
"By far, my favorite remote communication tool is Google Hangouts. It's the tool that underpins the most important ritualised meeting in our remote team: the weekly standup. During the 20-minute meeting, everyone answers three simple questions:
What did I do this last week?
What am I doing this coming week?
What challenges can I foresee?
And Google Hangouts is an easily accessible, free, and powerful tool that supports it."
Alexis Monson, Co-founder of Punkpost:
"As our team continues to grow, Google Hangouts makes it easy to text and video chat with multiple members of our team at the same time. It provides us the same benefits of having in-person conversations when we can't be face to face."
Carmine Mastropierro, Freelance Writer at carminemastropierro.com:
"With Google Hangouts, I can send everyone on my team an invite at once and easily launch a video meeting. This tool has helped us stay on track with goals, share ideas, and build better relationships with one another."
Slack is a communication tool for organisations large and small. You can create as many channels within Slack as suits your needs—from status reporting to company happenings to private leadership channels. The platform integrates with a number of other well-known remote collaboration software tools, including ones on this list like Asana, Google Drive, and Zoom.
User Reviews:
Priyanka Dalal, Business Growth Marketer at priyankadalal.com:
"Slack works great for quick, real-time conversations, coordination between team members, and even informal chit-chat. I've found that the key to ensuring the tool remains relevant and focused is creating well-defined channels, each with a specific purpose."
Megan Pruitt, Co-Founder of Date Night In Boxes:
"Slack is essential for meetings, internal communication, and overall remote team collaboration. It gets my employees off Facebook or other social networks and includes features I love, such as the ability to take over someone else's screen, draw on a screen, share your screen, etc."
Anastasia Churazova, Chief Marketing Officer at Nuclino:
"For remote team communication, there is no better tool than Slack. It has been the business tool du jour for a reason. And since our work involves a lot of interaction with remote team members, it was an easy choice. Its interface is very intuitive, so we can easily onboard new remote team members without any trouble."
Eric Nagel, Managing Partner at Rust Built:
"I switched my team from Skype to Slack and never looked back. I couldn't imagine managing a remote team today without Slack. The team and individual communication is great of course, but the integrations with other apps really seals the deal. For example, we use Standuply (a bot for Slack) to run our daily standup meeting. At 7 AM, the bot asks what we did yesterday, what we're doing today, and if there's anything in our way. Everyone has 2 hours to answer, then the results are broadcast in our #general Slack channel."
Zoom is a communication solution primarily focused on video and audio conferencing for the enterprise, though Zoom rooms also include chat and recording features. Zoom rooms can scale up to 1,000 video participants and 49 videos on screen at any one time.
User Reviews:
Kean Graham, CEO at MonetizeMore:
"As an online video meeting tool, Zoom is the most consistent for video and sound quality, even on slower connections with many participants. It has useful features that allow us to record meetings, create meeting links, and assign user hierarchies for varied levels of accessibility."
Lance Cummins, President at Nectafy:
"The video platform makes it easy to have team meetings, quick video conferences, screen sharing, and recording. I think Nectafy is a stronger team because we use video meetings so much. We love getting to see each other and talk to a human face, rather than just chat or audio conferencing. It makes our company feel more connected."
Brett Helling, CEO at Ridester:
"We find it absolutely necessary that our team members don't stick to emails alone and instead speak to each other via audio or video calls. Zoom is the perfect option for both."
Remote Collaboration Tools For File Management & File Sharing
Google Drive is a file storage service that gives your team the ability to store files in the cloud, synchronise them across devices, and share them with others. Like any Google product, Drive integrates natively with other Google solutions such as Docs, Sheets, and Slides.
User Reviews:
Eric Nagel, Managing Partner at Rust Built:
"A well-organised Google Drive is key for our remote team. My partner and I can share documents meant for just the two of us, or our bookkeeper can upload reports for the finance team. The best part is that files are accessible anywhere, so it doesn't matter whether I'm sitting at my desktop in my home office, working from the corner coffee shop from my Chromebook, or pulling up a document on my phone on the go."
Megan Pruitt, Co-Founder of Date Night In Boxes:
"Google Drive is an inexpensive way to collaborate on documents in real time. It is excellent for when we have multiple contributors who want to comment and make changes, which is basically all the time."
Similar to Google Drive, Dropbox is a file hosting service offering cloud storage and file synchronisation. You can share files or collections of files with teammates and clients alike, and vary the sharing permissions to ensure only intended parties can view them. Depending on your needs, you can even employ security measures, like two-factor authentication and remote device wipes.
User Reviews:
Adam McIntyre, Co-Founder of BrandPacks:
"With Dropbox, we can share files in real time, which is a great benefit. However, one of the most overlooked benefits of Dropbox is that every team member can have access to every file within the entire organisation or at the project level. For example, if I come online and our illustrator is offline, I needn't email her and wait eight hours for a file to be sent over. I can simply browse her working folders and download the file myself."
Filecamp is a digital asset management platform built for marketers to store images, stock photos, videos, documents, presentations, and more. You can create as many sub-accounts as you want, which is useful when you have multiple clients or multiple brands. Plus, you can customise each sub-account's login page, logo, and colors to provide unique brand experiences.
User Reviews:
Kenny Trinh, CEO of NetbookNews:
"We safely store all digital assets related to our marketing activities in this cloud-based solution. We also use a detailed tagging system so everything's in order, and each team member is able to find a file they're looking for in seconds, no matter where in the world they're based."
Cloud storage for teams makes organisations large and small more efficient. See what industry experts recommend as the best solutions on the market.
Remote Collaboration Tools For General Team Management & Collaboration
11. Toggl (Time Tracking)
Toggl is a time-tracking solution for teams. You can start a new time entry or continue tracking a previous task with a single click. Its apps come with tracking reminders to let you know when you're not tracking time; it also detects idle time for when you may have forgotten to stop the timer. For teams that don't like real-time tracking, Toggl also allows manual time entries.
User Reviews:
Dean DeCarlo, President at Mission Disrupt:
"This time tracking app goes the extra mile by providing comprehensive reporting and insight into the efficiency of timed tasks. I use it to help me estimate future jobs."
12. Loom (Video Capture)
Loom is a communication tool that helps teams share video captures, including your screen, voice, and face. You can capture your entire screen or a specific app, with or without your camera. Videos are hosted on Loom and the links can be easily shared with anyone you want. You can edit captures as needed.
User Reviews:
Will Ward, CEO of Assistive Listening HQ:
"Loom is one of the best collaboration tools for remote teams; it's been one of my favorite finds of the year for me. Usually when I want to explain something, I either must have a video chat and share my screen, or I have to draft a lengthy email. With Loom, I save tons of time by recording my screen and face at the same time while I explain. I've literally saved at least 10 hours per week thanks to Loom."
13. Krisp (Noise Cancellation)
Krisp is a background noise cancellation tool built for use cases such as conferencing, voice messaging, video calls, and streaming. With one button, you can speak or listen without background noise. It works with numerous communication tools such as Google Hangouts and Zoom, and is available on Mac, Windows, Chrome, and iOS.
Will Ward, CEO of Assistive Listening HQ:
"No matter how hard we try, there will always be a baby crying, dog barking, or landscaper mowing the lawn and blowing leaves. Krisp gets rid of these background sounds so all we hear are each other's voices. It's an absolute lifesaver for anyone conducting video calls, be it coworkers or clients."
14. Workable (Recruiting)
Workable is a recruiting workflow solution that helps teams find, evaluate, and hire candidates. The platform includes AI-powered search, assessment tests, interview kits and scorecards, self-scheduling, automated approval processes, and one-click job posting to numerous job sites.
User Reviews:
Lance Cummins, President at Nectafy:
"Hiring and recruiting is a huge part of managing a remote team. At Nectafy, hiring is a team process, so having a dedicated, funnel-like tool like Workable makes it possible for us to process hundreds of applicants simply, each time we have an open position.
Because we're in an always-hiring mode, our team members set aside a specific time each week to review their parts of the hiring funnel. One team member reviews application questions, another reviews work samples, another schedules meetings—and all of this is trackable and visible to the rest of the team. Having a tool like this makes recruiting fit into our weekly workflow rather than feeling like it's a hindrance to our 'real work.'"
15. Zapier (App-to-App Integration & Workflow Automation)
Zapier is an integration and automation software that allows users to connect web applications together. For example, a typical marketing use case for Zapier would be connecting a social platform like Facebook to MailChimp, Slack, and HubSpot. Integrating them through Zapier means that, when the Facebook account receives a user response, MailChimp follows up with that user automatically, Slack alerts the team, and the user is added to HubSpot as a lead.
User Reviews:
Adam McIntyre, Co-Founder of BrandPacks:
"We use Zapier to automate many small but highly effective tasks across the web apps we use as a team. For example, when a new file is added to certain folders in Dropbox, Zapier pings an email notification to related team members. Or, when a new lead/sale/support ticket is received, the related departments are notified to ensure a quick response."
16. 1Password (Password Management)
1Password is a password management solution that supports the use and storage of strong passwords. You can use it to log in to sites and fill forms securely, and share logins, passwords, credit card numbers, and more.
User Reviews:
Andrew Dale, Technical Director at CloudTech24:
"I use 1Password because I find it to be the simplest and safest method to share logins, passwords, credit cards, and other confidential material with the people who matter most to me. I never have to worry about forgetting my passwords at work or home."
17. Nectar (Employee Recognition)
Nectar is a 360-degree recognition and rewards solution that helps keep teams connected and engaged. Included in the solution are features surrounding social recognition, rewards, awards, challenges, milestones, and perks.
User Reviews:
Samuel Devyver, CEO at EasyLlama:
"Nectar helps our HR team be more mindful about remote collaboration by recognizing one another's contributions—managers to employees and vice versa, and peer to peer. By standardizing our recognition and reward system, we've made remote work feel a little closer and built collaborative relationships with our team."
18. Dewo (Scheduling)
Dewo is a calendar and scheduling solution that "reinvents the calendar for deep work." It can automatically silence app notifications and trigger the Do Not Disturb function on chat apps. In addition, it can intelligently schedule meetings.
User Reviews:
Jason Ball, Managing Director at Considered Content:
"It can be difficult to find a time to catch up with your team when they are split across different time zones. Dewo uses artificial intelligence to consider the productivity patterns and calendar availability of all team members, and intelligently schedules meetings with the least amount of disruption to everyone's focused time."
19. Airfocus (Product Management)
Airfocus is a product management platform that enables you to build, run, and scale product workflows using input from customers and internal teams alike.
User Reviews:
Christiaan Huynen, CEO at DesignBro:
"With Airfocus, you can create roadmaps in two different styles: timeline and Kanban. It also allows you to choose which area of the board your recipients can see. I'd say Airfocus is one of the best collaboration tools for remote teams if the company has a large client base, as you can add an unlimited number of viewers to your roadmap."
20. bob (HR Management)
bob is a human resources information system (HRIS) focused on driving company culture and engagement. It includes fundamental HR features such as time off, onboarding, and payroll, as well as people analytics and performance management.
User Reviews:
Monika Dmochowska, Talent Acquisition Specialist at Tidio:
"bob significantly influences the speed and quality of our remote workflows. It provides our new hires with helpful information and reminders about upcoming tasks during onboarding. Then each team member gets access to their personalized holiday calendar, payroll information, employee directories, and other valuable data. Our employees can also use bob's recognition feature and give kudos to each other for a job well done."
The best collaboration tools for remote teams bring together all the above features in one package. That's Glasscubes.
Glasscubes is in a collaboration category all its own. It brings together project management, file sharing, team communication, and even intranet/extranet capabilities into a secure hub of online workspaces that you control. Many users deem it one of the best tools for remote teams.
User Reviews:
Michelle M., Web and Multimedia Editor:
"Glasscubes made it so much easier for us to get feedback on content quickly and we didn't have to worry about version control as Glasscubes clearly shows you the history of who has accessed what and when. Everyone in the team could see the same information and we knew what we were all working on was the most current and up to date content. It definitely made life a lot easier for us."
You can check out more user reviews of Glasscubes on Trustpilot, Capterra, and Software Advice.
Our solution provides a working environment that enables teams to collaborate in a more efficient way. Glasscubes helps break down common barriers for working together, resulting in greater productivity among all team members.
So, ditch email and other unscalable tools. Get the comprehensive SaaS solution that fully enables collaboration—from information sharing to communication and more. Request a guided demo of Glasscubes today.