Back to blog
10 Collaboration Examples In The Workplace
on 13 December 2021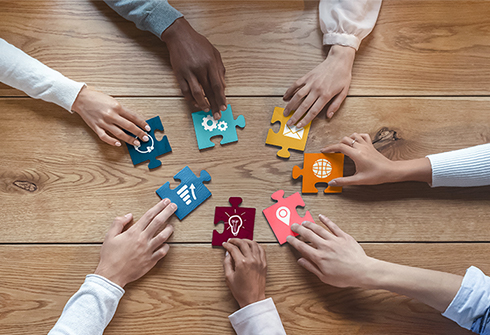 Collaboration is practiced in some form at every organisation, regardless of industry or line of business. Practicing it effectively is how great companies create winning products and deliver raved-about services.
It's no wonder that approximately 75% of employers rate teamwork and collaboration as very important. But what are the ingredients of successful collaboration in the workplace? Below, we take a behind-the-scenes look at several businesses across business sectors to find out. See what elements of these collaborative working examples you may want to incorporate with your team.
10 Real-Life Examples Of Collaboration In The Workplace
1. Creating video scripts at Render Pilots.
Hilary Bird is the marketing manager at Render Pilots, a small video production company. She says the job requires a lot of creativity, which makes effective collaboration a must. Her team is fully remote, but that doesn't impact their work in any negative way. "We've developed a nice rhythm when it comes to our collaborative efforts, including implementing chat and video solutions that enable us to keep in close contact with one another, and developing appropriate discussion etiquette."
Bird shares an example of how this rhythm helped her team deliver a successful video script for a big client who had a tight timeline. The client was looking for a specific feel for the script, so Bird had her top scriptwriter create the draft. Afterwards, each team member took some time to review and add notes in a shared document. Then the team had a video call to walk through each line of the script, being sure to remain respectful of others' input. "Together, we created a solid script that the client really liked."
2. Advising companies on digital transformation at Cisco.
Arturo Meza, founder of Xectus Tech, recounts his time at Cisco Systems, where he led a highly collaborative team focused on advising clients on technology and remote work. As part of work, his team used several online tools to collaborate with one another and clients. "Our video conferencing tool got the most traffic. We mainly used it to engage with clients through presentations and other visual aids, but also to connect with teammates."
Meza's team also used a centralised file manager to make sharing files with teammates and clients more efficient. All employees also had remote access to human resources, travel arrangements, and technical support for administrative tasks. And for more technical aspects of their work, they used a proprietary learning management system with access to multiple training modules and educational material.
"We made use of these collections of tools and resources to not only make collaborating easier, but also to ensure we knew how to work remotely in an effective manner firsthand," Meza explains. He notes that this also helped the company attract the best professionals and add value to their clients' experiences.
3. Focusing on three aspects of collaboration at Heart Water.
Heart Water is a rainwater distribution company—and a standout among collaborative working examples. Project manager Hamna Amjad says the organisation has ingrained three key practices into their collaborative efforts:
A mentoring culture. Starting from the top, mentoring is an important part of executives' daily routines. They regularly coach and mentor subordinates, sharing knowledge and insights. "This trickles down throughout the company, and it has promoted a more collaborative working environment," Amjad explains.
Regular, effective meetings. Amjad knows from experience that meetings can be a big waste of time when not given forethought. "That's why every meeting is planned in advance, complete with an agenda all meeting participants can access and review beforehand."
The use of tools. "Smart tools help us communicate, keep track of work, and meet deadlines—all critical aspects for our business," says Amjad. For example, her team uses a project management solution where they can assign and comment on tasks, and track progress.
4. Conducting internal demos at TeamBuilding.
What does successful collaboration in the workplace look like at TeamBuilding? CEO Michael Alexis says one of the most effective collaboration methods they employ is conducting internal demos with employees from different functional areas. "We run virtual team-building activities and events for our clients, and our creative team is constantly working on new programs. It helps tremendously to review them internally before showing them to clients."
Internal demos are conducted using a video conferencing tool, where the creative lead runs through the entire event for representatives from other departments like sales and marketing. Then the host asks for feedback from attendees. "This process is very successful. It gives us the opportunity to see what we've created from different perspectives. For example, a sales rep may provide feedback on the length of the event based on client comments."
5. Embracing different methods of communication at AutoBead.
James Ford, cofounder of AutoBead, a manufacturer of detailing and car care products, found that collaborating with trade professionals in the field required some out-of-the-box thinking. "While more corporate chat solutions worked internally, they weren't a good fit for clients and other external parties."
What Ford's team discovered was that simple SMS and text-based mobile apps were the best methods for reaching their target audience. Having clients and partners attempt to use the team's internal tools of choice was met with resistance. Those unfamiliar with the tools expressed concerns about the solutions taking away from their daily communications with their own customers. "Meeting these trade professionals where they were helped us get instant feedback to improve on our products and identify what else they wanted us to create."
6. Brainstorming at GetVoIP.
Reuben Yonatan is the founder and CEO of GetVoIP, a company that helps customers identify the right VoIP phone system for their needs. Brainstorming content ideas is an essential collaboration activity since the company also practices affiliate marketing. "We come up with ideas for marketing and sales strategies, customer retention tactics, and more. We used to do this in person, but we mostly use video conferencing now."
Once Yonatan's team comes up with a clear game plan, they shift from video conferencing to communicating through their project management tool. The team leader will create a new project and list the goal, schedule, and tasks. The team will then take over and collaborate around their work. If there's an issue, the team leader will ask for another meeting to solve the problem. "As soon as one project is finished, they start on another, and the process continues."
7. Partnering for success at The Bomb Factory.
As a large event venue, The Bomb Factory was majorly impacted by the pandemic. Chelsey Oliver, a marketing coordinator for the company, says they had to pivot their business model and collaborative approach to reflect a new normal. "We still do events—they're just virtual now. But they still have the same passion behind them."
The team didn't have much experience in this area, so to ensure their virtual events were a success, they teamed up with a broadcasting and production company in their local area. "Being able to work with local businesses that are ready to support and back our events helps large corporations feel more comfortable transitioning to a virtual approach during such a crazy time."
The team consists of full- and part-time staffing in marketing, administration, catering, booking, bar, security, sound, and stage, among other areas. They use a chat solution to communicate with one another and ensure everyone is on the same page before and on show day. In addition, they use several tools to help keep track of their calendars and accomplish important tasks.
8. Bridging time gaps at Termite Survey.
Matt Scott is the owner of Termite Survey, an online resource for termite-related information and connector of local exterminators. He finds team coordination essential in his organisation, and it relies on operating with cloud-based applications that make it easy to communicate with team members regardless of their location.
"With a team now scattered around the globe, we face challenges being in different time zones—as much as a 12-hour difference," Scott explains. "Still, we have kept projects on track with the help of our digital solutions. We can easily ask and address questions, submit files, and give feedback at any time."
9. Getting visual at EpicWin App.
"We highly value the conceptualization and sharing of ideas," says Karl Armstrong, founder of EpicWin App. "Since we recommend the best accounting software tools for businesses, gathering the best ideas is a must for success. Thus, we have to be careful in choosing the right tool to bring those ideas to life."
Armstrong's team uses a virtual whiteboard tool that provides a canvas where they can brainstorm, share ideas, and collaborate in real time. "Its diagramming and visual mapping features help us transform our complicated ideas into simple, easy-to-grasp ones."
10. Considering different perspectives at VPN Online.
VPN Online is a media company in the cybersecurity space. Its CEO, Michael Miller, says that one of the most important elements of success at his company is gathering input from multiple team members before making decisions. "Since we are from different backgrounds, each perspective is unique. I could count on my programmer to look at it from her perspective. Same goes for my network specialist who considers the technical side."
Miller's team works remotely, so video conferencing tools are important for talking and bouncing ideas off one another. "Together, we're able to come up with a tailored set of standards and policies for a particular company."
Successful collaboration in the workplace starts with Glasscubes.
Collaboration is all about keeping work moving along and the right people in the loop. Glasscubes helps you do all that and more. As a collaboration solution with the highest marks on trusted review sites Capterra and Trustpilot, it has everything you need to ensure your internal and clients teams can work together seamlessly.
Share files with key stakeholders—from teammates to clients to vendors. Ensure everyone is on track for success with clearly assigned and trackable tasks. Communicate efficiently through threaded discussions on individual files. Get notifications for items that require your attention.
You can also improve your workflows, which require collecting the right information and then sharing that information with the right people in a timely manner. Accomplish that goal with Glasscubes' online forms and automated workflow feature—it ensures your team spends less time tracking down information and more time making use of it.
With Glasscubes, you can:
Store and share files in a secure location, complete with automatic version control. You can even create approval workflows and view clear audit trails of user actions.
Assign and manage tasks for different members of the team, and track them to completion.
Create customised workspaces for each project team in your portfolio. Team members can share resources and communicate with one another in their specific workspace, and you can access them all for easy oversight.
Want to see how other companies are using Glasscubes to improve collaboration? Check out these case studies.