Back to blog
How can technology improve productivity? Let us count the ways.
on 5 April 2023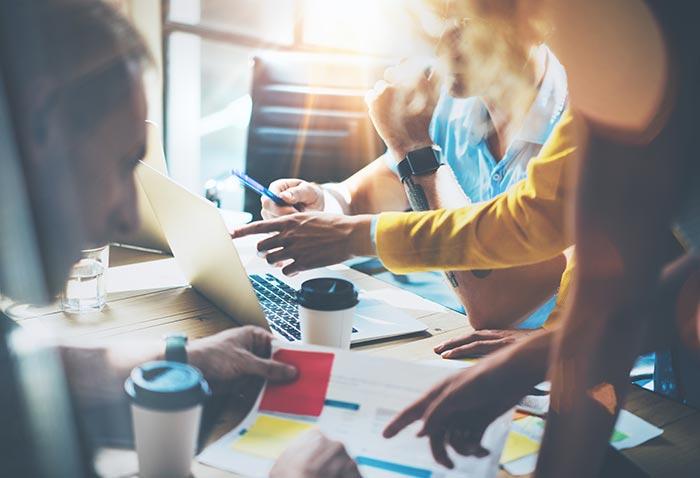 How does technology increase productivity in the workplace? There are many drivers of productivity, several of which are enhanced and made easier with technology. For example:
Communication helps keep everyone in the loop on projects and organizational initiatives; technology provides numerous communication methods.
Workflows ensure employees achieve consistent results in their work; technology can bring together disparate tools to facilitate these workflows.
Collaboration enhances team capabilities and gives rise to innovation; technology can significantly reduce friction when collaborating.
Employee engagement ensures your workforce is connected and motivated in their work; technology can empower leaders with insights to keep their workforce engaged.
Below, we explore the types of technology that are being used to enhance the above, and the creative ways professionals are using technology to improve productivity and efficiency.
What types of technology can help increase productivity?
As more teams transition to hybrid and remote work models, working in the cloud is becoming the standard in business. The reason: There seems to be a positive correlation between the use of cloud technology and productivity. A recent Microsoft Office 365 survey reported that 79% of IT pros say they've experienced increased employee productivity as a result of their companies' cloud approach.
But there are many technology tools that fall under the cloud category. Consider a few that could help your teams reach new heights of productivity:
File sharing tools. Key documents always need to be shared, sometimes both internally and externally. That's where file sharing technology comes in. Emails just don't cut it—you need secure file sharing technology to keep your sensitive information safe from prying eyes.
Project management solutions. Projects of great complexity need supportive technology to help manage multiple moving parts.
Intranet/extranet platforms. Whether you're working with other departments or external clients and suppliers, it's important to keep work organised in one centralised location with an intranet or extranet.
Workflow automation systems. Many of today's business processes get hung up by excessive manual work, resulting in bottlenecks. Implementing automation saves time and keeps work moving smoothly.
We explored the what, now let's explore the how. Keep reading to see the ways professionals in which different industries are improving productivity with the help of technology.
How Technology Improves Productivity: 7 Ways
1. It enables more effective communication.
Communication in the workplace (or lack thereof) has long been a driver of productivity. Whether it's through meetings, emails, or otherwise, people need a way to share thoughts, ideas, and updates with one another to keep things on track.
This is a workplace truth Hamna Amjad, community manager at Gigworker, knows all too well from working as part of a fully remote team. Gigworker is a media outlet focused on the gig economy; the company doesn't have a physical office location that keeps Amjad's team in the same place. She's faced with issues every remote team is familiar with, such as differing time zones and needing to get in contact with someone quickly who's not on the other side of a cubicle wall.
To remedy these issues, her team implemented a communication tool. "We started using Slack instead of holding regular meetings or making random calls to one another. We were then able to easily ping someone with a question and update everyone at once. This also cut down our email load considerably. Overall, we're all much happier and more efficient."
Brand portal solution helps everyone stay in the loop on the latest updates, and share what's most important—all while keeping work moving efficiently.
2. It allows teams to streamline and customise workflows.
"There's so much you can do with technology. We like to really make it our own," says Adam Harvey, CEO of Proofed, an international proofreading and editing company. Like Amjad, Harvey's team also brought in a communication tool. But they took it a step further.
Harvey combined several tools together to give his team a significant efficiency boost. "We created a custom events-based engine that records and transmits specific events in our database. These events push to CustomerIO, a communication automation tool, which filters the events based on rules we developed. There's then one more push to our customised Slack message boards, which notify the relevant team members about the events and what actions they should take. While it took some time and effort to create this workflow, the increased productivity due to technology was worth it."
3. It increases and enhances collaboration.
Collaboration is a key driver of productivity, and technology has made it much easier to connect and work together. (Tweet this!) "Solutions that enable teams to discuss, plan, execute, and track work all in one place are especially valuable. The less friction you have when collaborating, the more teams can focus on getting work done. This ultimately results in greater productivity," explains Nate Masterson, CEO of Maple Holistics, a company that offers natural products for enhanced health and daily living.
For example, every project has a file (or 20) that needs to be shared with teammates or clients to keep things moving along. Modern software-as-a-service products like Glasscubes that focus on collaboration, provide easy file-sharing capabilities with searchable, forum-type discussion threads. This gives collaborators the opportunity to talk about the document without having to open it or have the discussion become part of the file's content.
4. It enables the automation of manual tasks and promotes higher-value work.
Work often consists of monotonous tasks that require little thought. Luckily, you can now automate those tasks with technology. Daniel Quindemil, owner of the construction consulting and estimating firm I AM Builders, shares how automation works with his team:
"There are two big ways we automate. First, we developed a custom estimation software that improves our efficiency several times over. It automatically pulls pricing data and prices construction projects accordingly, saving us a lot of time. In addition, we use Zapier to automate hundreds of tasks, such as following up on new client leads, checking in on new projects, providing status updates, and sending text messages to clients."
5. It increases employee engagement.
"Most people don't immediately get the connection between employee engagement and productivity," says Stephen Shinnan, vice president at WorkTango, a company focused on using technology to improve engagement in the workplace. "Simply put, engaged employees are more productive than their disengaged counterparts." (Twenty-one percent more productive, according to a Gallup poll!)
Shinnan's company uses data analytics software to measure the employee engagement level and gain insights executives need to remedy any issues. Doing so helps leaders be proactive about engagement, maintaining a more productive workforce.
6. It provides for a better work-life balance.
Carl Mazzanti, president of eMazzanti Technologies, appreciates the increased productivity due to technology. Specifically, he calls out Microsoft OneNote as a gamechanger for his work-life balance. For example, he travels a lot, and OneNote helps him capture ideas while flying, riding between destinations, and waiting for meetings. Whether it's a relevant article he wants to share during the next work meeting or something personal, OneNote helps him keep things organised.
"Since OneNote syncs between all my devices, I'm not tethered to my office," Mazzanti explains. "I can work from my desktop, laptop, or mobile device and keep track of my ideas wherever I happen to be that day. I'd estimate I get about 5–10% of my day back from using this app alone. Even small improvements like this make a big impact over time when it comes to work-life balance."
7. It increases revenue.
The primary goal of all for-profit businesses is to improve the bottom line. You reach this goal by either increasing revenue or decreasing costs, and productivity can impact both of these line items. In the case of SellMax, it's the former. Sean Pour, the lead web developer, says technology has "improved productivity immensely at our company. So much so that we can trace it to revenue gains as well."
The technology that Pour's team implemented was VoIP software from Twilio, a developer platform focused on communications. Through Twilio, the team was able to customise a call center in the cloud, helping them get rid of traditional landlines. Prior to the transition, the team faced a number of issues: not returning customer phone calls, losing customer notes, and more.
"These issues not only made work harder for line employees and managers but also resulted in lost business," Pour explains. "But our post-implementation KPIs have been significantly higher compared to our traditional call center approach. We never miss a phone call, and our representatives can see all previous correspondence when customers dial in. Plus, we now have a solid way to do callbacks. These technology-driven improvements have increased our conversions by 23%, resulting in greater revenue."
Glasscubes drives productivity.
How can technology improve productivity? One great answer is Glasscubes, a user-friendly technology solution to improve business efficiency. Its suite of features enables your workforce to communicate, collaborate, and engage with one another in whatever manner best suits them. Employees can:
Store and share files in a secure location, complete with automatic version control.
Assign and manage tasks for team members, tracking them to completion.
Communicate anywhere there's an internet connection through threaded discussions on the general message board, on specific files, on assigned tasks, or through instant messenger.
Get productive quickly and easily. Start your free trial today.