Back to blog
The Brand Portal: Definition & Portal Website Examples
on 3 January 2022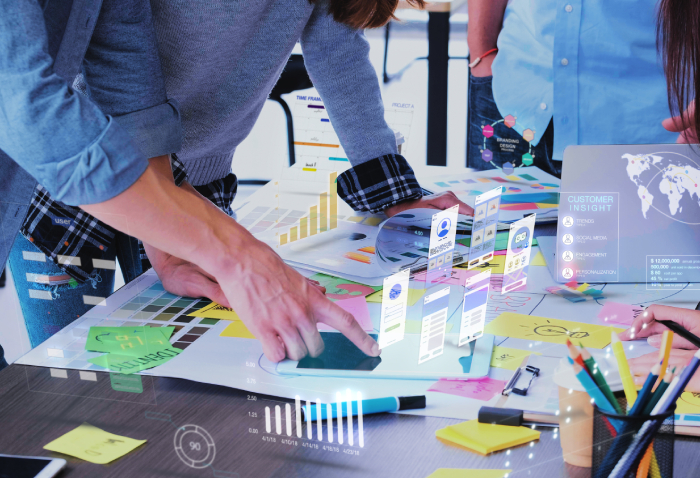 When it comes to keeping important company assets organised and easy to find, a brand portal is a great go-to option. Unsure of what this term refers to?
Coco, marketing manager at Yeedi, says a brand portal guides stakeholders—such as agencies, partners, employees, and the press—to effectively access and utilize an organisation's digital content in a variety of ways.
Why are brand portals important?
"A brand portal boosts process efficiency and provides a streamlined digital brand experience to internal teams, customers, and sometimes other third parties," says Coco.
Sean Kelly, cofounder of BookRetreats, adds that brand portals are especially important to marketers. To quickly design, manage, and deliver digital content across platforms, marketers must work collaboratively with other departments, business users, and freelancers. "Brand portals provide the flexibility of efficient and secure sharing of approved content. It helps marketers maintain brand consistency for the long run by delivering the right content to the right audience at the right time."
Here are a few benefits Coco and Kelly call out about brand portals:
White labeling. "You can customise your brand portal so that it aligns with your branding standards—homepage images, logo, colors, and so on," says Coco.
Searchability. "A brand portal also provides an intuitive, visual way to navigate, search, and filter assets so users can interact with your brand in a user-friendly manner," says Kelly.
Content variety. "Brand portals can be utilized to share multiple contents, such as training materials, brand guidelines, product details, and HR resources," says Coco.
Control. "You can have complete control of all your brand assets," says Kelly, "which gives you the authority to customize and distribute them to relevant parties."
Brand portals are clearly an important tool, but how can they be used in practice? Keep reading to see example use cases.
5 Brand Portal Website Examples & Use Cases
1. The opening of a new airport terminal.
"The San Francisco International Airport effectively used brand portals to help launch its new terminal," says Gary Taylor, CEO of Bookyourdata. "They achieved this by sharing a set of carefully selected pictures and videos with their marketing partners. Releasing this collection ahead of the launch of the terminal helped create hype, leading to increased social media traffic."
2. A university graduation.
"Branded portals enable higher-education institutions such as Mountain University to create custom portals for every graduating class," says Hilda Wong, founder of Content Dog. "Every portal is branded with the appropriate faculty logo and program name. These portals allow the university to share the correct graduation photos with each class using a custom URL."
3. A new product launch.
"New product launches are a challenge as there are so many things to manage," says Craig Hewitt, CEO of Castos. "You need to collaborate with your agency partners to ensure that new product collateral is in accordance with your brand guidelines. You also need to send the collateral to your sales team, distributors, and press. And you need to do everything well before the launch date. Brand portals simplify this process."
4. A company rebrand.
"Brand portals are integral to cases where internal and external stakeholders need to be given the exact same content to keep a brand's identity consistent across the board," Nolah Mattress CMO Stephen Light explains. "Consider a situation where a company rebrands—suddenly there are new assets that need to be integrated. By using a brand portal, you can upload new content to replace the old. Everyone has access to the same set of assets, so you nip confusion in the bud."
5. A collection of research studies.
"Recently, brand portals have been used as a source for sharing rapidly developing news and research," says David Clelland, CEO of Infiniti Tracking. "Primary healthcare and research facilities have used their portals to deliver timely studies on COVID. Guidelines and SOPs have been made available on portals so that viewers can access them anywhere, anytime."
Address A Variety Of Brand Portal Uses Cases With Glasscubes.
Glasscubes is a robust collaboration solution that ensures your entire organisation is able to stay connected internally and externally—regardless of industry or workforce size.
Our solution helps everyone stay in the loop on the latest updates, and share what's most important—all while keeping work moving efficiently. Use threaded discussions to keep conversations in context, whether discussions deal with client tasks or important project files. From task management to communication to file sharing, our platform helps you stay in touch and on top of things all in one place.
With Glasscubes, you can:
Store and share files in a secure location, complete with automatic version control. You can even create approval workflows and view clear audit trails of user actions.
Assign and manage tasks for different members of the team, and track them to completion.
Create customised workspaces for each project team in your portfolio. Team members can share resources and communicate with one another in their specific workspace, and you can access them all for easy oversight.
Want to see how other companies are using Glasscubes as a brand portal in the public and private sectors? Check out these case studies.