Back to blog
The Impact Of Technology In Accounting: 7 Examples
on 16 September 2021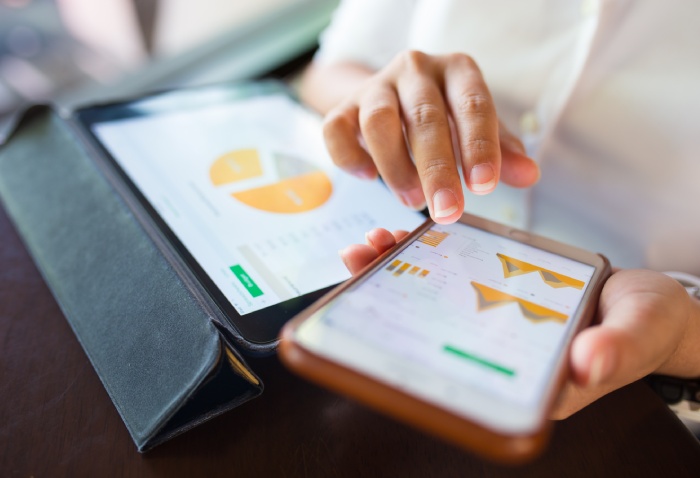 The role and impact of technology on the accounting process—and the industry as a whole—has rapidly evolved in recent years. Finance-related industries like accounting have historically tried to maintain their traditional approach to managing employees and working with clients.
However, digitisation and automation have forced these industries to move into the modern world, inspiring them to adopt key solutions like client portals and collaboration software.
How have these developments changed how accounting firms and solo practitioners operate? We reached out to several accounting and technology professionals to get their take. Keep reading to see what insights they have to share on the impact of information technology on accounting.
7 Examples Of The Impact Of Technology In Accounting
1. Accountants are in the cloud instead of being stuck in the office.
"By far, the most disruptive revolution we've seen in the accounting industry has been cloud-based accounting," says Martin Chee, CFO of Amaka. These solutions have made it significantly easier to have accurate, up-to-date books around the clock.
Plus, they've unlocked the ability for accountants to create entire digital ecosystems where different digital tools can talk to one another. "This has made a significant difference in accounting operations. You can now manage your accounting from anywhere, at any time, and give access to people all over the world."
2. Accountants are using new channels to find and connect with clients.
"Social media has become a widely used technology in accounting, and it is changing the way business development is performed," says Herbert Riggs, CEO of UnscrambleX. The influence of social media has gained the attention of big names in the industry who are embracing these tools to connect with current and new clients as a global platform for engagement.
"Companies are always looking for new ways to advertise themselves," says Riggs. "And including social media into their business growth strategy has helped many companies achieve their sales objectives."
3. Accountants are able to access more diverse roles.
"The boring, unpleasant work of accumulating and computing data is one of the aspects of accounting that professionals dislike the most," says Darshan Somashekar, CEO of Solitaired. "However, thanks to technological advancements, accountants can now do all of this with the click of a button."
Somashekar notes that modern accounting software has given accountants more time to devote to a wider range of tasks. They are increasingly able to move away from time-consuming number crunching and into roles that require a more strategic outlook. "Data analysis and interpretation, financial planning guidance, and business consulting are just a few examples."
4. Auditors are focusing more on risk and less on counting boxes.
Stephanie Ng, CPA and owner of IPasstheCPAExam.com, notes how auditors experience a lot of headaches when it comes to counting inventory. "If you've ever had the 'joy' of conducting a manual inventory count, you know there's nothing exciting about it."
Ng shares that auditors wind up wandering around an (often unorganised) warehouse trying to find obscure items. This process could take hours, if not days, to complete and often results in discovering various discrepancies. "Now, we have robots and drones to roam the warehouse to keep track of items. Thus, the role of technology in accounting in this setting is support. Auditors can then shift their strategic focus to more contentious, high-risk areas instead of focusing on counting boxes."
5. Firms are outsourcing certain accounting tasks across geographies.
Johannes Larsson, CEO of Financer.com, says cloud technology has revolutionised the accounting industry by allowing organisations to outsource their accounting needs to service providers from distant locations. "The industry calls the technology 'cloud accounting.' It works similarly to a traditional onsite accounting software hosted on a remote server."
According to Larsson, small to medium-sized businesses previously had no choice but to use the services of nearby accountants or have an in-house team of accountants. Not only did this limit the accessibility of affordable accounting solutions, but it also severely limited collaboration since only a few people could access a company's books.
"After the commercialisation of cloud technology, there were dramatic changes in the way companies did their accounting," Larsson explains. "Cloud accounting has enabled easier access, so users can pull massive financial data, as long as they have reliable internet access."
6. Accounting professionals are becoming more specialised.
"Technology has forced specialisation onto the accounting industry," says Perry Zheng, CEO of Cash Flow Portal. General accounting is not in high demand as in the past. Accounting has become about bespoke services and personalisation. Customers want their individual needs to be met instead of getting an off-the-shelf solution.
Zheng says companies look for accounting solutions that can give them deeper insights rather than just an overall financial position, so they can make informed decisions. "Accounting software has evolved to meet these new needs. It enables customisation across every aspect of accounting, including data entry, reconciliation, and reporting."
7. Business owners are more adept at basic bookkeeping tasks.
"As accounting software has advanced and become more user-friendly, business owners have been able to take care of more basic bookkeeping tasks—without consulting a CPA or enrolled agent (EA)," says Ng. For example, solutions such as QuickBooks have enabled individuals with no accounting background to maintain their own books.
"Before, if business owners needed a profit and loss statement to apply for a line of credit at the bank, they would have to ask an accountant to prepare it," Ng explains. "Now, a business owner can simply create this financial statement on demand."
Ng adds that this shift in dynamic—accountants being less involved in more simple accounting tasks—hasn't eliminated the need for such professionals. CPAs and EAs are still invaluable for helping their clients with contentious or complex tax cases and performing other professional engagements, such as an audit, review, or compilation. "The ever-increasing evolution of and access to technology simply means that accountants are able to shift their focus to areas that require more complex thought and consideration, rather than focusing on mundane, repetitive tasks they once had to juggle."
Accounting process improvement is getting more attention. Not sure where to start? These accounting experts share their recommendations and insights.
The Impact Of Technology In Accounting: Future Outlook
"The next big thing in the accounting world is sure to be accounting integrations," says Chee. Being able to automatically sync POS systems or e-commerce platforms to cloud-based accounting software will save a ton of time.
Chee notes that accounting integrations can automate manual data entry and bank reconciliation processes, meaning no room for human error, always having data on hand, and more time to spend on value-adding tasks. "You'll no longer need to let these tedious tasks pile up until tax time."
Beyond integrations, accounting will no doubt incorporate more automation elements. Thus, the role and impact of technology on the accounting process will continue to be supportive. Accountants will get back more time so they can use their knowledge and experience to provide clients with greater value.
Supercharge your accounting firm with the right collaboration solution.
Glasscubes is a robust collaboration solution and client portal that ensures your entire organisation is able to stay connected internally and externally—regardless of workforce size. Secure file sharing and task management ensure your auditors and clients stay on the same page.
Security is a top priority within Glasscubes. Once data reaches our servers, they are immediately synchronised and distributed across a minimum of three different physical locations within the UK. In addition, access to our client portal software uses the highest level of SSL encryption to ensure the transfer of your data is secure between you and our servers. Further, we encrypt all data at rest for ultimate peace of mind.
Our solution helps everyone stay in the loop on the latest updates and share what's most important—all while keeping work moving efficiently. Use threaded discussions to keep conversations in context, whether discussions deal with client tasks or important project files. From task management to communication to file sharing, our platform helps you stay in touch and on top of things all in one place.
With Glasscubes, you can:
Request files from clients in a secure, easy-to-use manner. Avoid the hassle of hunting down important information and doing follow-ups to get what you need.
Collect, process, and approve information through customisable, automated forms and workflows that include user assignees, assignee follow-ups, and completion alerts.
Create customised workspaces for each project team in your portfolio. Team members can share resources and communicate with one another in their specific workspace, and you can access them all for easy oversight.