Back to blog
SharePoint vs. Dropbox: Comparisons & Use Cases
on 15 April 2021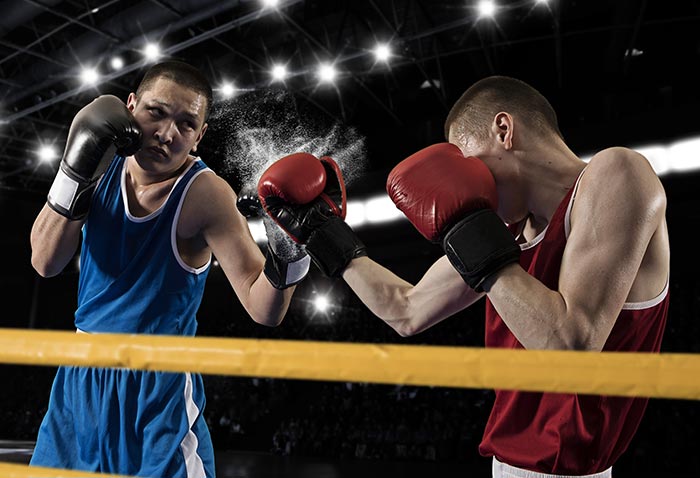 Document management and file sharing are two necessary functions of your day-to-day team operations. But simply emailing documents back and forth between team members is inefficient, especially as you share more and more files.
There are several popular solutions on the market for document management and file sharing, two of which we compare below. In a showdown of SharePoint vs. Dropbox, which one comes out on top? Keep reading for the answer.
Note: We recently published an article comparing Box vs. Dropbox. If you're interested in seeing how the two solutions compare, you can read it here.
SharePoint vs. Dropbox
Setup & Deployment
A key difference between SharePoint and Dropbox is how quickly you can start using each one. (Tweet this!) With Dropbox, you simply create an account and start sharing files. You can be up and running in a matter of minutes.
Meanwhile, SharePoint requires a lot more preparation to deploy. It also needs help from the IT department to configure and maintain. You're looking at days, weeks, or possibly even months if you work within a large organisation. However, while Dropbox is only available in the cloud, SharePoint is available for cloud, on-premise, and hybrid deployments. Dan Ward of Aphrodite notes that this flexible deployment approach "allows for more robust security options for sensitive data, as well as integration with other solutions already deployed on-premise."
Dropbox has limited capabilities, so it's not surprising it beats SharePoint in the setup department. However, what if you need to handle more than one use case (like SharePoint) and want setup to be a breeze (like Dropbox)? Then, Glasscubes is an option.
While not in the official SharePoint vs. Dropbox lineup, Glasscubes is a relevant solution because it acts as the ideal compromise between the two solutions. You can use Glasscubes to handle file sharing and document management—but also communication, project management, and information workflows.
Integrations
Since SharePoint is part of the Microsoft family, it integrates well with other Microsoft products. "Many organisations already use Microsoft Office, which makes adding SharePoint the natural choice over a standalone product like Dropbox. Some organisations may even already have access to SharePoint, but simply haven't used it yet," says Kate Hudson of Stanfield IT.
Given its wide usage, Dropbox isn't without its own integration opportunities. Many solutions, Microsoft products included, have third-party extensions for connecting to Dropbox. However, integration of Dropbox with Microsoft Office may not feel as seamless as SharePoint.
Like Dropbox, Glasscubes can connect with Microsoft Office, albeit not as seamlessly as a product built by the same developers. However, many Glasscubes users make use of its integration with Microsoft's Active Directory, which manages computers and other devices on a network. For organisations that use Active Directory to authenticate users and enforce security policies, Glasscubes is a great option.
Complexity
Given the difference in setup difficulty between SharePoint and Dropbox, it shouldn't be surprising that SharePoint is much more complex than its counterpart. Though, to be fair, SharePoint also has many more features to offer in return.
SharePoint's robust features enable advanced document management, not just simple file sharing. You can set up user privileges, approval workflows, and document libraries for thousands of files. But these capabilities also require the help of IT staff to implement.
"Dropbox is very intuitive for your everyday user," explains Ward. "You have to consider whether you need a more comprehensive feature set in the form of SharePoint or just want a simple way to share files with Dropbox."
Again, Glasscubes offers an excellent middle ground between the two solutions. Glasscubes offers more features than Dropbox, while also maintaining simplicity because, unlike SharePoint, you don't need help from IT for implementation. All features are readily available and easy to understand—even by non-technical staff members.
Use Cases
Dropbox for freelancers. Nick Galov of TechJury says that freelancers and other independent workers could benefit from choosing Dropbox. "If you have an online or service-based business such as graphic design, you typically just need an easy way to share small and large files with clients, not extra bells and whistles. Dropbox handles this use case easily."
Dropbox for simple storage. Sometimes you just need a quick and easy way to store your files. Hudson says that's when Dropbox makes a good choice. "If your main purpose is finding a file storage solution, then Dropbox could work. It has a higher-tier plan that has virtually unlimited storage space."
SharePoint for large organisations. The larger and more complex your organisation is, the more relevant SharePoint becomes. Galov explains: "Deploying SharePoint requires IT assistance to configure, integrate with existing applications, and maintain. Larger organisations typically already have technical staff in place to handle such a deployment. That makes SharePoint's complexity less of a barrier."
SharePoint for Microsoft product users. Hudson reiterates SharePoint's natural connection to other Microsoft products. "It's not just Microsoft Office. Organisations using products like Microsoft Teams can integrate SharePoint for enhanced collaboration—whether you have a departmental team or a team that crosses functional areas."
Glasscubes for franchises. When you have multiple locations—consider a fast-food franchise—it can be challenging to keep all your restaurants in the loop. Add in the fact that some restaurants are corporate-owned, which can necessitate segregating certain information. You can create an unlimited number of workspaces in Glasscubes and invite whomever you want to join. For example, you can have a workspace for all restaurants where you make general announcements, one for corporate-owned restaurants, one for franchisee-owned restaurants, and even one for individual locations.
Glasscubes for schools. Administrators love forms. It's how they help their schools stay compliant. You can build custom forms in Glasscubes—important checklists, satisfaction surveys, time-off requests, expense claims, and so on—to distribute to your administrative staff and teachers. Forms are a part of Glasscubes' information workflow, which automates the process from requesting information to approval.
When it comes to SharePoint vs. Dropbox, Glasscubes is the surprising winner.
Glasscubes is your trusted, go-to solution for document management, file sharing, seamless collaboration, and so much more. Glasscubes enables you to do more than Dropbox without the added deployment barriers and complexity of SharePoint.
With Glasscubes, your teams can:
Store and share files in a secure location, complete with automatic version control. You can even create approval workflows and view clear audit trails of user actions.
Assign and manage tasks for different members of the team and track them to completion.
Communicate practically anywhere through threaded discussions on the general message board, on specific files, on assigned tasks, or through instant messenger.
Glasscubes offers the best of both worlds.