Back to blog
Asana Vs. Monday: Which PM Solution Is The Best Fit?
on 29 April 2021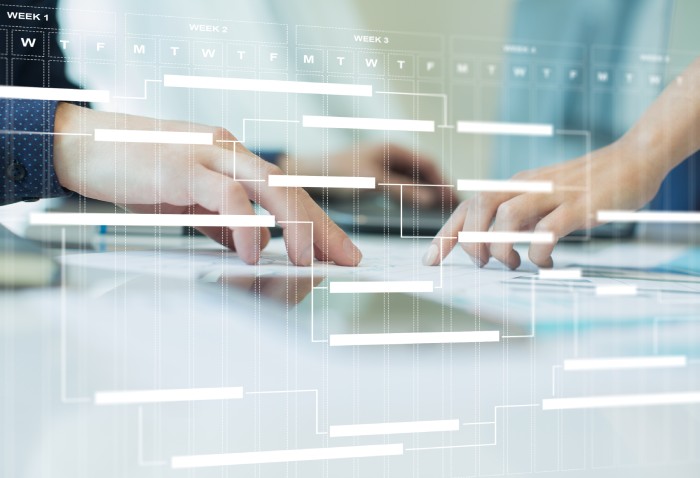 Projects have a finite life, and it can be extremely challenging to complete them within a prescribed budget, to a certain quality level, and by a given deadline. Planning for these projects can be a headache, especially projects that are large and complex. It seems like you always need more time or resources to get the job done.
How can you help alleviate these issues and ensure you complete projects within prescribed constraints? Project management software significantly reduces the burdens of planning for and managing projects. Instead of having to manually track and assign work, these solutions can do much of the heavy lifting for you.
In this post, we pit two of these project management tools against one another: Asana vs. Monday. While similar in many ways given their shared focus of making projects easier to manage, each has distinctions that make it more suitable for certain businesses. Keep reading to see the Monday vs. Asana mashup and determine which solution may be the right fit for your organisation.
Side note: If you're comparing project management solutions, chances are you're also in the market for other solutions that help with team management and collaboration. Check out similar comparisons we've done:
Asana Vs. Monday: Features
1. Communication
"When it comes to communication within the software, Asana project management is the better choice," says Isabella Zhou, marketing lead at Trustana. "Whereas Monday only allows you to comment on tasks, Asana gives you multiple options for pinging and discussing status with teammates. For example, you can use the team page to talk with the whole team, and you can leave feedback at the project, team, and task levels."
2. Templates
Both Asana and Monday offer templates to help your team get up and running on projects faster. For example, Asana templates cover common project needs in marketing, product, design, and more. However, Zhou says Monday goes a step further by providing templates that not only focus on business areas but also provide project structure elements, such as owners, descriptions, and due dates. "Monday makes templates that are more realistic for the everyday project manager."
3. Integrations
Integration is an important area for many teams. You likely use several other applications as part of your daily workflows and want your project management software to easily connect to them. If you're looking for a wide selection of integrations, Asana offers over 200; Monday only offers about 40. In fairness, both solutions can integrate with some of the most used tools like Google Drive, Slack, and Dropbox.
However, even when two solutions offer the same integrations, the way they connect with third-party software can impact the final decision. For example, Nancy Martin, SEO manager at FTKnowledge, chose to stick with Asana rather than Monday because of its integrations with other software that she needed for her team. "Monday's integration offering doesn't encompass all the tools my team uses. In addition, we use Google Drive, Slack, and Dropbox—and we can more seamlessly access all our assets housed in these third-party tools through Asana."
4. Visualisation
"Monday project management is a unique experience because of the way it helps you visualise work," says Zhou. She notes this is mainly due to the use of pulses, Monday's version of tasks. "With pulses, there's no need to switch between pages. Monday shows a list version of your pulses, and each displays a status bar. There are also options for a timeline view, a board view, and seeing everything in one place."
Martin also chose Monday vs. Asana for its visual appeal. "I prefer Monday's presentation as it allows me to view all our work in different ways, quickly, and without opening multiple browser tabs. This enables me to see work from different perspectives."
Asana Vs. Monday: Usability
"Having used both Monday and Asana, I can tell you our team ultimately preferred Asana," says Brett Downes, founder of Haro Helpers. One of the most significant factors in his decision? The difference in usability. He notes they have similar feature sets, but Asana does a better job of bringing those features together in a usable manner. "Monday simply isn't as intuitive; it seems like features are just jumbled together."
Gabriela Park, digital marketing manager at WeThrive Hub, agrees with Downes' assessment. She says Monday's interface seems harder to grasp, especially at first glance. "Every task within the Monday board shows a lot of information and seems too text-heavy. In comparison, Asana has a unique dashboard that shows day-to-day tasks that need to be completed within a certain project, which feels simpler."
The team at Test Prep Insight uses project management software to manage their content creation process. After using several solutions (including Monday and Asana), they ultimately settled on Asana. Test Prep's CEO John Ross says the decision came down to a few factors: ease of use, interface cleanliness, and accessibility. "I wanted to ensure even our non-tech savvy employees could use it with minimal friction."
Asana Vs. Monday: Security & Privacy
Two-factor authentication (2FA)—where users must enter their password and a code sent to a separate device, such as a mobile phone—is one area where some users take issue when comparing Monday vs. Asana. While both platforms offer 2FA, only Monday does so natively. Monday allows the option of sending a text message to your mobile number when 2FA is enabled, but Asana requires you to download a third-party authentication app.
"Brining additional applications into our technology mix was certainly a security concern for us," Downes explains. "Though it wasn't a strong enough concern to prevent us from switching to Asana from Monday given its overall better fit for our organisation."
Beyond 2FA, which is standard among digital solutions in today's marketplace, Asana and Monday both provide additional security and privacy measures for their users. For example, they abide by the General Data Protection Regulation (GDPR), a European law establishing protections for personal data of EU residents. This is valuable if you handle any EU data—though Monday explicitly claims to be GDPR compliant, while Asana indicates it has taken steps to "align its practices with the GDPR." Additionally, both Asana and Monday comply with system and organization controls (SOC) 2 audit to ensure service providers securely manage your data.
The real security difference comes into play with certain industry standards. If your organisation operates in healthcare, for instance, you have pressing concerns about sensitive patient data. In this regard, you'll value Monday over Asana as Monday is HIPAA compliant. In addition, Monday secures its data at rest with AES-256 encryption, one of the most secure symmetric encryption methods available.
Asana Vs. Monday: Customer Support
Both Asana and Monday have a similar method of providing support. Their first line of defense is to route you to their respective knowledgebases and community forums. These areas are meant to help users answer their own questions—ones that many users likely have had in the past.
If you'd like to get in touch with a person, calls appear to be a no-go for either platform as there's no direct number provided on their websites. Instead, you can fill out the typical support form requesting assistance and wait for a response from their team via email or phone.
Markus Albert, managing director of Eat First, says he has a lot of experience with project management software. With Monday, he found the support team was not very "customer-support oriented." Several times during 2020, he was told the team was unable to set up calls or help synchronously due to COVID. Instead, all queries had to be sent via email. "It was quite disappointing."
Asana's customer service wasn't much better for Albert, as their support team also didn't offer phone support—and the live chat was only intended for sales. "I was directed to the online forms and email options, which I didn't like. I was also not impressed with how much spam they sent my way on a regular basis."
Asana Vs. Monday: Pricing
Both Asana and Monday have free trials if you're looking to test them out—which you should do to ensure your team likes the functionality and the design of the solution. Asana's free trial lasts 30 days, while Monday's trial only lasts 14 days.
Notably, only Asana offers a free "forever" version (the Basic plan) that you can select as long as you have 15 or fewer people on your team. Monday does not offer a free version of its solution past the initial trial. Of course, Asana's Basic plan has limited features compared to the paid plans, but you may be able to get by with what's offered depending on your needs. For example, Basic doesn't come with task start dates, task dependencies, or reporting dashboards.
For a high-level view of all Asana vs. Monday plans, review the pricing table below. Each of their plans, save for the Basic, have similar feature offerings. The Enterprise plan requires direct contact with the respective solution teams for custom pricing. (All amounts assume annual billing and are current as of May 1, 2021.)
Plans

Asana
($ per user, per month)

Monday
($ per user, per month)

Basic

$0

$8

Premium / Standard

$10.99

$10

Business / Pro

$24.99

$16

Enterprise

Custom

Custom
Who wins in the battle of Asana vs. Monday? With a surprise knockout of both solutions, it's Glasscubes.
Glasscubes is a robust collaboration solution that supports your project management efforts and ensures your entire organisation stays connected internally and externally. In today's fast-paced business world, you can't accomplish your goals effectively without collaboration. Glasscubes makes collaboration simple.
From document management to task management to contextual communication, Glasscubes gives you the ability to stay in the loop on the latest updates and share what's most important—all while keeping work moving efficiently.
And if you're in a pinch, Glasscubes is there to help. Users have raved about Glasscubes' support team and its ability to resolve issues, enabling their teams to get back to businesses quickly. Check out a few highlight reviews from Trustpilot:
"Glasscubes is a fantastic product and company. After significant research, I found it to be the best solution for my team to share files and collaborate on projects across several different institutions. The support channels in place are comprehensive, making it a truly streamlined platform." – George S.
"Glasscubes is a fantastic platform for our team, the ability to be able to communicate, share folders and files is brilliant. The personalised support that is offered is second to none, and I would recommend to anyone without hesitation." – John F.
"As an accountant, I find Glasscubes is excellent for not only getting to grips with multiple tasks/deadlines and maintaining a client overview but also as a client portal. It not only helps me to keep GDPR compliant but also improves communications with my clients who also love it. I also love the responsive and friendly support from the staff." – Andrew S.
With Glasscubes, you can:
Collect, process, and approve information through customisable, automated forms and workflows that include user assignees, assignee follow-ups, and completion alerts.
Assign and manage tasks for different members of the team and track them to completion.
Create customised workspaces for each project team in your portfolio. Team members can share resources and communicate with one another in their specific workspace, and you can access them all for easy oversight.
Want to see how other companies are using Glasscubes to stay on top of their projects? Check out these case studies.