Back to blog
Legal Document Management: 5 Benefits & 4 Must-Have System Features
on 27 October 2021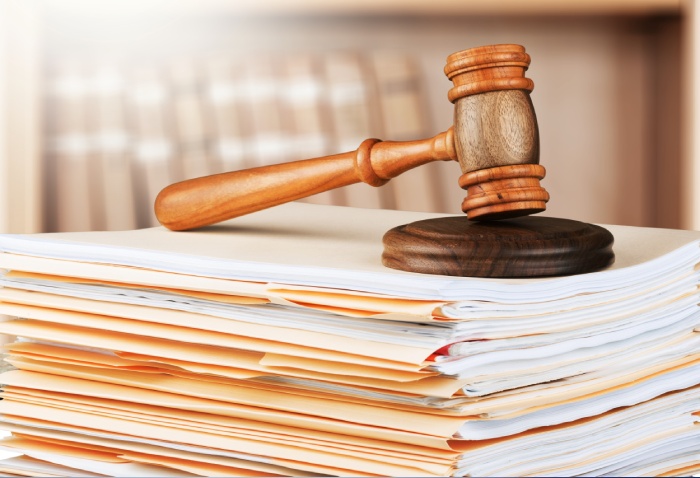 If you've ever misplaced an important client document, you know how disastrous that can be in certain situations—from losing a case to losing a client. But these are worst-case scenarios.
Sometimes it's just a matter of not being able to find the right file at the right time, like right before a meeting with the senior partners or a big client. While not disastrous, this can be a headache—not to mention embarrassing.
On a broader scale, these types of events can not only reduce efficiency but also cause reputational harm—hence why legal document management is so important for law offices of all sizes and practice areas.
What is legal document management?
Let's first start by defining document management—the organised practice of storing, sorting, and tracking documents, typically as electronic files within a digital solution. People often confuse document management with document storage, but the former term adds intelligence and logic—think versioning and user permissions—to an otherwise rudimentary practice of simply putting files in folders.
Legal document management encapsulates the concept of standard document management, only its practices and solutions are tailored to suit the particulars of the legal field. For example, legal documents are often used in a myriad of sensitive contexts and, therefore, require greater compliance and security measures due to their confidential and sensitive nature.
Now that we've built a solid knowledge foundation, let's get into the benefits and needed features associated with a legal document management solution.
5 Benefits Of A Legal Document Management System
Implementing a legal document management solution can be quite advantageous for your organisation. Industry experts share a few key upsides below.
1. Reduced Storage Space
"Commercial property costs are increasing and so is the expense to store paper documents," says Max Benz, CEO of remote-job.net. "A legal document management system that can reduce the need for file cabinets, boxes, and storage bins is a valuable asset to any enterprise. Documents that must be kept as hard copies can often be stored in less expensive locations, such as an offsite warehouse or vault."
2. Enhanced Security
"Document security is critical for organisations of any size to keep sensitive data protected," says Benz. "These systems provide better control over and access to confidential documents, typically controlling data at the folder level for different groups or individuals. Also, the system provides an audit trail of who has viewed a document, when it was accessed, and how it may have been modified. All these elements provide a more secure environment."
3. Improved Discovery
"When working on legal matters, you often have to refer to different documents," says Irene McConnel, managing director of Arielle Executive. "Going through a library of thousands of documents if you don't know the title can be pretty tiresome. A legal document management system can sort and categorise each document into relevant sections that can make finding them much easier. You would only have to type in a relevant keyword, and documents related to it would show up."
4. Fewer Document-Related Mistakes
"Legal documents are very sensitive in nature, and even misplaced punctuation can cause problems," says McConnel. "A tailored system can help store past versions of the same document so that legal professionals can keep track of any changes that occur. This also helps restore a previous version when any unexpected changes occur, making document loss virtually impossible."
5. Better Team Collaboration
"In nearly all legal matters, team members need to work together on documents with peers and their clients," says Linda Chavez, CEO of Seniors Life Insurance Finder. "A good legal document management system allows every document to be stored and accessed in the cloud. Each team member can easily view and edit the document from any location. This makes collaboration much easier and efficient, reducing the workload of everyone involved."
Benefits In Action: Case Studies Of Law Firms Using Legal Document Management Software
Real-life business situations often help solidify concepts such as the ones noted above. So here's how two law firms used Glasscubes, a legal document and collaboration solution, to their benefit.
Neustel Law Offices has been focusing on intellectual property rights since 1998. This company turned to Glasscubes primarily for our legal document management capabilities. Neustel needed a way to easily identify, mark, and search the tons of PDFs it managed. Other solutions in the industry were "outdated and cumbersome," but the company felt that Glasscubes would make it more efficient. Check out the full case study, including post-evaluation commentary from one of Neustel's patent attorneys about our extensive search capabilities and outstanding customer support.
Aaron & Partners is a well-regarded, top 200 law firm in the UK. The firm sought out Glasscubes primarily for our online collaboration capabilities so it could easily interact with clients and vendors alike. One of the biggest selling points that convinced the firm to switch from its previous provider was Glasscubes' "clear layout and functionality," along with our overall value. We helped Aaron & Partners perform a seamless transfer between platforms with no end-user disruption. Check out the full case study, including detailed commentary from two IT managers at the firm.
4 Features To Power Up Your Legal Document Management Efforts
The right solution offers legal document management services you can use to reach new levels of efficiency. Here are a few must-have features that industry experts say are important to consider.
1. Security
"Enterprise-grade security should be the first consideration in any legal document management system," says Eric Rohrback, CMO at Hill & Ponton. "This protects your information from third-party access, phishing, and hackers using encryption technology. You should also be able to set permission levels to guarantee that only authorised users have access to each document."
Glasscubes employs a number of security measures to keep legal documents protected:
Encrypting data in transit and at rest
Synchronising and distributing data across a minimum of three different physical locations
Using two-factor authentication
2. Reporting
"The legal documents management solution should have an automatic report generating and feedback system to help you evaluate performance and make changes where necessary," says Andrew Drow, COO of Cloom. "These automated reports prove very beneficial when analysing productivity and making crucial business decisions. These reports also help in allocating daily tasks."
With Glasscubes, you can create multiple report types to keep tabs on what matters to you:
User activity
File approval and acceptance
Task workload overview
Task time tracking and variance
3. Document Tagging
"In the legal industry, file organisation is crucial—without it, legal processes are messy, chaotic, and almost impossible to navigate through," says Eden Cheng, co-founder of PeopleFinderFree. "As such, the legal records management system should provide you with document tagging features, which enable you to organise and locate documents quickly. In other words, the system must be able to automatically tag motions, complaints, summons, contracts, and other relevant documents, making it easy for an attorney to find specific case files."
In Glasscubes, you can tag (or label) files to easily categorise your documents how you want. You can then filter based on your tags to easily sort through files.
4. Communication
"Any good legal document solution should allow lawyers, attorneys, and paralegals to communicate from one central point for shared project tasks and quick updates on billable hours, among other concerns," says David Aylor, CEO of Aylor Law Offices. "While it's not necessary to have a communications system built into the solution, there will be fewer user errors and confusion amongst the team if they aren't forced to sort through emails, texts, and messages regarding a shared case."
Glasscubes enables you to keep conversations in context with threaded discussions, whether on a file or task.
How can you conquer legal document management at your firm? The answer is easy: Glasscubes.
Glasscubes is legal document software for attorneys. Centralise, organise, and search employee and client files quickly and easily. But our solution is more than just document management—it's a robust collaboration solution that ensures your entire organisation is able to stay connected internally and externally. Secure file sharing, task management, and threaded discussions ensure your staff and clients stay on the same page.
With Glasscubes, you can:
Request files from clients in a secure, easy-to-use manner. Avoid the hassle of hunting down important information and doing follow-ups to get what you need.
Collect, process, and approve information through customisable, automated forms and workflows that include user assignees, assignee follow-ups, and completion alerts.
Create customised workspaces for each project team in your portfolio. Team members can share resources and communicate with one another in their specific workspace, and you can access them all for easy oversight.
Want to see how other companies are using Glasscubes to support their teams? In addition to the legal case studies covered above, we've got case studies from other industries here.