Back to blog
5 SharePoint Alternatives That Could Work Better For You
on 26 January 2021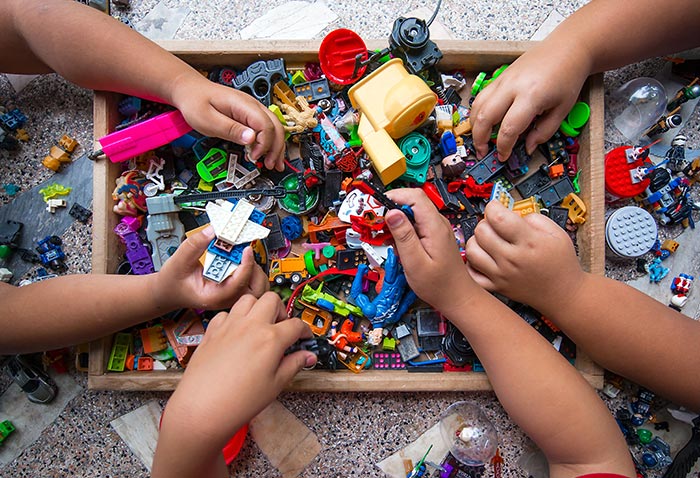 SharePoint is one of those collaboration tools organisations often feel they have to use because they're already using other Microsoft products. And it makes sense—SharePoint naturally integrates with its sister solutions, and offers a ton of features that address a wide array of business challenges. But that doesn't mean it's a great fit for your organisation.
Why You Should Consider Alternatives To SharePoint
To be fair, SharePoint has a number of selling points: It's robust, readily available for current Microsoft users, highly configurable, and has numerous use cases including collaboration, document storage and sharing, and more.
However, its broad functionality can be a double-edged sword, presenting some unexpected challenges alongside the benefits. Many organisations that look for SharePoint alternatives do so for several reasons:
SharePoint is too complex. You can address many use cases with SharePoint, but that broad applicability naturally produces complexity. For example, there are numerous modules you can add to make the platform "fit" your organisation's needs. Such versatility may seem useful on the surface, but not when you consider the consequences—you need dedicated IT resources and time to set up the platform, configure all the various components, and update and maintain it thereafter.
SharePoint is too hard to learn. SharePoint has a lot to offer, but that also means it requires lots of training. In fact, one study found that a staggering 66% of organisations blamed their unsuccessful SharePoint implementations on the platform being too difficult to use. Every organisation knows the headache of training their workforce on new tools and software. After employees have used a solution for years, the last thing they want to do is learn a new one.
SharePoint is too costly. The initial appeal of SharePoint quickly wears off when business leaders see the price tag, especially in small and mid-sized organisations with tight budgets. Fees for purchase and licensing, maintenance, and upgrades are just the start. You also have to consider the costs of labor for your IT team and training, among other aspects. Implementation costs can often be more than you initially expect.
While SharePoint may work for corporations that want an enterprise solution with lots of bells and whistles, most organisations don't need the fanfare. If you're looking for more realistic SharePoint alternatives that better suit your specific needs, consider the ones below. Depending on the challenge you're looking to solve, one of these options could make life for you and your team a little easier.
SharePoint Alternatives By Need
1. For greater ease of use.
SharePoint's complexity is a prime reason why user adoption for the platform is and will continue to be low. Sure, it has a wealth of potential as a solution for countless business problems across every industry; however, this is also the root of the problem: As Microsoft has continued to develop and add functionality to SharePoint, the platform has become more and more difficult for IT personnel to manage and for the everyday business user to navigate.
It's no surprise that companies in the finance industry have different business problems than, say, non-profit organisations. You will want to use only features that address your specific challenge areas, which means that all the extra functionality of the system will just get in the way, making your user experience more complicated than needed.
A solution for this issue might be to configure or customise the platform to suit the needs of your users. But is that really a solution? Configuring takes extra time, effort, and money, and it requires personnel with developer and infrastructure knowledge. Meanwhile, your users are burdened by the extra steps needed to accomplish their tasks.
Alternative: Confluence
Confluence is billed as an "open and shared workspace." It includes features similar to SharePoint, but it doesn't bog down teams with overcomplicated aspects and too many options for configuration. For example, you can use one of its many templates to create pages for just you or your whole team. You can then organise those pages by grouping like pages together and granting access to whomever needs it. Combined with the platform's search feature, these aspects make documents easy to find.
Antonio Segovia of DSS, Inc. says the proof is in the reviews. "[Confluence] earns better reviews than Microsoft's SharePoint because it comes out of the box with a great toolset to capture team meetings, write documentation, and track tasks." He adds that Confluence also has a marketplace of add-ons to address different or evolving needs your team may have over time.
2. For easier setup.
SharePoint has traditionally been considered cumbersome and costly, and requires moderate to extensive IT support to set up and make accessible to business users. For SharePoint to be a usable collaboration tool, IT resources are needed to:
configure the platform's numerous components;
provide specialised training to end users for even basic use cases; and
administer and manage the platform, including addressing change requests from users.
Naturally, these requirements present an expensive challenge for large organisations, who either have to hire new personnel or split their current IT resources.
And for corporate teams, such requirements are simply overwhelming, forcing them to look for alternatives to SharePoint.
Alternative: Slack
Communication is an essential aspect of collaboration, so the last thing you want is to delay that aspect because of a lengthy setup time. As one of several SharePoint alternatives, Slack makes communication very simple and can be set up quickly. In just a day, you can create a workspace, add users, set up channels around the work you do, and start chatting. Participate in group messaging or chat with individual team members. You can even video conference one-on-one and add any of its numerous integrations as needed.
Curious about how Slack stacks up against SharePoint? We put together an in-depth post comparing Slack to SharePoint and Microsoft Teams.
3. For an IT-free user experience.
The inherent problem with SharePoint is the dependence on specialised personnel, IT or otherwise. (Tweet this!) This presents a clear path to bottlenecks. For example, you must wait on your IT department to implement or configure the platform.
Plus, with hundreds to thousands of users, change requests are frequent. IT already deals with a host of other organisational issues, so requests regarding SharePoint can be easily pushed to the bottom of the priority list, leading to otherwise avoidable delays in user processes.
Alternative: Trello
To avoid making her team dependent on IT, Polly Kay of English Blinds turned to Trello. She found the platform user-friendly and easy to set up—hallmarks of an IT-light solution. "The color coding, intuitive layout, and general simplicity of Trello worked much better for us than SharePoint's interface did. It also met our main goal of getting rid of the needless complexity of SharePoint for simple tasks and group projects."
Kay adds that pricing was easy to understand as well, noting it only had three options, with one being free. Trello provides a side-by-side comparison so you know exactly what you're getting for what you're paying (or not paying, in the case of the free plan). "This was a revelation for us after navigating SharePoint's unclear pricing and arbitrary add-ons."
4. For clearer pricing.
If you've used SharePoint before, you know how often you're faced with unforeseen costs just to ensure the platform remains in a useable state. These costs typically come in the form of additional license options, third-party applications, or paid support.
Alternative: Google Drive
Google Drive is a popular solution for file sharing and other collaboration needs. "The opportunities for collaboration around files in real time is invaluable," says Allison Plattsmier. "It saves a lot of back and forth when collaborating on projects."
Google Drive's pricing is quite clear, and it even has a free option. Paid plans, which upgrade you to Google One membership, are all monthly or annual subscriptions based on the amount of storage you need—from 100 GB to 30 TB. There are also additional benefits to the paid plans, such as access to Google experts.
If you're also considering another file sharing option like Dropbox, you can check out this post that goes into detail about both Dropbox and Google Drive, particularly with pricing as it relates to storage size.
A SharePoint alternative for all of the above: Glasscubes.
Glasscubes

takes a simpler approach to collaboration software.
Glasscubes doesn't try to be all things to all businesses. It was developed specifically for business units, large groups, and corporate teams that don't have the time, budget, or inclination to deal with unnecessary functionality that comes with a complicated enterprise collaboration solution.
Other SharePoint alternatives offer complex features meant for larger, company-wide rollouts. But our platform considers the main needs of business units and large groups and delivers only features that address those needs, including file sharing, communication, project management, and intranet/extranet—all features your teams want and can use to improve their daily workflows and engage effectively with one another.
Glasscubes recognises that corporate teams like yours don't have overly complex needs, so you shouldn't have to choose an overly complex solution.
Glasscubes makes setup quick and painless.
Unlike SharePoint, Glasscubes is a true out-of-the-box solution. Except there's no box! An everyday business user can set up the Glasscubes platform and onboard other users in a day. Just invite users to join your online workspace, and they'll gain access to the complete service in mere seconds.
Plus, features like file sharing and task management are presented within an easy-to-understand user interface, so there's no lengthy training required. Your teams can spend more time collaborating and less time learning how to use the tool.
This ease of setup is one reason why Glasscubes commands a higher user adoption rate than the likes of other enterprise collaboration solutions like SharePoint. Customers come to Glasscubes looking for something that is easy to get started with—and they find it!
Glasscubes ensures you never have to say, "We have to wait on IT."
With Glasscubes, there's no specialised knowledge required, so any member of your team can make most changes. This eliminates delays stemming from the time-poor IT department and ensures your teams can make full use of the platform around the clock.
Glasscubes brings transparency to the collaboration equation.
Because Glasscubes offers a defined set of features developed for large groups and corporate teams, we can be straightforward and clear about pricing. What you see is what you pay—with options across three pricing tiers that include a standard monthly account fee and tier-specific user fees.
You know what you're getting into with Glasscubes. No need for extensive spreadsheets (or psychics) to figure out or predict the cost.
Check out the SharePoint alternative you didn't know you needed. Request a guided demo of Glasscubes today.