Back to blog
How To Organise A SharePoint Site: 5 Best Practices
on 7 November 2023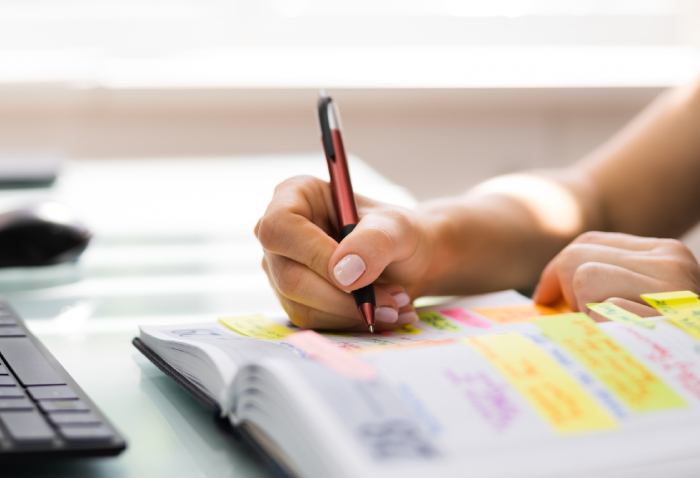 SharePoint users know two things about the platform: It's powerful but also convoluted. The platform addresses so many use cases and can be an excellent workplace collaboration tool—IF it's organized correctly. If not, it could cause chaos, and prompt user workarounds.
If you're not familiar with SharePoint, it's a popular content management and collaboration solution among mid- and large-size organisations, especially those that have adopted other tools in the Microsoft family of products. If you're a leader in one such organisation, or plan on adopting the product for your team, you'll want to learn the best ways to organise and manage your content.
For help on whipping your site into shape, consider the advice of avid SharePoint users from multiple industries below. Not only do they share best practices on organisation, but also steps to building a project plan for your SharePoint intranet. These insights could be the key to unlocking the hidden potential of both your site and your team.
How To Organise SharePoint: 5 Best Practices From Expert Users
1. Create a clear folder structure.
File this insight under must-follow SharePoint best practices: "It's crucial to establish a clear and intuitive folder structure that organises documents in a logical manner, and ensures team members can easily locate the information they need quickly," says Jon Morgan, CEO of Venture Smarter.
One way to accomplish this is to categorise folders based on departments, projects, or specific types of documents. For example, Morgan notes that you may have separate folders for marketing, sales, and finance, or folders dedicated to different projects or clients. "Consistency is key here. Make sure that everyone understands the structure and follows it regularly."
2. Tag all your content with relevant metadata.
"SharePoint's power lies in its ability to handle vast amounts of data. To unlock its full potential, embrace metadata and tagging," says Isabella Mellwex, CEO of Delish Pursuit.
Metadata such as location, date, title, and keywords allow you to categorise and classify documents, making them easily searchable and discoverable for your team. Tagging applies managed metadata to a document or other item.
Mellwex encourages her team to consistently tag content with relevant keywords and attributes, and recommends other leaders do the same. "Tagging not only enhances search functionality, but also ensures that documents are contextually related. Over time, this practice will help you build a rich knowledge base within your SharePoint site."
3. Make use of document sets.
"Use document sets to group related documents together," says Tina Shao, CEO of Homii Bottles. Document sets act as a container for a set of documents with similar characteristics or purposes. "This can streamline content organisation, improve navigation, and simplify version control for collections of documents such as project files or client records."
4. Assign permissions to groups, not individuals.
Josh Snead, CEO of Rainwalk Pet Insurance recommends assigning user permissions to groups, not to individuals. This is especially important in large organisations with dozens or hundreds of users to keep track of, and also a must whenever privacy or proprietary information is involved.
"This is one lesson we learned the hard way," Snead shares. "One of our former employees had full access to our entire SharePoint system for about five years after he stopped working for us. He was kind enough to let us know eventually, but there's no reason he couldn't have used that information to help his new employer, a competitor of ours."
5. Perform routine maintenance.
Even under the best circumstances, disorganisation is bound to happen. People put documents in the wrong place, name files incorrectly, miss tagging items, and so on. That's why Dr. Mollie Newton, founder of PetMe Twice, advises to schedule routine reviews and maintenance for your SharePoint sites.
"SharePoint sites can become cluttered over time—more quickly if your team isn't following best practices," Dr. Newton explains. "Schedule regular audits to clean up out-of-place items and remove outdated content, ensuring the site remains streamlined and relevant."
Following each of these best practices will lay a good foundation for your team's success with SharePoint. But if you want to go further and build a functional intranet within SharePoint, keep reading to learn how to produce an intranet project plan.
7 Steps To A Winning SharePoint Intranet Project Plan
What's a project plan, you ask? Solutions like SharePoint, while robust and capable of increasing your teams' efficiency, can be a bit cumbersome. Hence why you need a solid SharePoint implementation plan to lay out how you'll configure and use this solution, maintain it over the long term, and train users. The road to a finished SharePoint implementation is too long not to have a clear path.
We reached out to several experts to get their take on the important elements of a SharePoint implementation plan. Check out their input below.
1. Review current organisational processes and systems.
If you want SharePoint to increase efficiency, you'll need to review the processes you have in place to determine how the solution can best enhance them. It's unlikely that you'll be able to just plug SharePoint into your process without changing a few aspects. In fact, some processes may need a complete overhaul.
Do you already have an intranet in place? You'll need to review that too, including what users liked—and didn't like—about the system.
Don Rua, marketing director at Admiral, shares a story about a SharePoint implementation in which he participated. His company was large, with 50 departments and an intranet that had over 150 connections to other systems. "Our intranet touched company systems that provided data analytics, reporting, financial planning, and other functionality—and everyone hated it."
Rua notes that employees frequently complained about the company intranet because it was outdated and lacked the functionality needed to complete work efficiently. It pushed people to create workarounds and intranet-like spin-offs across systems. "This reduced overall company cohesiveness, limited communication, and made it difficult to track anything. We wanted to make sure to avoid these issues in a new solution, which we eventually decided should be SharePoint."
2. Decide on stakeholder roles.
Implementing a complex solution like SharePoint, especially in a larger organisation, will necessitate the involvement of numerous people. James Leversha, director at Top Notch I.T., says it's critical to establish who owns and governs not only the project but also the intranet itself.
"Due to the platform's technology-heavy design, IT will almost always be a significant stakeholder in a SharePoint intranet project plan," Leversha explains. "In many situations, though, it will not be the owner. This ownership may be held by a single group, such as communications or knowledge management, or it may be shared among members of a committee or other governing body."
Leversha notes that whatever the model, it must be clear how stakeholders make key strategic decisions, where the budget comes from, and where the intranet sits in the organization. "Stakeholder management is one aspect you must do at the onset to establish boundaries."
A best practice here is to curate a cross-functional team that has strong influence over their respective areas. For example, Rua's company set up a project advisory team that represented multiple firm departments. "Not only were they chosen to represent their areas' needs but also to lend their clout to the project. The implementation required a lot of change, and their voices would undoubtedly make the eventual transition for workforce members much easier."
You may also want additional oversight from project sponsors, who are typically higher-level personnel. Rua's SharePoint implementation had a committee of executives, in addition to the advisory team. "We would present updates to the COO, CTO, and a few top directors."
William Mills, president of Aptimized, calls out a few specific roles you may want to consider in both your SharePoint intranet project plan and post-implementation usage:
"An architect, 365 configurator, developer, or UX/UI designer will cover the technical side," he says.
"For non-technical roles, there are community managers, change champions (the folks writing the content for the sites), communications lead(s), and the program sponsor (could be head of HR or head of corporate communications)," he notes.
"Lastly, you may need vendors and other external partners helping with the heavy lifting for new content or technical delivery," he says.
3. Choose the right SharePoint site architecture and components.
"Before building your SharePoint site, you should consider what it will be used for and how it will develop over time—think about your SharePoint goals and objectives," says Brad Touesnard, CEO of SpinupWP. "Work out your preferences in terms of the number of site collections, the type of navigation, and the folder structure, among other aspects."
Touesnard also notes that you will need to consider a number of modules that SharePoint offers:
The Library permits you to store documents.
Tasks allow you to delegate and track progress on activities.
Announcements let you post important information.
The Calendar enables you to schedule meetings and other events.
Contacts provide you with a way to store employee emails, phone numbers, and other contact details.
"There are other modules to consider," says Touesnard. "Which modules you choose depends on the functionality you need."
4. Evaluate your budget, timeline, and scope.
"These types of projects can go on forever because of the complexity involved and vast amount of content your stakeholders will want for the new intranet," says Mills. "Ensure that you box in your needs based on the mandatory features you've decided on."
Coloring outside the lines with scope—namely attempting to implement features outside of the original plan—naturally impacts the budget and timeline aspects of the project. You can quickly find yourself with an overrun budget and extended timeline without a clear plan to follow closely.
5. Schedule implementation tasks.
"A successful SharePoint implementation requires proper scheduling of every task involved in the project," says Waqar Ahmed, SEO expert at Appstirr. "Typical implementations can take anywhere from three to six months, and that timeline can easily go off course if not planned beforehand."
6. Test the implementation.
Ahmed says it's important to test SharePoint prior to rolling it out to the entire organisation. This gives you the opportunity to catch issues, optimise configuration options, and gather preliminary user feedback. "Put together a group that represents as many typical users as possible from across the organisation. You can then make adjustments to the system before going live company-wide."
7. Roll out the solution.
Once you have everything set up and addressed your test team's feedback, you're ready to take SharePoint live to the whole organisation. Be sure to encourage your key stakeholders to push adoption and keep the feedback loop open to quickly address any issues that arise.
Make collaboration effortless with an alternate solution: Glasscubes
While it's certainly possible to make SharePoint work well for your team, it does take some degree of effort. Some common issues with SharePoint are:
The interface is too complex. Because the solution's interface is often described as "clunky" and "frustrating," user adoption tends to be low.
It's too costly. If you have a tight budget, SharePoint is likely to completely blow it away thanks to fees for the initial purchase as well as licensing, maintenance, and upgrades.
It requires a lot of training. SharePoint has a high learning curve due to its complexity. In some cases, it can take weeks or even months to get users fully up to speed depending on how you've chosen to configure the solution.
It requires IT involvement. Your in-house IT team is likely going to be tied up with configuring and maintaining SharePoint. (Or, you'll need to hire outside people.)
There is no free trial. Given the expense and complexity of a SharePoint implementation, it's unfortunate there's no trial period. After investing so much time and energy, what happens if you don't even like it—or your users don't adopt it?
Glasscubes is a popular alternative to SharePoint that makes intranet-ing (yes, we made that word up!) a cinch. But our solution is more than just an intranet—it's a robust collaboration solution that ensures your entire organisation is able to stay connected internally and externally.
Compared to SharePoint:
Glasscubes is team-friendly. You don't have to learn or train with Glasscubes, which is why so many of our reviews sound like this: "[The platform is] 'a joy to work with'" and "We can't really imagine what [work] was like without the platform." (See these reviews and more on Trustpilot and Capterra!)
It's more affordable. You can subscribe to Glasscubes for one (affordable!) monthly cost and never have to worry about maintaining or upgrading the solution down the line.
It's simpler. Your team can master Glasscubes in a matter of hours—most users get the hang of the system the same day.
It's easier to maintain. Glasscubes doesn't require any IT attention. Simply sign up and start using the solution.
Best of all: You can try it out for free! Glasscubes provides a 30-day free trial, so you have plenty of time to determine whether it's a good fit for your organisation.
Keep your teams on track to success with its collection of value-packed features:
Ready to try out an alternative to SharePoint? See how it works—request a free demo of Glasscubes today!