Back to blog
How To Build A Company Intranet That Innovates & Engages In 7 Easy Steps
on 13 January 2023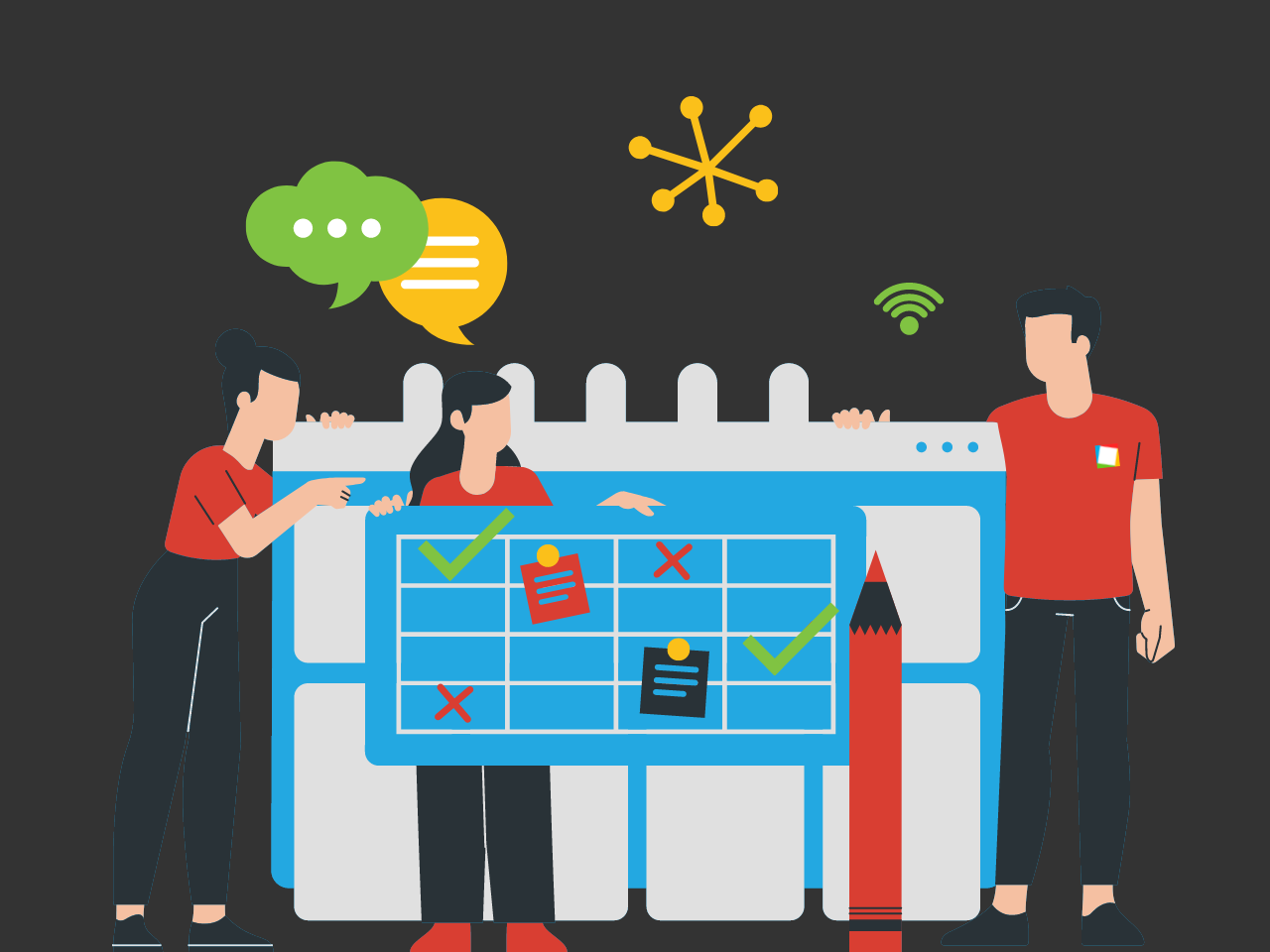 Let's be honest: Most company intranets today are outdated and unexciting. They tend to be static, one-way communication portals built on older technology that's cumbersome to support.
Rather than being a hub of activity, they're practically ghost towns. That's unfortunate, because intranets are quite valuable tools when used correctly. Keep reading to see why.
What is a company intranet?
We wrote an entire article answering this question, but here's the short answer: An intranet is a technology solution organisations can use to enable their employees to securely connect, communicate, and collaborate with one another.
While many companies have let their intranets fall by the wayside—or neglected to implement them at all—some have recognized the value in these solutions. Company intranets are powerful tools that can be used to collaborate on projects, share knowledge, and even network internally, especially within large organisations.
For example, Jasmin Zamora, communications and community relations manager at Combined Insurance, says her company uses an intranet to post internal news as well as news about their parent company. "If done right, an intranet serves as a one-stop-shop for important information that keeps your workforce in the know."
Why has it become more important for companies in the U.K., U.S., and other locations around the world to implement intranets? While there are many factors to consider, the rise of the remote work model is one of the most significant. In the wake of the pandemic, many companies have transitioned to remote work. In the U.K., 22.4% of employees work remotely, while that number is a little higher (about 25%) for employees in the U.S.
Of course, remote work has numerous benefits—a larger talent pool to find the best people for your team, higher worker productivity, and reduced operational overhead and real estate costs. However, it's not without its challenges. Differing time zones, more communication barriers, and a lack of team cohesion can make it hard to keep employees connected and projects on track.
This is where company intranets shine. They have a valuable collection of features that help overcome or mitigate these challenges so your team can stay engaged and focused on getting work done.
Not to mention that the reasoning behind effective company communication is still very relevant—it leads to fewer mistakes and greater productivity. However, the approach companies take in enabling that communication—i.e. the intranet—clearly needs a new, modern-day spin.
If you've been tasked with building an intranet for your company, you're in the right place. This article shows you how to create one that's accessible, engaging, and secure, and delivers maximum benefit to your company as a result. Let's get started.
Chapter 1: How To Set Up A Company Intranet
A good company intranet gives employees the tools and resources to be more productive, and ensures everyone is on the same page. However, not all company intranets are trying to achieve the same goals. Follow these five steps to create an intranet that's right for your company.
1. Plan for adoption and change.
There are a number of solutions available on the market, and planning ensures you aren't overwhelmed. So before jumping in, use these guiding questions to hone in on what type of intranet solution to look for:
Why are we doing this?
What challenges will an intranet help solve?
What outcomes are we expecting?
What functionality should the intranet solution have?
What success metrics do we need to develop?
How will this intranet change the organisation and how we do things?
How can we get employees to adopt the solution we choose?
You'll need to get buy-in from senior management and other key parties within the organisation to ensure you have multiple perspectives and much-needed support. Additionally, you'll need to put together an internal stakeholder team to oversee the solution selection process.
2. Outline the intranet's purpose.
An intranet can accomplish many goals—support teamwork, automate business processes, help with document management, host social communities, provide knowledge management capabilities, and so on. Your main intentions for the intranet will guide the features you need and the technology you choose.
Some uses will require more advanced technology. In the case where business process automation is the priority, for example, Sandra Lupanova, SharePoint and Office 365 evangelist at Iflexion, says, "It's worth going the extra mile to choose software that enables or integrates different types of workflows, especially custom ones."
3. Seek input from users.
Your employees are the ones who will be using the intranet, so it's important to find out what they need from the solution. Lupanova says this type of feedback can also be used to help determine the overall intranet structure, optimal features, and governance.
For example, if the intranet is intended to foster team collaboration, analyse existing teams and ask about the features they rely on in their day-to-day activities, their preferred collaboration channels, the locations they work in, the devices they currently use, and so on. This will help you decide on features like task management, one-on-one and group messaging, and file sharing.
4. Identify the right solution.
With your stakeholder team in place, you can collectively research the market and identify potential intranet products. Make sure to keep the guiding questions in mind as you review vendors and their offering. Do the solutions align with your answers?
In addition to the guiding questions, you'll also want to consider interesting company intranet ideas that will make the solution more appealing to employees. If you want to implement any of the ideas listed below, make sure the solution you choose has the capability to support them:
Competitions that get employees involved. For example, you could put together competitions for naming your intranet, the most interesting photo of one of your products in use, or a simple raffle giveaway. A polling feature within the solution would come in handy here.
Feedback collection about operational processes, department-specific items, managerial performance, company news, etc. The main idea is to give employees a voice so they feel involved.
Social feeds for a modern feel. Today's world is social, and business is no different. Having a social feed as part of the intranet offers a familiar experience, further encouraging usage.
Blogging about customer success stories, professional-personal storytelling, or anything else. A blog feature provides employees with a way to share their lives and feel connected to their peers. Your company culture will determine how open you let your employees be on these channels.
Internal marketplace to give your employees a safe space for buying, selling, and exchanging items.
Employee directory that includes full employee profiles—departments, projects, skills, areas of expertise, etc. Make it easy for employees to find peers within the company to help on projects, solve problems, and provide guidance and mentorship.
After shortlisting vendors, your team will need to review vendor demos and eventually purchase the solution that best fits your needs.
5. Configure the solution.
There's a spectrum of customisation when selecting a solution—from off-the-shelf to fully bespoke. But even off-the-shelf solutions will require some degree of configuration to suit your specific organisational context and way of doing things.
In any case, you'll want your intranet to be user-friendly, easy to navigate, and highly organised so employees aren't faced with any friction in their experience. Here, you'll be setting up the different channels and usable areas of the intranet—i.e., creating the structure.
6. Build the solution.
This is where you fill in the areas you've configured with content. Remember, avoid approaching this as if the content will be static. Plan to change this content over time to keep it dynamic and interesting.
You may also brand your intranet, giving it an identity of its own that employees can refer to (see example image below). Again, this will help with connecting employees with the solution.
7. Roll out and measure success.
Everyone handles rolling out an intranet solution differently, but you'll likely test it with select groups before opening it up to the entire company. Generally, the larger your company or the more complex the solution, the longer the rollout will be.
This is also where you'll set roles and responsibilities of employees, such as who will handle training, governance, policies, content creation, content approval, etc.
Lastly, you'll want to refer back to the success metrics you developed to help refine the solution. Analytics, engagement levels, and the like will help in addressing any changes you'll need to make over time to keep your intranet a sought-after staple in your organisation.
Chapter 2: 3 Pitfalls To Avoid When Creating A Company Intranet
1. Not establishing communication ground rules.
Without ground rules for how and when employees should be communicating in an intranet, it can be like the wild west—imagine showdowns between bickering colleagues that pull in other members of the organisation, causing unnecessary tensions and conflict.
Olga Mykhoparkina, CMO at Chanty, says it's important to determine a few things before going live with your intranet:
The kind of communication you want to encourage on the intranet versus other methods (such as email).
Acceptable (and unacceptable) user behavior (e.g. discussion of non-work topics, the use of profanity).
Scenarios for messaging someone directly.
2. Not providing training.
Simon Nowak, CEO of 3 Credit Scores, notes that effective intranet usage relies heavily on how well you train employees on using it. He says training should cover not only where the intranet can be accessed, but how to navigate through it and make use of its features. "Then encourage them to post and share regularly, and check for updates. If employees aren't using the intranet, it's a waste."
3. Not making it secure.
By design, intranets are limited networks. Generally, only those who have access to the intranet link and proper login credentials are able to view it. However, Nowak explains that you must go further: "You should have a firewall to act as protector between the company and the rest of the world. You also need to employ encryption on intranet data, and ensure you back up data regularly to avoid data loss."
3: 5 Benefits Of A Company Intranet
Creating a company intranet takes time and effort, but it's a worthwhile endeavour. If you follow the steps and avoid the pitfalls above, you'll create a modern-day intranet and realise several benefits:
1. Promote information accuracy.
Traditionally, company information is shared by word of mouth or email chains, which can produce confusion or misinterpretations. Further, if employees are making decisions based on that fragmented information, they could be making costly mistakes. The centralised nature of an intranet ensures all employees have access to the same, up-to-date, accurate information on important subjects.
2. Improve productivity.
Traditional information-sharing methods also take up more time—employees must search for and verify information, which means they spend less time making decisions and performing their duties. Intranets that are highly organised and searchable give back time to employees for use on more important tasks.
3. Reduce knowledge silos.
Even in larger organisations, key insights and knowledge tend to collect among a small number of employees across departments or business units. Without an intranet that includes blogging, forum, or social capabilities, these knowledgeable assets don't have an outlet for sharing what they've learned. Organisations can use the intranet to encourage cross-collaboration across siloed areas and mitigate lost knowledge when these employees leave.
4. Encourage innovation.
Cross-collaboration also leads to innovation. Employees from different business lines or departments have diverse perspectives and experiences, whether from interacting with different types of customers, handling backend tasks, or dealing with a myriad of other contexts. Providing channels for these employees to share their insights and stories can spark new product and service ideas, process improvements, selling tactics, and so on.
5. Increase employee engagement.
Employee engagement has been a hot topic in business for years now, and 36% of businesses see employee engagement as a top challenge.
While an intranet won't negate all problem areas of engagement, it can make employees feel more connected to their companies and their peers through social interactions, giving them a voice through polls and other feedback channels, and showcasing their insights and talents through blogs and success stories.
Chapter 4: 5 Must-Have Capabilities For Your Company Intranet
1. Contextual Communication
If you want your intranet to be a haven for productivity, channels and direct messages aren't enough. Employee communications should be within the context of their work activities. The files they upload, the tasks they work on, the company updates they read—all of these activities need to have threaded discussions so employees can communicate in context.
Without a threaded discussion, team members often have to reference a given file or task before starting a conversation; not only does this waste time, but it also leads to avoidable miscommunication.
2. Project Management
You have a number of organisational goals to accomplish, and they all require various projects to reach them successfully. If you want your employees to stay productive and complete all required work, your intranet will need a task management function.
Project management features give you the ability to assign tasks to individual team members (or whole groups), so everyone knows who's responsible for what. Designate due dates to ensure assignees are aware of when their tasks are due. For more advanced project management, you can turn to task dependencies, critical path analysis, and Gantt charts.
3. File Storage & Sharing
Cloud storage is a modern must-have feature. There's nothing more convenient than having all your important documents in one place. Having a go-to file repository ensures your team doesn't have to hunt down documents in lengthy email chains. Just be sure your company intranet also has automatic versioning, so team members never have to wonder whether they're working with the most up-to-date version of a file.
4. Information Workflow Management
Every day, your organisation has information flowing between departments, managers, and employees. Without an organised approach, that information can be transferred haphazardly and then delayed along its journey. But a company intranet with automated workflows can properly structure information through forms and ensure it reaches the right people at the right time.
5. Search
With so many elements in your company intranet—files, posts, tasks, comments, users, and so on—it's essential your employees can quickly and easily search the company intranet for all kinds of content. Whether it's locating an important file or recalling a note their manager left about a document, users should be able to key in a word or phrase and find what they need.
No need to reinvent the intranet wheel. Your prebuilt intranet solution Glasscubes is ready and waiting.
Glasscubes is a powerful intranet solution that can help your organisation achieve all its communication goals. And the best part: Customers rave about it because of its simplicity. Setup, maintenance, and training—they're all easy to understand and do. Our intranet and collaboration solution requires no specialised IT personnel or world-class trainers. You can get everything you need from Glasscubes by simply logging in.
Further, to increase employee engagement, Glasscubes employs social feeds to keep users engaged in a manner they're accustomed to. Employees can post, like, and respond about organisational matters in the same way they do on popular social platforms (see example image below).
Ensure every team has a space of their own with customisable workspaces. These are segmented areas of the intranet employees can create for a specific purpose, such as for division announcements or smaller team projects. Create a workspace for a whole department. Make a workspace for a three-person project team that wants to loop in clients (hello, extranet!). Employees can even create a workspace for themselves!
Workspaces are yours to control—you can grant access to whomever you want with each workspace, while keeping those users from having access to other workspaces. The use cases for workspaces are endless, and they provide employees with another compelling reason for engaging with your company's intranet and other users.
Get the comprehensive SaaS solution that enables you to create the perfect intranet—one that employees look forward to using when they get to work.