Back to blog
How To Build An Employee Portal
on 12 December 2022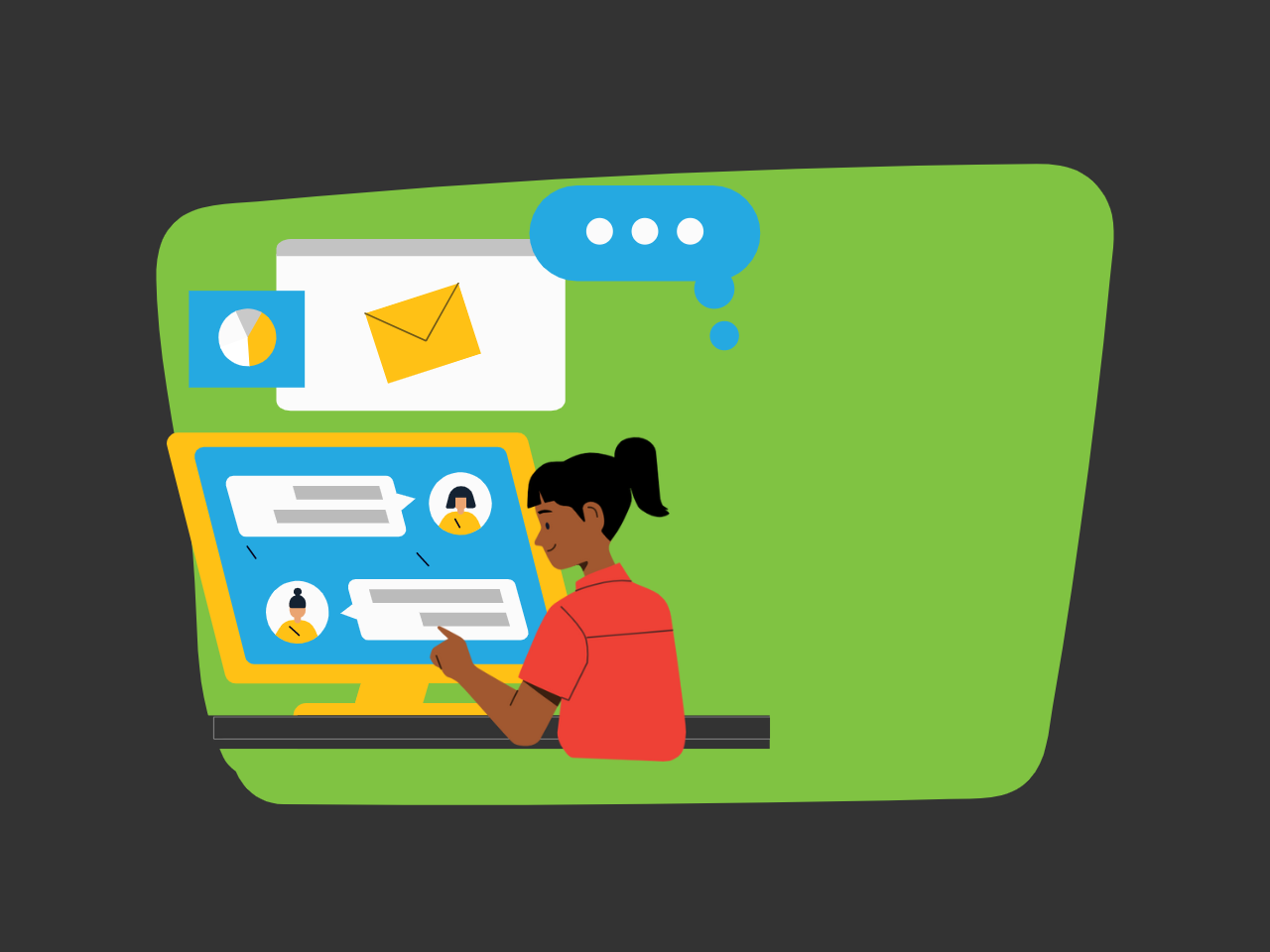 Whether your business is small or large, you want your employees to stay engaged and be collaborative. Using a company employee portal can help you accomplish these goals. Unlike a client portal, an employee portal is an internal resource created specifically for your workforce.
It gives your employees a place to stay up to date on company happenings, get important information, and more. Below we walk through the benefits of employee portals and how to create one, including steps you can follow and features to consider including.
Employee Portal Benefits
Building an employee portal requires careful thought and planning but the end result will be well worth the effort. A portal will provide your organisation with a number of benefits:
Increased company awareness. While many companies still rely on mass emails—that almost everyone ignores—to keep their workforce aware of what's going on internally, some have made use of employee portals to get the word out. Instead of emails, you can send out alerts or pin announcements to the portal's dashboard so every employee sees them whenever they log in.
Simplified (and less costly!) set of workflow tools. Many employee portals have a variety of communication and workflow features that eliminate the need for additional workplace tools. Opting for an all-in-one system not only saves money but also makes your teams more efficient because employees won't have to navigate several systems daily to complete their work.
Centralised location for knowledge sharing. One of the biggest employee portal benefits is that it supports the sharing and reuse of company and industry knowledge on everything from best practices to client insights. New and veteran employees can learn from and teach one another in one digital location.
Improved project-tracking capabilities. Project management tends to be one of the most coveted employee portal features, as this capability enables managers to assign tasks to different team members, stay aware of their progress, and ensure projects remain on schedule and within budget.
Increased data security. A growing concern in today's business world is data security. Many employee portals can help protect sensitive data through encryption, two-factor authentication, distributed data centers, and more.
How To Build An Employee Portal
1. Identify the purpose of your company employee portal.
"First and foremost, companies should understand clearly why they need to create an employee portal," says Sandra Lupanova, SharePoint & Office365 evangelist at itransition. A few sample goals of an employee portal might be:
To modernise operational activities (e.g., automate repeated tasks, minimise paper-based document workflows, or digitise task management)
To make team collaboration more organised and secure
To diversify company social activities and raise employees' social engagement within the organisation
To create a centralised platform for enterprise-to-employee communication
Selecting and prioritising your goals impacts how you'll approach building or buying an appropriate internal portal for employees. (Tweet this!) Lupanova explains that it may not be possible to achieve all goals at the outset, which is why you may opt to launch a portal that covers essential needs first, and then extend it with additional features later. Of course, you'll need a flexible solution that either covers all your needs, or at least one that allows for additions or integrations.
Lupanova provides an example: If a company is pursuing a goal of task automation, the portal should offer workflow management features, content storage, task planning, time tracking and reporting tools, and shared hubs for team and departmental activities.
Alternatively, if a company wants to increase social engagement, they can zero in on social features such as creating communities of interest, photo and video galleries, event boards, charity markets, corporate fairs, and so on.
2. Define your requirements.
Tyler Butler, CEO of 11Eleven Consulting, says you should gather stakeholders throughout your organisation to consider varying perspectives on what needs should be addressed with your employee portal. "Your discussions should surround elements such as structure, accessibility, and content."
To understand how this resource will help employees, Agata Staszak, chief of staff at Espeo Software, says you can use a survey to identify their needs and ask about preferred features. You can then prioritise these responses as must-haves and nice-to-haves.
3. Determine the employee portal design.
Butler says a great employee portal should reflect your company, your brand, and your values. The imagery, logos, and verbiage used within the portal should be consistent with that found across your company. "It's important that your brand identity extend to your portal."
There are several crucial design aspects Butler recommends for optimal success:
Segment your portal logically, such as by line of business, department, or work group.
Incorporate capabilities like document management, event management, social connects, internal job postings, company policies and procedures, workflows, corporate responsibility offerings, products, and service information.
Include private chat rooms and project areas for upper management to help them monitor and manage their teams.
Having a place to share company news is also important. Whether it's information about a new client or a recent acquisition, keeping your workforce in the loop is important for engagement. "Have a page or board that's updated regularly so employees know where to go to keep up with company happenings," says Staszak.
James Croad, HR specialist at Music Grotto, adds that the employee portal should have HR information on the site—such as company policies, rules, and expectations—to reduce phone calls and emails to the department. "Keep the portal updated with information employees need to do their jobs. This keeps new employees and existing employees in the know about acceptable behaviors and actions."
Your portal should also be visually beautiful and engaging. This is a digital workspace for your teams, so you want them to enjoy using it. One employee portal design suggestion from Butler is to use clean, simple buttons. For content, he says you can share inspirational quotes. "Consider incorporating theme days into your portal, such as 'Throwback Thursday' photo days. This can be a great way to engage people and solicit participation."
Tagging content is also critical. As your portal grows, it will become increasingly difficult to keep organised. For the sake of your employees and for easier searching, make sure you use a consistent tagging structure to make sure your content can be found well past its original posting date.
Lastly, Butler advises you encourage employees to fill out personal profiles so other employees can learn more about them. "This critical step will help to connect people and further the process of building an interactive community within your organisation."
4. Assign staff to appropriate roles.
Your employee portal will require administration and upkeep, which means you'll need to either reassign current staff or hire new staff to handle these duties. If yours is a smaller organisation, you can likely get by with current staff wearing multiple hats. But if you're a larger organisation with an extensive employee portal, you may need to assign staff on a full-time basis.
5. Search the market for a suitable solution (or build it in house).
The previous steps prepare you to either build or purchase a viable employee portal solution. You know why you're implementing one, what it needs, and how it will be organised—all you need is to find or create a portal that adheres to these criteria. In most cases, purchasing a solution is typically the easier route, especially when you don't have the in-house resources to build a solution from scratch.
5 Employee Portal Features To Look For
1. Search
Butler suggests search as a critical feature of an employee portal, since the portal should be user friendly. You don't want your workforce spending unnecessary time searching for the information or files they need to perform their duties. If they aren't able to find what they need, they'll be forced to spend too much time searching or recreate whatever resource they were looking for—either case would have a negative impact on their productivity and potentially on client deliverables.
2. Blog
A blog is another useful feature. Butler says you can have leaders and employees alike contribute content, whether what they publish is meant for their specific departments or the entire organisation. "Creating a content schedule and having someone who manages this process will be important."
3. Helpdesk
Workforce members will invariably have technology issues. If your organisation has an IT department that provides tech support, you can implement a ticketing system within the employee portal to give employees a place to seek technical help.
4. Mobility
With most people being tied to their smartphones, Butler recommends your employee portal be suitable for mobile use as an app. "Nowadays, business is done on the go. Employees aren't tied to their desks. They'll need access to the tools and resources of the employee portal around the clock."
5. Gamification
Butler also notes that some companies are using gamification tactics—like running contests and assigning badges—on their employee portals to increase engagement. "You can incentivise staff to participate in conversations or create unique content. By offering gift cards, experiences, or company swag, you can engage employees in a unique manner."
5 Tips To Optimize Your Company Employee Portal
1. Include an FAQ area.
Robert Johnson, founder of Sawinery, says it's helpful to include answers to questions employees often ask about a given subject or functional area. He calls out the onboarding process as particularly relevant in this context, as new hires tend to ask a lot of the same questions when acclimating to the work environment.
"Answering these questions takes up precious time from HR personnel and coworkers," Johnson explains. "Including these questions in an 'information bank' not only saves time but also ensures the employee receives a standard, pre-approved answer that's not influenced by any one person's bias."
2. Organise the portal in an appropriate manner.
"When you create an employee portal, your workforce needs an easy way to find relevant information," says Jamie Hickey, head of HR at Coffee Semantics. "So, it's important to keep your portal organised. For example, you may create separate workspaces for each location or department. You can even create a workspace that holds all your company policies and other guidance material."
3. Make the portal personal.
While an employee portal has many organisational benefits, its primary purpose is to help employees connect and stay in touch. Sai Blackbyrn, CEO of Coach Foundation, says you can foster this connection by personalising the portal with employee-focused content. "This can help promote organisational culture and cultivate healthy relationships among employees and managers."
For example, Blackbyrn recommends spotlighting employee success stories, complete with pictures of and quotes from the employees. You can also create "employee of the month" campaigns that recognises employees for their hard work.
4. Ensure the portal is easy to navigate.
"Employee portal design is a key element to consider. A portal with complex navigation and an unfriendly user interface is sure to inspire employee abandonment," says Joe Flanagan, senior employment advisor at VelvetJobs. "In contrast, portals with simple, clean interfaces will naturally improve the employee adoption rate. Ideally, employees should be able to fully familiarise themselves within the first few uses."
5. Promote the company's mission and values.
Chris Westmeyer, president of Caring Advisor, says that employee portals play a big part in shaping employees' overall views and expectations regarding the organisation. "Playing up the company's mission and values throughout the portal helps employees connect with what the company stands for and encourages them to display these values in their work and interactions."
Your search for an employee portal is already over—check out Glasscubes.
Glasscubes is your all-in-one employee portal that combines communication, task management, and file sharing together to help your team reach optimal productivity levels. Never miss a beat when all your teammates are just a threaded discussion away. Ensure everyone is on track for success with task management features that help everyone be in the know about who's doing what and when. Share files with other teammates, clients, vendors—whoever you want.
Plus, create customised workspaces to suit a variety of needs. Want a workspace for each of your departments, or for specific projects? You can create as many as you want in Glasscubes.
With Glasscubes, you can:
Store and share files in a secure location, complete with automatic version control. You can even create approval workflows and view clear audit trails of user actions.
Assign and manage tasks for different members of the team, and track them to completion.
Create customised workspaces for each project team in your portfolio. Team members can share resources and communicate with one another in their specific workspace, and you can access them all for easy oversight.
Knowing how to build an employee portal isn't necessary when you have us ready to help you. Talk to us today.