Back to blog
What Is A Customer Portal? Here's Why You Need One
on 24 November 2022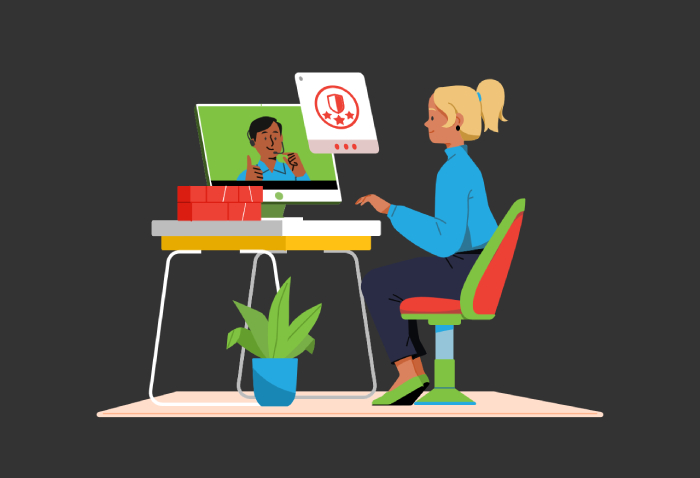 Digital connectivity and convenience are two key parts of today's customer relationships—and this is true for both B2C and B2B companies. Customers want to be able to easily address their needs online, and you want to make reaching your customers as simple as possible.
Implementing a customer portal is thus a win-win situation.
What is a customer portal? If you're unfamiliar with the term, a customer portal is a software solution that helps you stay connected with your clients or customers and gives them visibility into their interactions with your business. Customer portal functionality differs between solutions, but you can typically expect features that support communication, file sharing, support ticketing, and sometimes even purchase history.
If you're considering using a customer portal in your business, the benefits below are sure to turn your maybe into a please sign me up. We also walk through some key features to look out for once you begin searching the market for suitable solutions.
7 Benefits Of Customer Portals
1. Greater Brand Recognition
Kavin Patel, CEO of Convrrt, says it's important to conduct client interactions within the sphere of a recognizable brand identity—logos, website, colors, etc. "Rather than directing clients through disparate systems with third-party branding to input and receive information, use a single, branded customer portal solution to provide a streamlined experience that retains your brand's visual identity."
2. Customer Insights
"There are many customer insights you can glean from using a customer portal," says Bonnie Whitfield, human resources director at Family Destinations Guide. For example, you can learn about customer purchasing habits such as what products they buy most often, how frequently they make purchases, and how much money they spend on average. "Companies can then use this information to tailor their marketing efforts and develop new products based on what their customers want."
Linda Shaffer, chief people operations officer at Checkr, adds that real-time customer insights about their behavior and preferences can also help businesses in decision-making. "This enables businesses to make data-driven decisions that not only improve their products, but also their marketing strategies and the overall customer experience."
3. Better Customer Support
Meyr Aviv, CEO of iMoving, says a customer portal can be used to streamline the customer support process by providing customers with a self-service option for submitting and tracking support tickets. "This can free up customer support staff to focus on more complex support issues."
4. Increase Revenue
"A portal can help businesses generate more business by providing customers with the ability to sign up for newsletters, product updates, or other communications," says Aviv. "This can help businesses stay in touch with customers and upsell or cross-sell them on other products and services."
5. Improve Efficiency
"A customer portal streamlines communication between the company and its clients by creating a central hub for all interactions," says Joey Sasson, VP of sales & logistics at Moving APT. "When customers have a question or concern, they can easily access the portal and communicate directly with staff without going through multiple channels. This improves overall efficiency and allows for better organization and recordkeeping of important information."
6. Greater Customer Satisfaction
Shaffer says customer portals make it easier for customers to engage with the company and access important information about their accounts, products, or services. "This can help improve communication and collaboration between businesses and their customers, leading to greater customer satisfaction."
Sasson adds that giving customers control over and easy access to their information helps create a more positive experience, strengthening your customer relationships.
"In today's digital age, many individuals prefer the self-service option," Sasson explains. "A customer portal shows that a business is modern and up to date with current technology trends. Hence, implementing one can improve the business's overall reputation and attract potential customers."
7. Improve Brand Differentiation
Stacie Tyler, CFO of Tell Me Best, says customer portals enable brands to offer customers a more personalized experience. "Personalization is a key strategy if you want to set your brand apart from others. It's an aspect where businesses can gain customer loyalty by elevating their experience."
9 Features To Look For In Customer Portals
1. Simple & Secure Sign-in
Peter Drow, head of marketing at NC Cutting Tools, says one of the fundamental requirements for any portal is the ability to sign in quickly and securely. "You can give the user a customisable dashboard after they sign in. You can even go a step further by enabling social sign-in integrations."
2. Notifications
"The ability to keep your customer informed of any new activities is a crucial feature," says Drow. "Send timely updates to your consumers about any new features, articles, videos, service hours, available documents, and so on through notifications. Just let customers retain control over how and at what frequency you notify them."
5. User-Friendly Interface
Whitfield says a user-friendly interface is important because it allows users to navigate the system with ease and comfort. "This ensures people easily understand how to use the system, resulting in less confusion and frustration."
6. Security
"Security is essential for customer portal solutions because it ensures that all data stored on your system is safe from unauthorized access by hackers or other malicious actors who may want to use these systems for their own gain," says Whitfield.
Avid adds that security capabilities of the customer portal should include the ability to set up user permissions. "This way only authorized staff can access customer information. Additionally, customer portal solutions should have encryption capabilities to protect data in transit."
7. Integrations
"One key feature customer portal solutions should have is the ability to integrate with other business systems, such as customer relationship management or enterprise resource planning systems," says Aviv. "This will allow businesses to automatically sync data between different systems and provide customers with a more seamless experience."
8. Search
Sasson notes that an important convenience feature is the ability to search the customer portal for different content. "Users should be able to quickly and easily find what they're looking for, so be sure the search bar is placed prominently on the portal's homepage."
9. Mobile-Ready Interface
Logan Mallory, VP of Motivosity, says it's essential that your customer portal have either a mobile app or an interface that's suitable for smaller devices such as tablets and smartphones. "It's very likely that many of your customers will be accessing your customer portal from a smartphone or similar device. The user experience should be equally functional and easy to use regardless of how the customer chooses to access the portal."
Need a portal for your professional services customers? Try Glasscubes.
Accountants, lawyers, financial advisors, and other professional service firms need customer portals, too—they make your interactions more efficient and increase transparency in your client relationships. Glasscubes provides all the benefits of a traditional customer portal, and goes above and beyond by making it easier for in-house teams to work seamlessly with clients on a daily basis.
Glasscubes enables you to share documents with employees and clients, stay in touch with key stakeholders, and manage projects large and small—all with an easy-to-use interface that ensures customers can start using the portal the same day you grant them access.
With Glasscubes, you don't have to worry about how to create a customer portal because we've already done it for you. You can:
Want to see how other companies are using Glasscubes to seamlessly collaborate with clients, employees, suppliers, and more? Check out these case studies.