Back to blog
Online Workspaces: Why To Adopt & What To Look For [Guide]
on 30 January 2023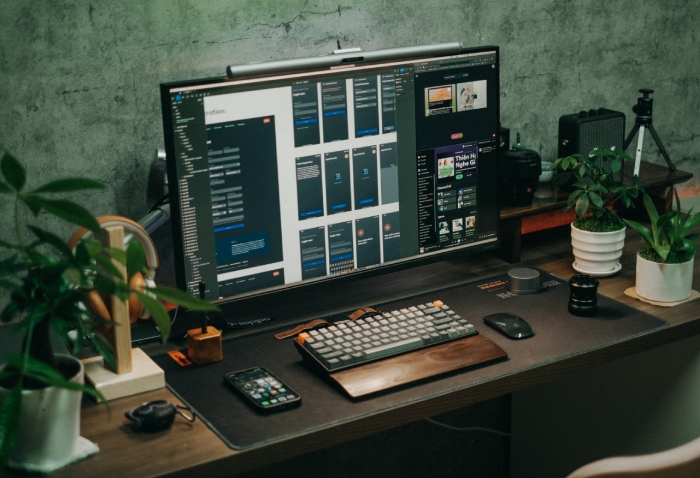 These days, online workspaces have been elevated from the "nice-to-have" category to the "mission-critical" category, especially as more organisations embrace hybrid and remote work models.
In fact, surveys from two trusted research brands support this claim: A 2021 PwC survey reveals that 72% of executives plan to invest in tools for virtual collaboration. The other, a 2021 Gartner survey, indicates that 79% of workers are using collaboration tools for work, a 44% increase since the start of the pandemic.
It's no wonder these solutions are being adopted so readily. Online workspaces are valuable collaboration tools that help business teams of all sizes stay connected with internal and external parties, keep their work centralised and on track, and increase productivity. What business leader wouldn't want to take advantage of such solutions?
But there's so much more to online workspaces, which is why we created this guide. Keep reading to learn about more compelling workspace benefits, examples of workspaces in use at actual businesses, and key features to consider when searching for a workspace of your own.
6 Benefits Of Online Workspaces
Why should you implement an online workspace in your organisation? Here are a few benefits to consider.
1. They eliminate silos.
"Departmental silos happen regardless of your office layout, and they make it more difficult to collaborate," says Jon Lynn, CEO of My Office Pod. "A collaborative virtual workspace is designed from the ground up to eliminate silos."
Lynn says online workspaces enable employees to quickly find the information they need without having to go through a bunch of hoops. "That means that if someone in accounting requires certain sales data, they don't need to go through a complicated process to get to it."
2. They improve collaboration.
Carter Seuthe, CEO of Credit Summit, says teams can easily collaborate on projects across geographical borders through shared files. This enhances communication and enables faster decision-making since everyone is kept up to date with the latest developments. "Moreover, online workspaces provide access to critical documents and resources anytime and anywhere, streamlining processes and ultimately resulting in saved time and reduced costs."
3. They keep work organised.
When work is scattered across random server folders, laptops, and smartphones, things tend to get lost. "Online workspaces provide a centralized location for storing and sharing files, as well as for tracking projects and tasks. This can make it easier for teams to stay organized and on top of their work," says Tina Grant, quality assessor at Aerospheres.
4. They enable remote work.
Grant says that online workspaces are critical tools for supporting remote work. Not only do they provide a dedicated digital locale for geographically dispersed workers to effectively collaborate, but they also "provide greater flexibility for different working styles and cut down on infrastructure [needs]."
5. They help you track work progress.
"Businesses benefit from online workspaces because these tools allow employees to collaborate and track the progress of ongoing projects," says Patrick Cohen at CarCover.com. "You know who is in charge of what tasks, and can assess the status of the project at any given time. We regularly use our online workspace to get real-time updates on these aspects to ensure we're where we need to be with projects."
6. They increase engagement.
David Cohen, CEO of Flower Station, says his team uses a communication-centered online workspace. "Since my team has been collaborating in this workspace, I've seen increased productivity and efficiency. Beyond that, the tool has helped bridge communication gaps and shot engagement levels through the roof."
3 Ways To Use Online Workspaces
What are companies using online workspaces to accomplish? Check out these examples from businesses across a number of industries.
1. Global Client Collaboration
"My business interacts with clients around the world, so it was essential for us to implement an efficient system that allows everyone to stay connected at all times—an online workspace was exactly what we needed," says Seuthe.
Seuthe's team primarily uses their workspace for secure document storage, which he says "greatly improves information sharing between team members and our geographically dispersed clients." His team also takes advantage of other functions that keep work organised such as activity monitoring, notifications, task management, and calendar integrations.
"The workspace has been a great asset for our business and without it, none of our success would be possible," says Seuthe.
2. Seamless Workflows
Bingo Card Creator uses a combination of purpose-specific online workspaces to keep its operations running smoothly. For example, it employs a project management tool to keep track of tasks, deadlines, and progress in real time. "This helps our team stay organized and on top of our work," says Sam Underwood, the company's founder.
Underwood says the company also uses a file storage and sharing tool that enables team members to access and work on important documents from anywhere, and easily collaborate with other members.
"Online workspaces are a must-have tool for any business looking to stay competitive and efficient in today's fast-paced digital world," says Underwood.
Accomplish all your objectives with Glasscubes, An All-In-One Collaboration Tool
Using different tools for different business needs might help you get the job done, but it's certainly not an efficient way of working. Many business leaders who seek out online workspaces are looking to satisfy several of the same needs:
Sharing files with team members, clients, and vendors
Managing tasks across various clients projects and internal initiatives
Moving information within and outside of the organisation
Glasscubes is a feature-packed online workspace that addresses all these needs in one centralised platform. Take advantage of secure file sharing, real-time task management, and customisable information workflow capabilities. You can even create as many individual workspaces as you want—one for each department, one for each client, one for each franchise location, and so on.
Make work more efficient for your team without having to move from system to system. Request a demo of Glasscubes today.
3. Resource Management
The team at CarCover.com uses an online workspace for resource management. For example, if they notice that certain work items are regularly going past their deadlines, this may indicate a lack of resources such as manpower or funding. "This will be our signal to hire more people or seek additional funding so these projects can continue according to plan," Cohen explains.
10 Common Features Of Online Workspaces
Every online workspace is built differently and has its own unique set of features. Below are some of the features you may come across in your hunt for the right workspace solution and how each one can benefit you.
1. Automation
Aayush Arora, CEO of FilterPixel, says automation is an important feature of online workspaces, as it "helps streamline and simplify workflows."
Automation features can significantly reduce the amount of time spent performing mundane tasks—file transfers, data entry, email notifications, etc.—as well as reduce the need for manual user input. "Automation can also help to ensure that certain tasks are completed correctly and on time, as tasks are completed according to predetermined criteria," Arora explains.
2. Communication
Cohen says that centralising project-related communication speeds up project work cycles because task comments are immediately recorded and visible to all appropriate parties. "Team members can easily refer to these conversations on the platform to find relevant information without having to look through email threads."
What else can team members do? "Quickly share input, seek adjustments, and submit approvals to one another are just a few examples," Cohen explains. He also notes that most online workspaces with this feature also allow users to attach files to comments, which further enhances communication with context.
3. Secure Access
Virtual work requires the transfer of sensitive information. "People will be accessing their work stations from multiple devices, and measures have to be taken for security purposes. Be sure there are security features in place that limit access such as two-factor authentication, complex passwords, and automatic sign-out," Isla Sibanda, cybersecurity specialist at Privacy Australia.
4. Virtual Whiteboard
"A virtual whiteboard enables members of a team to post comments and start discussions without devolving into lengthy back-and-forth emails," says Ben Michael, VP of operations at Michael & Associates. "It also serves as a workspace for brainstorming sessions, eliminating the need to rearrange physical furniture or clear desks when gathering together in person."
5. Reporting
Underwood says some online workspaces offer analytics and reporting capabilities which allow teams to track progress, measure performance, and identify areas for improvement. "This can be particularly helpful for managers who have a critical need for efficiency and are required to make data-driven decisions for organisational success."
6. Mobile App
"It's important for an online workspace to have a mobile app so teams can stay connected and productive when they're away from their desks or don't have access to their laptops," says Underwood. Many of today's workers aren't tethered to the office, and this type of mobile alternative can help them "stay on top of their work even when they're on the go."
7. Document Management
William Baldwin, founder and managing editor of AutoGlobes, says document management can help teams "efficiently manage and organize documents, keep track of changes, and find the documents they need quickly."
You can typically upload documents and tag the next assigned person, who can then work on the document and continue the process until the task is completed. "For instance, in our business, when a writer uploads a document, they tag the editor," Baldwin explains. "After editing, the editor either assigns it back to the writer for needed revisions or tags our website manager to publish the article on our site."
8. Real-Time Activity Streams
Baldwin says online workspaces have live activity streams that everyone in the team can see simultaneously. Team members can see who made a change, what was changed, and when it happened.
"For example, if a team member uploads a new version of a document, assigns a new task, or adds an event to the calendar, everyone can see it right away," Baldwin explains. "This makes it easier for teams to stay updated on activities, especially when working remotely."
9. Task Management
Abdul Rahim, founder of Software Test Tips, says task management allows users to easily manage and track tasks, projects, and progress. "For example, my team and I can create task lists, assign tasks to specific people, and set due dates for completion. This feature is important for staying organized, ensuring work is completed on time, and keeping a consistent workflow."
10. File Sharing
"The foundation for successful project coordination and team collaboration starts with file exchange," says Trevor Zheng, founder of Archic Furniture. "Whatever the project, being able to exchange your work with other teammates, departments, clients, and so on is essential. Online workspace software makes such file sharing a breeze."
Get all the benefits of an online workspace with Glasscubes.
Eliminating silos, keeping work organized, tracking progress—you can achieve all these outcomes and more with Glasscubes, an all-in-one online workspace.
"Glasscubes is an essential tool for our collaborative working across a number of organisations. The security, communication tools, and storage features are fantastic and allow us to bypass a number of issues with data sharing and cross posting by having a communal, secure space where staff can access files."

—Hanna Wilson via Trustpilot
Keep your teams on track to success with a collection of value-packed features:
Want to see how other companies are using Glasscubes to make remote collaboration a cinch? Check out these case studies. Or, get started working more productively now with a demo of Glasscubes.