Back to blog
5 Online Form Best Practices & 3 Form Design Examples
on 22 March 2021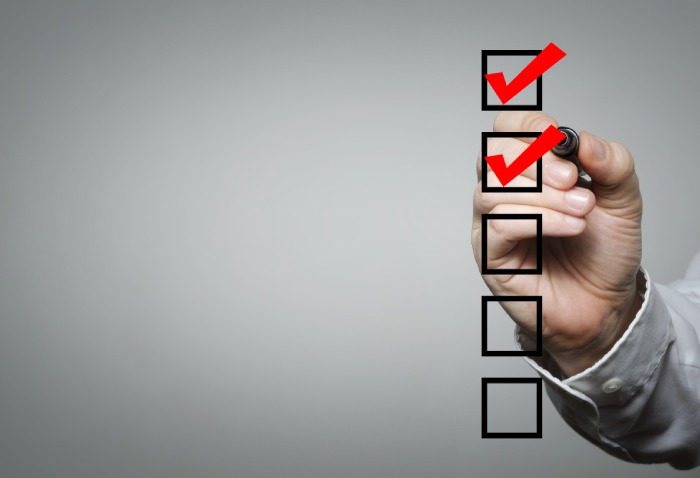 Every day, information moves throughout your organisation—between customers and employees, between employees and vendors, among employees themselves, and so on.
Much of this information is crucial to sustaining your business and travels through various business processes and workflows, such as order placement for goods and services, progress reports on client and internal projects, and vendor vetting.
Sharing information across the company is much easier when you use tools like online forms to standardize and organise that information. But, online form design is part art and part science, so it's important to learn about online form best practices before diving in. We've curated several of these best practices below, along with several form examples that showcase good form design principles in action.
5 Online Form Best Practices
1. Keep it short.
"People don't like spending lots of time answering tons of questions for your benefit," says Jack Story, director of Assured Marketing. By keeping questions to a minimum, you can focus on capturing only the most essential information, such as an email or phone number. This allows you to reach out to the individual on a more personal level for any additional information.
"If you really need to ask more details, at least break the form up into multiple sections so it appears smaller," Story explains. "This helps avoid scaring away people before they've even started. In addition, by creating visual check points with sections, people can more readily gauge how far they've gotten in filling out your form."
Jacek Ptak, co-founder of KrakowDirect, also champions online forms being brief. He says you typically only need three or four pieces of information if you're using a form to collect leads. Limiting the number of fields reduces friction, making it much more convenient and quicker for prospects to complete. "While this may result in less-qualified leads, it will increase the quantity of leads by a significant amount."
2. Develop questions that people will be comfortable answering.
Scott Hasting, co-founder of BetWorthy, says not to forget about the questions themselves as part of your design process. You shouldn't make people, especially prospects and customers, second-guess answering them. "Don't be invasive when getting prospect or customer information. Nothing turns them off more than having to answer a question they feel is too personal or irrelevant to the form's purpose."
Perception is a key aspect to consider with the questions you develop. You may find certain information useful, but the user may want to keep it private. It's important to determine the information your audience is willing to share.
3. Use clear, neutral-tone error messages.
"Invariably, people will make mistakes when filling out your form," says Ptak. Communicating these errors to users is vital to retaining their interest. Make sure to point out the exact fields in which your visitor made a mistake. That way, the errors will be easy to spot and fix. "This reduces user frustration. People are incredibly busy nowadays, and the longer it takes to fill out your form, the greater the chance they will simply abandon the form altogether."
David Morneau, CEO of inBeat Agency, adds that you should use a neutral tone in your error messages. "Don't point the proverbial finger at users if they entered information incorrectly. Placing blame will sour their experience. Instead, highlight the field and word your message so it simply instructs them on how to correct the error."
Here is an example of an error message with a negative vs. neutral tone:
Negative: You entered an incorrect value.
Neutral: Please enter a number between 0 and 100.
4. Keep the form to one column.
"An online form with multiple columns will confuse and deter your visitors," says Morneau. Studies have found that participants complete a single-column form about 15 seconds faster on average compared to a multi-column form. While that may not seem like a long time, it can be a headache when performing an undesirable task. "The more time it takes to interpret and enter information into form fields, the more visitors are going to give up and leave the page."
5. Think carefully about the order of the questions.
Sarah Walters, marketing manager at The Whit Group, recommends prioritising your question order with two considerations in mind: logic and time to answer. "For example, it only makes sense to provide your name before providing contact details, as you need to know how to greet the person when reaching out."
As for time, Walters advises placing questions that users can answer quickly at the beginning of the form. The longer a question takes to answer, the closer to the end it should go. "Consider an order form. No one wants to fill out billing information immediately. It's a big ask, and it can deter people from completing your form."
3 Of The Best Form Design Examples
1. Customer Satisfaction Form For Lead Generation Firm
Edward Shaw, marketing director at Leeline Sourcing, says the form below is a great example for gauging customer satisfaction. (You can view the full form here.) He likes the form for two key reasons:
It doesn't intimidate the user with an infinite list of questions—and takes only three minutes or less to fill out.
It provides answer examples, which takes the guesswork out of what the form creator is asking of the user.
"I also love the final list of checkbox options," says Shaw. "This not only serves as a survey question but also as a brainstorming tool. For example, I didn't think about hiring a virtual assistant to help me stay on top of leads. The survey gave me this idea, and it revolutionized how we handle leads at my company."
2. Appointment Request Form For Landscaping Company
Candace Helton, operations director at Ringspo, says the form below is an excellent illustration of an appointment request form. She notes the overall design is simple and easy to follow, while including all the necessary information for an appointment request. "Font styles and sizes are good, and there is enough space to avoid visual crowding. In addition, it includes a useful mix of answer types, such as multiple choice and fill in the blank."
3. Contact Form For Appliance Repair Business
Jerome Williams, web developer at JWorks Studios, says the form below hits the mark for encouraging prospects to get in touch. He notes there aren't too many fields, and the company even consolidates the name field (instead of splitting it into first and last). "It only asks for what is necessary for the company to contact the prospect and have a general idea of what service they want."
Enable collaborative workflow management with Glasscubes.
Glasscubes is a robust workflow and collaboration solution that ensures your entire organisation is able to stay connected internally and externally. In today's fast-paced business world, you can't effectively accomplish your goals without collaboration. Glasscubes makes this collaboration simple.
Workflows require collecting the right information and then sharing that information with the right people in a timely manner. You can do that with Glasscubes' online forms and automated workflow feature. This feature ensures your team spends less time tracking down information—and more time making use of it.
From document management to task management to contextual communication, Glasscubes gives you the ability to stay in the loop on the latest updates and share what's most important—all while keeping work moving efficiently.
With Glasscubes, you can:
Want to see how other companies are using Glasscubes to improve their workflows and collaboration? Check out these case studies.