Back to blog
What Is An Extranet? Definition + 6 Examples
on 7 June 2022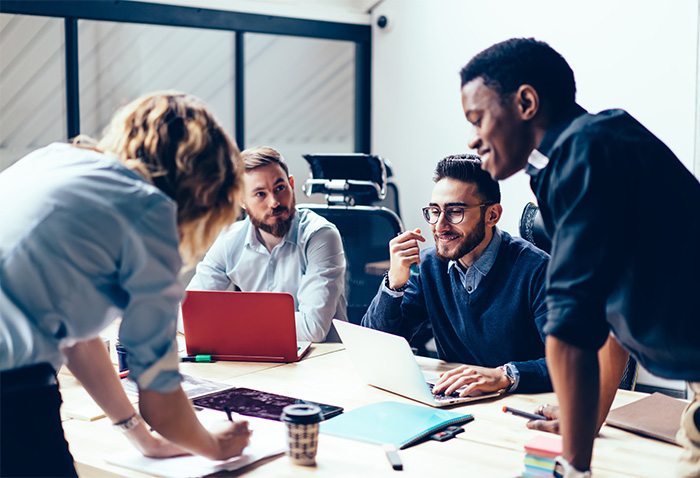 Collaboration is the foundation of business success today. It's how employees come up with great ideas, stay in touch with their coworkers and managers, and complete important projects. Underpinning modern collaboration efforts is technology, as 83% of professionals depend on it to work together seamlessly.
One example of collaborative technology is the extranet, a solution that serves as a communication bridge between an organisation and external parties. Keep reading to learn more.
What is an extranet?
An extranet is technology that connects internal members of your organisation with external parties such as customers and suppliers. Extranets enable third-party collaboration, providing your employees and clients a secure space to communicate, share important information, and stay on track with projects. Extranets are quite similar to intranets, except intranets focus on bringing together internal teams.
"An extranet is a convenient tool for companies that actively work with a large network of customers, vendors, or any other external user groups," says Maxim Ivanov, CEO of Aimprosoft.
Extranet products and services come in many forms, but the most robust ones have features that enable you to:
Communicate through instant and group messaging, or threaded discussions.
Store and share files with relevant extranet members.
Assign and track tasks across different projects.
Control access based on role or by individual user.
"Businesses often rely on extranets to collaborate with other firms on different projects," says Kamyar K.S, CEO of World Consulting Group. "Extranets help ensure seamless document sharing and provide real-time updates on the status of different projects, providing greater efficiency in managing workflows with partners and external vendors. Essentially, extranets act as a meeting point of internal and external resources."
Shah also says using an extranet requires you take steps to mitigate risk. If your security measures aren't up to scratch, unauthorised users can easily breach your protocols and access highly sensitive data. This may lead to loss of important information and, consequently, competitive advantage. "Extranets can be a great resource—as long as you hire the right professionals to build a secure one for you."
Types Of Extranets
Extranets can have different purposes. Here are a few examples:
Project extranets. A project extranet gives internal team members and outside parties a dedicated space to share and collaborate on project-specific documentation.
Membership extranets. If you have clients that maintain memberships with your organisation, you can have an extranet that provides them with forums to dialogue with one another about shared interests.
Product support extranets. After clients have purchased products from your organisation, your extranet can support new users with instructional documentation and Q&A material.
4 Advantages of Extranets
1. Productivity increases.
"One of the most important benefits of using an extranet is the increased productivity," says Ivanov. This is because your team has direct, convenient access to the information they need to perform their work. Teams can also keep in contact with clients, discussing tasks and documents in context. "Instead of wasting time trying to find information buried in email chains, collaborators have what they need a few clicks away."
2. You can easily share information.
Thierry Tremblay, founder and CEO of Kohezion, says extranets make sharing information and documents easy. "File storage and sharing are simple concepts at this point, but they can also be quite time-consuming without the right features. A well-organized extranet that keeps all your important documents in one place ensures employees and clients can quickly find what they need anytime."
3. All data is secure.
Security is another advantage of extranets. Tremblay notes how sensitive client documents are safe when stored in an extranet solution that employs security measures such as SSL encryption. "Bonus points for an extranet that provides access control and an audit trail of activity. These security aspects can help you identify the culprit behind a security breach."
4. You can keep client projects private.
When you have multiple clients, it's helpful to have an extranet solution that enables you to build workspaces unique to each one. You can limit workspace accessibility to include only the client and relevant internal team members.
For example, accountants who service multiple clients can create workspaces that house important financial documents and help team members keep up with bookkeeping and other accounting tasks. Similarly, marketing firms that manage multiple client brands can build workspaces that contain extensive media files and help team members track progress on campaign and other tasks.
For even more extranet advantages, check out this article dedicated to the topic.
6 Examples Of Extranet Applications & Use Cases
1. Customer Service
"At Kohezion, we use an extranet predominantly for customer service. Our customers can view their account information, communicate with our sales and service teams, and track orders," says Tremblay.
At Simple Life Insure, CEO Ty Stewart says customers use his company's extranet to review their policies, send protected communications to his staff, and liaise with insurance representatives about purchasing additional coverage. "To stay competitive, we've expanded past these foundational features to enable customers to file claims as well."
2. Virtual Sales
With the shift to remote work, Tremblay's extranet has also become an indispensable tool for virtual sales. "Our sales reps can deliver hands-on, interactive product presentations via an extranet regardless of location. It helps them initiate and close deals more efficiently."
3. Document-sharing
"We use extranets to share information with external partners quickly and easily," says Chris Muller, director of audience growth at DoughRoller. His team set up an extranet to give customers online access to information such as invoices, shipping schedules, account details, product updates, and more.
"It also serves as a way to enable customers to order directly from product catalogs," Muller explains. "Our extranet saves us time and improves efficiency by streamlining and securing the paperwork related to these activities."
4. Vendor Collaboration
Brandon Adcock, CEO of Nugenix, says his team uses an extranet to collaborate and communicate with vendors. For example, employees can upload product information and images for vendors to review. Vendors can see order status information and place orders.
"Using an extranet for file sharing is much more secure and efficient than email because it ensures that everyone has access to the same up-to-date information, and eliminates the chances that relevant parties are left out of the loop," Adcock explains.
5. Project Management
"A very popular use case of extranets is project management," says Werner Jorgensen, sales manager at HeatXperts. Companies that work on a project basis, such as construction or marketing agencies, often have an extranet that connects them with their clients and suppliers. "They use this private network to exchange and control access to documents, plans, and other content."
6. Contractors
Not every person you hire will be a full-time employee. Sometimes you might bring on contractors who don't need the same level of access to internal resources as employees. An extranet can come in handy here, as you can build a workspace specifically for contractors containing only information relevant to them.
For example, say your company is implementing a large enterprise resource planning (ERP) system. The system touches multiple functional areas, and requires a lot of manpower. To supplement your employees' efforts, you hire a number of contractors. You don't want these temporary staff members being privy to every happening in the company, so you use your extranet to create a segmented workspace and provide only the information contractors need to support the implementation.
Power external and internal collaboration with Glasscubes.
Glasscubes combines the capabilities of an extranet and intranet into one complete collaboration suite that helps you seamlessly store and share files, manage projects large and small, and keep all relevant parties in the loop.
Patrick Angland, a Trustpilot reviewer, rates our solution five stars (as do 200+ other happy customers):
"We chose Glasscubes to replace a SharePoint-based extranet solution we had. Our users, and most importantly, our clients, like the functionality and interface, and have seamlessly adopted the platform.
"Glasscubes is a cost-effective solution for furnishing the extranet needs of our users and clients, with a user-friendly interface and responsive support."
Use Glasscubes to:
For security-conscious leaders, Glasscubes employs SSL encryption to ensure that data transfers between you and our servers are secure, and we encrypt all data at rest. In addition, Glasscubes is accredited by UKAS with the ISO/IEC 27001 Information Security Management Systems certification and by IASME Consortium with the Cyber Essentials certification.
Want to see how other companies are using Glasscubes to collaborate with clients, suppliers, and employees seamlessly? Check out these case studies.