Back to blog
19 Virtual Team-building Ideas For Remote Teams [2023]
on 7 March 2023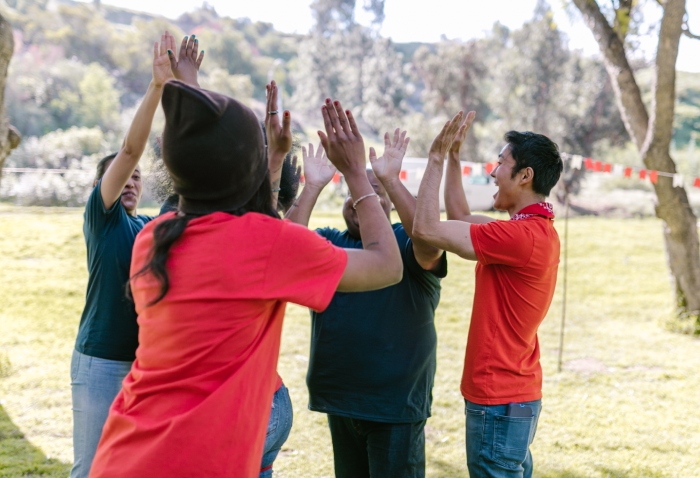 Whether you've worked remotely for most of your career or been recently introduced to it because of the pandemic, you've no doubt realized that being part of a virtual team has its perks.
Such a positive view would be in line with 90% of remote workers around the world, according to Buffer's 2022 State of Remote Work report.
But while most aspects of remote work are positive, that doesn't mean there aren't a few downsides. Some people can't unplug; others say they feel a greater sense of isolation or loneliness than they did in a traditional office environment. Still others find it difficult to collaborate virtually.
The right technology, like Glasscubes, can help overcome some of the challenges of remote work. (Read our detailed guide on what those challenges are and how to combat them). However, you still need ways to build rapport and keep your team motivated.
Enter the subject of this article: virtual team-building ideas. We reached out to more than 40 industry professionals to see what approaches they take to strengthen their teams' connections. From movie screenings to trivia competitions, keep reading to check out their recommendations.
19 Fun Virtual Team-Building Ideas
Escape Rooms
"Having an online escape room as a virtual team-building activity allows coworkers to have fun, participate, and solve puzzles together. This unifying experience lets everyone learn the strengths and weaknesses of their approach to teamwork."
—Chris Odenz of Lockbox Escape Room
"Escape rooms can also be tailored to a team's particular requirements, making them a flexible and adaptable choice for online team building."
—Derrick Hathaway of VEM Medical
"Virtual escape rooms are a great way to bring your team together and challenge each other. This collaborative activity encourages everyone to work together and use their problem-solving skills in order to complete the task at hand."
—Steve Rose of MoneyTransfers.com
Scavenger Hunts
"Players get a list of items and activities and are given 20–25 minutes in breakout rooms to gather their submissions. Internet searches, home goods, short performances—items are all assigned scores with bonuses available for additional creativity."
—Jamie Rosler of Broadly Entertaining
"Find as many of the specified items as possible in one round (for example, house plants, a wedding photo, marshmallows, Legos, or puzzle pieces) and see who does the best. You can earn more points by displaying the items you find in your Zoom chat."=
—Peter Chatfield of Household Money Saving
"Create a list of random objects and share the list with a group, with the outcome that whichever group has the most items wins. Break groups into two virtual breakout rooms, with approximately 10 minutes to find objects and five minutes to share with everyone."
—Marissa Huber of Cushman & Wakefield
"In this activity, teams are given a list of items to find or tasks to complete within a set amount of time. These tasks could be anything from finding a specific item in their home or office to performing a silly dance or singing a song."
—Guna Kakulapati of Cureskin
"A successful hunt will have participants working together to find the answers or solutions to challenging tasks. You can add some friendly competition by awarding points for the fastest solution and creating fun prizes for the winners."
—Michael Chepurnyak of Ein-des-ein
Team Trivia
"Try professionally written and hosted trivia in a variety of formats and topics, with a smaller game or live entertainer between rounds while scoring occurs. Trivia and entertainment is presented in the main room; teams work on answers together in breakouts."
—Jamie Rosler of Broadly Entertaining
"Host a virtual trivia competition, breaking your group into smaller teams to compete. This means they'll work together and build their collaboration skills. Include different topics and multimedia elements (pictures, music) for maximum engagement."
—Lilian Chen of Bar None Games
"Trivia night is one of the best virtual team-building activities—it's fun, easy to set up, and engaging. It allows each remote worker to showcase their knowledge on a variety of topics while letting them bond with colleagues over the competition."
—Erik Pham of Health Canal
"Virtual team quizzes let you discover more about your teammates—their favorite things, their habits, etc. These and virtual coffee breaks provide some leisure time for getting to know your team and hanging out."
—Charylene Otinggey of Thrive Internet Marketing Agency
Virtual Games
"Play games asking questions about your business, like Jeopardy, or games where employees will need to act as a team, such as a virtual scavenger hunt. Playing games entices employees to have fun while learning to work together better."=
—AJ Silberman-Moffitt of Tandem
"Round of Mysteries is the best option for virtual team-building exercises. Play a Clue-style question-and-answer. This is an excellent round for smaller teams since it requires quick, easy-to-observe choices."
—Jamie Irwin of TutorCruncher
"Truth or Dare is a fun, interactive virtual team building idea/activity. Players are asked a question or are challenged to complete a task, and must answer truthfully or accept the dare challenge."=
—Yasin Arafat of DOPPCALL
"Try Stuck On An Island. The premise of this game is that you're going to an island and can only bring five items. Everyone on the team proposes an item, and together they have to narrow it down to the five things they'll take. It's a fun way to get people to interact with each other."
—Cynthia Davies of Cindy's New Mexico LLC
"Once a month, we finish our work two hours earlier and have a virtual games competition for employees. We usually play Battleship, Hangman, Connect 4, and similar games. The top three players receive small awards, and everyone involved is having a good laugh."
—Kacper Rafalski of Netguru
"One of the finest virtual team-building exercises for conference calls is Werewolf since it requires speaking, attentive listening, and voting in order to survive the night."
—Matt Janaway of Marketing Labs
"Virtual Pictionary fosters creative thinking and collaboration among team members in a fun and engaging way. It provides a welcome break from work and gives team members the opportunity to relax, have fun, and bond with one another."
—Logan Mallory of Motivosity
"The game 'Two Truths & A Lie' helps teams get to know a bit more about each other in a fun and engaging format. It encourages people to share something more personal about themselves in a low-pressure setting, without resorting to the boring 'fun fact about yourself' icebreaker."
—Tom Golubovich of Ninja Transfers
"Create a virtual murder mystery team event where the team gets together virtually to solve the mystery. For this event a host will set up the murder scene, including making the crime and clues available before everybody puts their detective hats on."
—Mathu K. Mathu of Ryptic Team Building
"Play online games together. Teams can participate in various online games, from classic board games like Scrabble or Monopoly to trivia games, quiz competitions, and more. This can be a fun and exciting way to build relationships while learning new skills."
—Tom Greenspan of Vs Mattress
Wheel Spins For Cash Prizes
"We do virtual wheel spins for bonus cash. We put all our agents' names on a virtual spinning wheel, then we spin it and whoever's name it lands on gets bonus cash. We play music and everyone has fun."
—Tim Connon of ParamountQuote
Door Decorating Contest
"Decorating a door with a group of others can be challenging but also fun and rewarding. It teaches people to work together better and is good for almost any holiday or event."
—AJ Silberman-Moffitt of Tandem
Happy Hours
"Host a virtual happy hour where team members can catch up and chat over drinks. This can be a great way to build relationships and foster a sense of community among remote workers."
—Melissa Terry of VEM Tooling
"Coffee trivia happens at the beginning of the work day a few times a week. It takes about 30 minutes to play and your team has a chance to simply sit back and sip their coffee while trying to guess themed trivia questions."
—Duncan Malcolm of Live Skippers
"For meetings with team members across multiple time zones, I love hosting virtual coffee and cocktails. Everyone is welcome to enjoy their favorite drink of choice as we all connect during virtual happy hour."<
—Jesse Rhodes of Mr. Rhodes
Movie Screenings
"Netflix Party (now Teleparty) for Chrome allows you to host a Netflix watch party with friends, family, or coworkers. In social isolation, real-time Netflix chats are a fun, virtual form of team building."
—Edward Haris of Best in Phoenix
"My best idea for virtual team building is hosting virtual movie nights. Gather on Skype/Zoom, watch a movie. You can also have a discussion about it afterwards. This is a great way to get to know your team better and have some fun together."
—John of Leather Skin Shop
"Choose one film or documentary a week to all watch at the same time. It's a great way to enjoy a relaxing evening together and stimulate conversation between employees, who will introduce different film preferences and tastes."
—Kenneth Dylan Lam of Outernative
Fun Fridays!
"Fun Fridays! Once or twice a month we do 'Fun Fridays,' where we gather in the afternoon to play a game, do yoga classes, or have a simple coffee break. These are a hit!"
—Maria Cristina Garcia of Flatirons Development
Virtual Individual/Team Celebration
"While video calls are now a necessary element of any virtual team, we've also found that celebrating individual/team events helps us build familiarity and closeness. In addition, it helps in heightening job satisfaction through achievement recognition."
—Jon Torres of Jon Torres
Virtual Art Class
"Arrange a virtual art class where team members can learn how to draw or paint together and create something they can be proud of. It can be great fun for teammates. Also, it fosters a sense of community and collaboration."=
—Ricky D. Spears of Ricky Spears
Host Virtual Cooking/Baking Classes
"Teams are given a set of ingredients and instructions and must work together to follow the recipe and create a delicious dish. Teams must communicate and coordinate to ensure the dish is prepared and cooked correctly."
—Kevin Miller of www.kevinmiller.com
Icebreakers/Conversations
"Providing each team member five to 15 minutes to tell the group about their childhood, career path, family life, etc., is a great way to open everyone up and get to know each other."
—Jack Sutherland of Band Pioneer
"Icebreakers work best for us since our team members have different time zones; I post a 'question/photo prompt of the day' and everyone chimes in whenever they want. It's a great way to get to know one another in a lighthearted, pressure-free way."
—Lachlan Brown of Hack Spirit
"During holidays, we have an activity where we share a related story—like a love story on Valentine's Day. It could be about our significant other, our first crush, or our parents. It helps the team connect on a more personal level, which also builds friendship."
—Jaclyn Gallardo of Ingredient Brothers
"Humor transcends time zones. At Experience Care, we created a Slack fun group where team members can share memes and funny videos, making Slack not only a place to work but also a place where team members can share interests outside of work."
—Lina Abusultan of Experience Care
"Webinars are great for teaching new skills or sharing knowledge in a simple and accessible format. Group discussion forums provide a safe environment for participants to share their thoughts with each other in real time through tools like live chat."
—Smithe Sodine of Smithy Home Couture
"Who says remote teams can't have water cooler time? The Friday Break Room is an optional weekly Zoom meeting where we specifically don't talk about work. No agenda, not mandatory, but time for the team to bond and take a virtual break."
—Christine Lee of Centerfield Media
"Icebreaker questions make a great virtual team-building activity. You can Google lists of icebreaker questions, pick a numbered list, and then have each teammate pick a number to choose their question."
—Michael Springer of Opportunity Green
"With remote collaborative brainstorming, you and your team divide into smaller groups and each group has to brainstorm. All the groups share their ideas within the same online meeting space, and you can see each group's interpretation of the same topic."
—Mia Garcia of iToolab
Non-Working Virtual Outlets
"Create a virtual alternative to the break room or water cooler where employees can get to know each other. Some companies have created Slack channels where employees can talk about weekend plans, tell jokes, discuss the weather, etc., to help boost camaraderie and community."
—Sumeer Kaur of Lashkaraa
"Cribs"-Style Office Tours
"We do tours of team members' home offices and kitchens—we are a culinary site, after all! Picture the MTV Cribs series but a bunch of nerdy chefs and bartenders showing off their latest vegetable peeler or exotic liqueur purchase."
—Paul Kushner of My Bartender
Personality Assessment
"You can use an enneagram test to gain significant insights into every member's decision-making style, their preferred lifestyle, and how they stay motivated and inspired. This will help curb feelings of isolation and improve team outcomes."
—Dan Belcher of Mortgage Relief
Virtual Town Hall
"My favorite virtual team building activity is to hold a team town hall on platforms like Gather. It's essentially like a regular town hall day at the office, only virtual—we hang out, play games, and then gather everyone for announcements."]
—Tim Brown of Hook Agency
Daily Snapshots
"Ask team members to post a daily snapshot, for example, what they had for lunch, their pet being silly, or their fancy new sweater. This allows members to showcase their lives outside work and bond with each other on a more personal basis."
—Shawn Plummer of The Annuity Expert
Show & Tell
"Show & Tell can be done as one large group or in breakout rooms, and people can potentially bring multiple items and stories to share. There can be winners, e.g. Most Unexpected, Funniest, etc. You can also layer Show & Tell with Two Truths & A Lie."
—Jamie Rosler of Broadly Entertaining
Which of these virtual team-building ideas will you try?
With more than a dozen options these professionals have recommended, you have a variety of ways to build rapport with your team. Every team has a unique composition and collection of personalities, so feel free to try out multiple ideas with your team to see which ones resonate the most.
But don't forget that the end goals of virtual team building are greater engagement and higher productivity. To support these goals, use a collaboration solution like Glasscubes so your team has a centralised location to communicate, share files, track projects, and build information workflows that keep work moving forward.
Check out case studies from companies using Glasscubes or request a free demo today.