Back to blog
Here's The Rundown On Interprofessional Collaboration In Healthcare
on 16 April 2019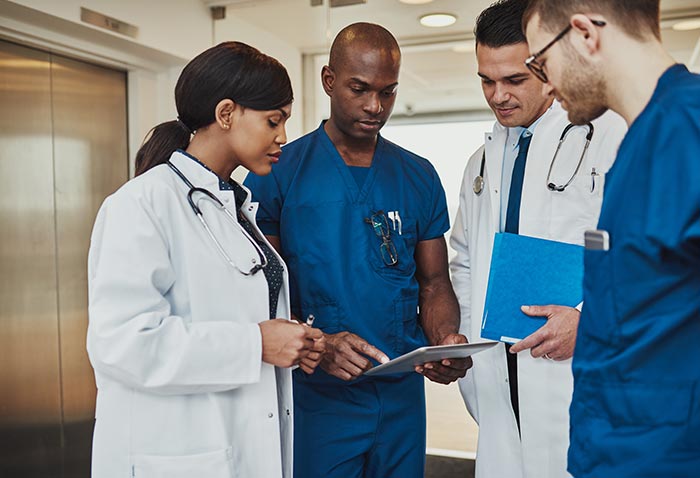 The exact interprofessional collaboration (IC) definition depends on whom you ask. But with the help of several healthcare professionals who contributed to this article, we put together this statement on IC:
Interprofessional collaboration in healthcare is the strategic approach of bringing together professionals with different expertise to work toward the common mission of improving patient outcomes and overall quality of care. It combines the teamwork of physicians, nurses, pharmacists, social workers, and other specialists with a strong communication system to fulfill this mission.
Why is interprofessional collaboration important?
Siloed medical opinions, even from experienced physicians, are not as informed as opinions formulated by a team. Therefore, they are not as effective in providing patients with the best outcomes. "When you create a team of specialists, you create a very strong and prepared working machine. Think of this form of collaboration like the Avengers or Justice League," says Danielle K. Roberts, co-founder of Boomer Benefits.
This goes beyond qualitative commentary. Dr. Alex Spinoso, medical director of a hormone therapy and weight loss clinic and owner of pcthredz.com, notes that there's research to support this claim: "IC has been scientifically proven to improve healthcare outcomes and reduce iatrogenic instances in all medical care societies and settings."
To implement effective IC at your practice, you need to be aware of the strategies, barriers, and benefits of interprofessional collaboration. (Tweet this!) We explore these below.
Interprofessional Collaboration Strategies, Benefits, & Barriers
Strategies
Get your entire team on the same page. This starts with identifying and understanding the roles of each team member. Learn how and in what ways team members can provide their input. "You must also respect each other's expertise, while also respecting the desires of the patient. This will go a long way in improving your practice's healthcare delivery," adds Dr. Paramjit Chopra, director at MIMIT Healthcare.
Establish open communication. Team members, regardless of their station, should feel like they can provide input. Practice active listening when others share their expertise or point of view, ensuring that you understand and absorb what's being said. "Do this everywhere—meetings, trainings, etc. You want to have an environment where physicians and nurses know each other by name so it's easier to speak up," says Roberts.
Implement collaboration systems. Sharing information is an essential part of IC, and technology is the best way to encourage it. "Use a software solution that gives your team a way to easily share their knowledge and updates. An informed team can provide better care to patients," shares Raymond Dacillo, director of operations at C-Care Health Services.
Benefits
Improved patient care. Effective IC ensures patients receive the best care, especially for chronic or long-term conditions. "For example, our home-care providers see patient symptoms firsthand. If there is effective IC between doctors and these care workers, the feedback time is minimised, and the patient receives faster, better care," notes Dacillo.
Decreased healthcare costs. Individual practices are often hindered by poor communication with other healthcare professionals and by limited time to interact with patients. "This can sometimes lead to duplications of tests and even unnecessary or avoidable procedures, which can be costly," explains Dr. Chopra.
Fewer iatrogenic instances. As called out previously, IC can help reduce iatrogenic instances, which are illnesses or injuries resulting from medical care. According to medical literature on the subject, these instances are some of the most frequent causes of hospital admissions. "A medical team that consists of multiple specialty professionals can form a more holistic picture of a patient, thereby providing better care," Dr. Spinoso adds.
Barriers
Traditional healthcare culture. Healthcare professionals are often trained to work in their own areas, and they often lack exposure to other specialty areas and roles. They also tend to stick to traditional hierarchies. "These outdated concepts only hurt the future of medicine and the ability to practice effective IC," says Dr. Chopra.
Individual hubris. Pride can be a hindrance in every industry. "A closed-minded provider who thinks they know it all is dangerous. We as providers can learn from other providers, nurses, and even our own patients," cautions Dr. Spinoso.
Legality. Laws like HIPAA restrict what staff can do with patient information, which is necessary but also can impede IC. In addition, liability is always a concern. "When there are multiple parties involved, it's hard to know who is liable or accountable in the event of a patient complication," advises Dacillo.
Glasscubes lets your physicians, nurses, and other specialists share and collaborate with ease.
Interprofessional team collaboration is easy with Glasscubes, your go-to solution for communication, file sharing, and task management. Its suite of features enables your healthcare team to collaborate and engage with one another in whatever manner best suits them. Your specialists can:
Store and share files in a secure location, complete with automatic version control.
Assign and manage tasks for different members of the team, and track them to completion.
Communicate practically anywhere through threaded discussions on the general message board, on specific files, on assigned tasks, or through instant messenger.
Give your team the collaboration tool that keeps them informed and ready to give patients the best care possible. Start your free trial today.