Back to blog
EDMS: Answers To 6 FAQs About Electronic Document Management (& Software)
on 9 October 2019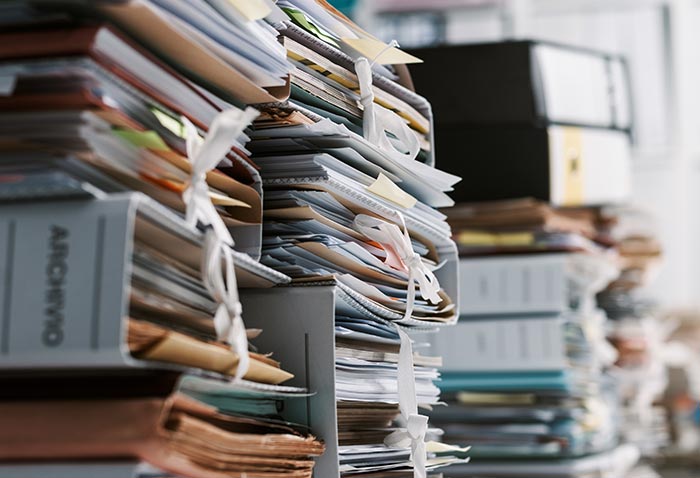 When it comes to managing documents, traditional approaches just don't work anymore. For most organisations, there's simply too much data to keep track of for any physical process to handle efficiently.
Enter electronic document management and its supporting technology. Keep reading to get answers to FAQs about this digital function called EDMS.
EDMS: 6 FAQs
1. What is electronic document management?
Electronic document management is a collection of policies and processes focused on managing documents in digital form. This function is performed through a computer system or other type of technology, typically an EDMS.
2. What is electronic document imaging?
Electronic document imaging refers to the conversion of paper documents to digital images—in other words, the output of this practice feeds into electronic document management. In some cases, this may also include optical character recognition (OCR), which transforms words in document images into readable text. The need for electronic document imaging is lessening as companies and industries as a whole turn more to digital systems and processes.
3. What does EDMS mean?
EDMS stands for electronic document management system. In some cases, people might also use EMDS to stand for electronic document management software. However, both terms are referring to the same digital solution.
4. What is EDMS technology?
EDMS technology helps store, track, organise, and manage varied types of documents and files to reduce or eliminate paper usage and increase efficiency. (Tweet this!)
Jason David, CEO of Software Portal, says he's heard people describe an EDMS as an electronic filing cabinet, but he feels that's too restrictive. "A filing cabinet by design has limitations on space. Instead, I describe an EDMS in Harry Potter terms—it's the electronic version of Hermione's handbag, with infinite space inside. I can put nearly anything inside of an EDMS and never run out of room."
5. What are the typical features of an EDMS?
Storage of a variety of file types. Even within a given industry or line of business, people use a number of different files—images, PDFs, Word documents, CAD drawings, medical records, etc. "If you can only store PDFs or images, for example, you're losing out on what makes EDMS solutions a good investment," says David.
Keyword search and tagging. Tagging helps classify and organise documents, while search helps you discover a specific file. It's important to be able to quickly find stored documents, especially as the number scales into the hundreds, thousands, and so on. "Storage isn't enough. With countless files, you need to be able to find what you're looking for quickly and easily," explains David.
File permissions. Documents can often be sensitive in nature, which is why file permissions are important. You should be able to limit access to files based on user roles (e.g., manager, bookkeeper), user groups (e.g., finance, human resources), or specific users. "Everyone shouldn't have access to everything," says David.
Synchronous document collaboration. Oftentimes it's more efficient to have more than one person work on a single document at the same time, especially if they need input from one another to produce a cohesive piece. "This feature is a necessity to get documents moving quickly," says Prosper Shaked, personal injury attorney and owner of The Law Offices of Prosper Shaked.
Auditability. Whether due to compliance or security concerns, having a digital paper trail is important. A robust EDMS tracks user actions. "As users navigate through the system, each user action is logged, and thus the entire history of their work can be easily monitored," explains Maksym Babych, CEO of SpdLoad.
Security. Given the sensitivity and confidentiality of company data, an EDMS allows for secure file storage. "It's important that files be secured when uploading as well. Verify that data is secured during transit as well as at rest before choosing an EDMS," adds Josh Ladick, president of GSA Focus.
Intranets. Some EMDS solutions have more advanced features, like the ability to set up a company intranet. An intranet gives your company the ability to go beyond just sharing files—you can engage with people across the organisation, share knowledge, and more. The EDMS may also enable you to create smaller, customised workspaces within your intranet for specific work groups or teams. "This gives teams more fluidity when working on projects," says Igor Mitic, co-founder of Fortunly.com.
6. How are EDMSs used in practice?
Healthcare
David calls out a great use case in the medical field. In the mid-2010s, regulatory bodies mandated that healthcare institutions switch from paper-based processes to electronic medical record (EMR) systems. But David says that many offices and hospitals had already switched because of the convenience a good EDMS offered. "They could store patient forms, X-ray images, CAT scans, videos of endoscopy exams, and even audio files of patient exams. All these documents were available through one secure system instead of scattered among rows of filing cabinets."
Law
Shaked provides a use case from the legal field. His office uses an EDMS to collaborate on all types of legal documents. He likes having every document at his fingertips, whether he's on his laptop or mobile phone. He's able to share and work on files simultaneously with his staff, eliminating the need for time-consuming, back-and-forth emails. "I can track all my files and see what changes have been made and who made them," he says.
In addition, Shaked values peace of mind that his files are protected and backed up in the event of a disaster or security breach, not to mention that he no longer needs to worry about purchasing hard drives or running out of storage space. "Although we have several terabytes of combined hard disk storage, we have no use for the space. Everything is in the cloud. If we need additional space, we can simply upgrade our plan."
Marketing
Mitic notes how marketing can greatly benefit from an EDMS in streamlining content creation. "You can have multiple people creating documents that are then proofed in real time by the editorial team. This way the process is quicker, and it allows the team to focus all its efforts in a more efficient manner."
Technology
Babych provides a technology use case. His team often uses an EDMS to keep track of technical requirements for their projects. There's a lot of documentation that goes into IT projects that come from different team members—developers, business analysts, project managers, technical leads, and even the customers. "Our EDMS helps us manage these documents throughout the project lifecycle and across projects simultaneously."
Government Contracting
Ladick provides full-service GSA contract solutions to small businesses. One of his go-to use cases is his company's "Welcome Package"—the bundle of files his team puts together for new clients. "It's the centerpiece of our onboarding process. There is a checklist of items I need from them, as well as a group of supplemental templates and instructions. This has taken me years to build and refine, and this approach has made onboarding simple and streamlined for everyone involved."
Get an EDMS that goes beyond document management.
Looking for a central, secure location to save and share your organisation's files? Glasscubes is the EDMS of choice for teams across all industries. It's a fully secure collaboration hub for file sharing, communication, project management, intranet creation, and more. Whether your organisation is looking to manage 100 files or 10,000, you can use our indexing and search capabilities to quickly and easily find the exact file you need in seconds.
With Glasscubes, you can:
Store and share files in a secure location, complete with automatic version control. You can even create approval workflows and view clear audit trails of user actions.
Create customised workspaces for each project team in your portfolio. Team members can share resources and communicate with one another in their specific workspace, and you can access them all for easy oversight.
Communicate practically anywhere through threaded discussions on the general message board, on specific files, on assigned tasks, or through instant messenger.
Make electronic document management easy with Glasscubes. Start your free trial today.