Back to blog
Does Your Company Need A Document Specialist?
on 28 September 2023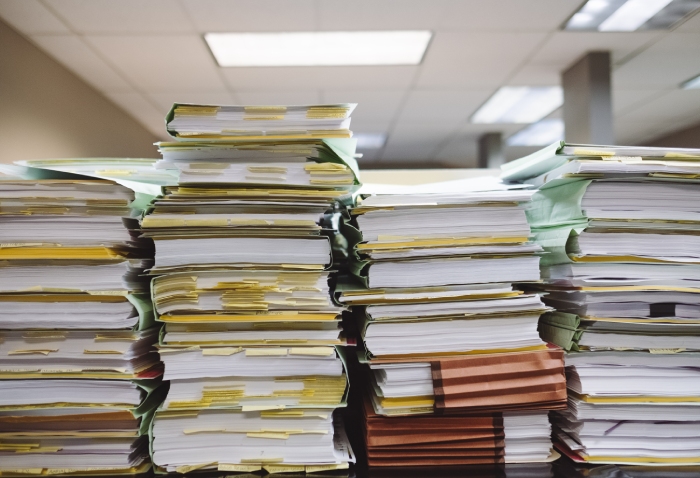 If your organisation is growing rapidly or is already large enough to start hiring niche roles, the document specialist may be at the top of your list, especially if your business relies heavily on documentation.
Not sure what these professionals do? Check out the definition below. Or, if you're already in the know, head directly to the answer to your burning question: Does your organisation need a document specialist?
What is a document specialist?
Here's how hiring platform Indeed defines document specialist:
A document specialist is a professional who stores, files, and retrieves a company's digital and physical documents using computer, cabinet, and database filing systems. Document specialists create organisational systems for employees to follow to ensure all documents are accessible and securely located in the right place.
That's a good overview, but understand that document specialists are much more than paper pushers.
They also stay up to date on changing regulatory requirements and update documentation and associated procedures accordingly—so these professionals add tremendous value in the area of compliance.
But is this role needed in your organisation? Keep reading to see what several business leaders have to say on the matter.
5 Business Scenarios Where Document Specialists Add Value
1. Equipment History Recordkeeping
"Any business dealing in pre-owned products (like ours) has a keen need for a document specialist," says Corey Donovan, president of Alta Technologies. When his team purchases used hardware, they need to ensure each piece of equipment is up to date and compliant with regulatory standards.
"Here, a document specialist becomes invaluable. They manage and maintain the records of each transaction, ensuring every piece of equipment's history is traceable, from acquisition to resale," Donovan explains.
According to Donovan, having someone dedicated to handling documentation is a "no-brainer" because they not only maintain records of acquisitions and sales, but also ensure that data erasure certificates and chain of custody documents are properly issued and stored.
"This not only provides value in terms of operational efficiency, but also builds trust with our clients," says Donovan. "When they see the level of detail and care we put into our documentation, they are more confident in the integrity and reliability of our products and services."
2. Online Order Transaction Management
Michael Nemeroff is the CEO and cofounder of RushOrderTees. He says that document specialists are "essential for virtually every online business because it's easy for your files to get lost in a maze of Google Docs if you don't have an established method of storage and organisation."
Nemeroff notes that document specialists help create order for your files. They design systems for your employees to follow to ensure that no documents get lost, unnecessarily duplicated, or forgotten in the frenzy of running an online business.
"We employed a document specialist to outline our standard operating procedures when recording orders," says Nemeroff. "They helped us create an automated system for recording new orders and confirming their fulfillment to customers. Hiring this specialist streamlined our entire workflow."
3. Legal Documentation Processing
At a law firm, a document specialist is "incredibly important," according to trial attorney David Clark of The Clark Law Office. Though at his firm—and in the legal field generally—they call such professionals legal word processors, or simply word processors.
"Legal documents should be free of issues, whether it's the letterhead or layout precedent for court documents," Clark explains. "In our firm, the document specialist helps us work through hundreds, if not thousands, of documents every day. They make our work more efficient as they're well-versed with templates and precedent documents."
Clark notes that the document specialist also ensures that all specifications are met so there are no issues when filing with the court or when sending documents to clients. "Our document specialist also helps us produce, store, and archive digital versions of our physical documents for recordkeeping, so we don't lose track of all the cases we've worked on over time."
Document Management at Neustel Law Offices
Neustel Law Offices is another firm that knows the importance of document management. Some years ago, they needed a document management solution for managing litigation documents. Specifically, "we needed to be able to identify, mark, and search them easily," says Michael Neustel, a patent attorney at the firm.
To address this need and ensure their attorneys and staff—including members who handled document specialist responsibilities—had the right technology supporting their efforts, they chose collaboration solution Glasscubes. Here's what the firm valued most about our solution:
Document management. "We tried Box, ZoHo and a few other cloud-based document management systems. Glasscubes easily defeats them all," says Neustel. "It has a very easy-to-use document uploading system and intuitive interface for managing documents."
Search. "When you upload a document, it's indexed almost immediately by the system so you can search and find it right away," Neustel explains. "When you do a general search, you get search results that show not just the file name but also a portion of the text that includes the keyword to provide a 'Googlish' search experience."
Visual tags. "We really like how you can not only tag documents, but the system also includes a colored visual tag in the file name itself to help you identify the document immediately from a visual perspective (very smart and intuitive)," says Neustel.
Customer support. "Glasscubes provides OUSTANDING customer support," says Neustel. "I cannot emphasise this enough. This is by far one of the best customer support experiences I have ever had."
Learn more about how Neustel Law Offices used Glasscubes to efficiently manage confidential litigation files.
4. Client Relationship Management
"Employing a document specialist is a great choice when implementing a client relationship management (CRM) system or updating client contracts," says Sameera Sullivan, CEO of Sameera Sullivan Matchmakers. "In the matchmaking field, this role ensures that all client profiles, legal documents, and contracts are meticulously drafted, organised, and compliant with relevant laws."
Though her company doesn't have a dedicated document specialist, Sullivan notes that the role's responsibilities are handled by its operations manager. Since the manager already has "an intimate understanding of our workflows and client relationships, they can deftly address any documentation needs."
Sullivan says two value-adds of the document specialist role in her business are risk mitigation and operational efficiency. "Our ops manager ensures all documents are legally compliant, while also streamlining document processes. This, in turn, accelerates client onboarding and relationship building. Their work serves as a bedrock that enables the rest of the team to focus on what we do best: creating meaningful connections."
5. Project Management
Max Williams, founder of HeroBot, says effective document management is essential in organisations that manage many projects:
"Document specialists are responsible for organising project documents, creating document repositories, and ensuring all stakeholders have access to up-to-date project information. This contributes to efficient project execution and collaboration."
In Williams's business, the document specialist plays a "vital role in" in daily operations:
Document organisation. They categorise, index, and organise all the company's digital and physical documents, enabling employees to quickly locate and retrieve essential information.
Version control. They ensure that the latest versions are readily available to all relevant team members, preventing errors and rework associated with outdated documents.
Security. They implement security measures to safeguard sensitive information, including access controls, encryption, and regular audits.
Compliance. They monitor changes in regulations and update company documentation accordingly, and oversee audits to ensure the company remains compliant.
"At my company, the document specialist role extends beyond traditional administrative tasks and directly contributes to our company's success by enhancing organisation-wide efficiency and supporting our commitment to quality and compliance," Williams explains.
Empower your document specialist with a robust document management and information automation solution.
Version control, security, approval workflows—these can all be automated with Glasscubes, a secure, all-in-one collaboration solution for large and small businesses alike. Law firms, marketing agencies, accountancies, public agencies, and nonprofits all use Glasscubes as a secure document management platform, company intranet, project tracker, and more.
You can create an unlimited number of unique workspaces where you control access and visibility, share files, and manage tasks. Bring together different departments, project teams, and contractors in one shared space and allow them to share everything from in-depth insights to quick status updates. Go further by inviting clients and vendors too.
"We joined Glasscubes in 2019 as we were looking for a system for document storage. We quickly realised it had more to offer. We now use the system for projects, document storage, tasks, and more. The [Glasscubes] team has been really helpful with set up and implementation as well as open to the idea of making changes we require. Very happy overall."

—David W via Trustpilot
Keep your teams on track to success with a collection of value-packed features:
Want to see how other companies are going beyond the limits of document management by using Glasscubes? Check out these case studies. Or, get started working more efficiently now by requesting a free demo.