Back to blog
7 Business Process Improvement Examples To Reference
on 15 November 2021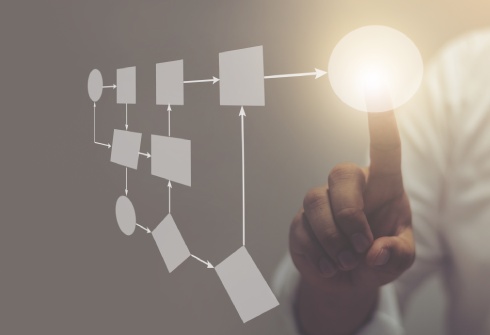 Business processes are key to organisational success—they help the workforce consistently deliver results as expected. These processes often require modification to keep up with changes in business needs, market demand, technology, and other factors.
For senior leaders and business owners, improvement is always in the back of their minds. They want to ensure the organisation runs like a well-oiled machine and is set up to deliver on business process goals, which can be grouped into a few main areas:
Lower costs
Add efficiency
Create more consistent outcomes
Improve the customer experience
But what does improvement look like in the real world? We reached out to several industry experts to share business process improvement examples from their experience. You can use these examples as reference points to inform your own improvement efforts.
7 Business Process Improvement Examples
1. Optimising Freight Cost
Aaron Alpeter, founder of supply chain consulting firm Izba, shares an improvement example showcasing one of the main business process goals: reducing cost. A startup company needed to move many bulky hardware devices across the country. After setting up a process with a provider that would pick up and deliver all less than truckload (LTL) loads from the factory, the company quickly realised the process had a lot of miscommunications and was costly.
The company requested help from Alpeter's team, which came in and analysed the process. The team identified several improvements, the most significant being a network redesign. Instead of shipping LTL loads directly from the factory to over a hundred locations, these loads could be shipped to four regional warehouses before moving to smaller markets.
"We also recognised the value in finding the best provider for each leg and split up work among different types of providers," Alpeter explains. "We set up contracts for full truckload (FTL), warehousing, and LTL providers."
The result: The company reduced freight costs by 60% and saved millions of dollars annually.
2. Revamping Hiring Processes
A medical device startup Alpeter's team worked with was experiencing exponential month-over-month growth. As a result, the company saw a sharp increase in inbound customer inquiries across numerous topic areas. Given the company's flat organisational structure, customer service employees chipped in on different tasks at different times of the day.
"Despite working long hours, the department couldn't seem to meet service-level agreements (SLAs) for responsiveness," Alpeter explains. "Customers would wind up sending several inquiries for the same issue in an attempt to get a response."
Alpeter's team came in and reviewed historical data to determine the percentage of new subscribers likely to reach out to the company with an inquiry. They compared that with expected sales and then formulated a hiring plan to ensure the department continued to grow at a predefined pace. His team also structured employee shifts and clearly laid out roles and responsibilities. "Lastly, we looked at the types of tickets being created. For those with common answers, we developed FAQs and templates to provide quicker resolutions."
The result: After a few short weeks, customer service metrics and customer NPI scores started to improve; the team felt less stressed; the per-customer ticket volume declined, and the business incurred fewer refunds and appeasement costs.
3. Improving Fulfillment Throughput
Working in consulting, Alpeter has plenty of business process improvement examples to share from client projects. The last one he contributed for this piece involves a consumer packaged goods (CPG) company that worked with a small but solid fulfillment center. The center had been a great retail partner for several years, but after the company shifted more to a direct-to-consumer (DTC) model, the center struggled to keep up with increased demand.
"It seemed like no matter how many people the center assigned or how much management support was given, it couldn't meet daily demand," Alpeter explains. "The company was receiving 600–700 orders per day, but the fulfillment center could only ship out 400–500 orders per day. The order delays were causing headaches for the company and customers alike."
The company requested help from Alpeter's team, which came in and observed the flow of operations. Three issues stood out that the team focused on fixing:
There was a lot of foot traffic for a small warehouse. The team reduced employee movement by changing the location of the inventory.
Traffic jams were common as everyone was picking individual orders with no particular logic to the process. The remedy involved assigning roles for workers and bringing order to their picking efforts.
Label printers presented bottlenecks. The team made sure that printers were never waiting on orders and ran through breaks to maximise throughput.
The result: After only a week, the fulfillment center was easily handling 800+ orders per day, enabling employees to catch up on the backlog and mitigate delays going forward.
4. Increasing Payroll Efficiency
Austin Fain, CEO of home improvement company Perfect Steel Solutions, shares how his company shifted from a manual payroll management system to an automated one. Initially, the company had only one person, the payroll specialist, responsible for payroll for the whole organisation.
"Having a single person, however skilled, handle payroll naturally led to human errors and inaccuracy," says Fain. "We lost time and resources, and everyone was frustrated."
Fain looked into payroll management software as a solution. After doing some research, he learned how it would be able to do entries automatically, and payroll changes were simple to make. His team then successfully implemented the software. "The decision was a simple one. It made our lives so much easier."
The result: Not only did the new software reduce the time to process payroll, but it also led to a huge reduction in errors.
5. Rectifying Publication Schedule Slippage
Brad Touesnard is the CEO of SpinupWP, a software as a service (SaaS) company focused on WordPress solutions. His business relies on producing regular content to generate leads. However, the team had trouble meeting content publication deadlines because it took more time than expected to survey their audience for content ideas, conduct their own research, and create accompanying graphics.
"We believed it necessary to begin a business process improvement initiative to improve our content production process," Touesnard explains. First, he asked his writers to document issues with content creation as they occurred. Then, he asked the team to come up with a fix for each issue. "We integrated the fixes into our process and formally documented them to become part of our new training materials."
The result: After streamlining the content creation process, the company now meets 97% of its deadlines, compared to 63% before the fixes.
6. Streamlining Skill-Based Processes
"Our team used to do everything in-house—from website development to content creation to social media management," says Calloway Cook, president of Illuminate Labs, a dietary supplement manufacturer. "We realised that some of the business processes we were undertaking were inefficient since we weren't experts in those areas."
For example, some members of his team could perform some elements of website development. However, since they had no skill-building in that area—not to mention the other responsibilities they had—development tasks would take too long, regardless of how they changed the process.
Cook decided to hire a contract developer and adjust their process to reflect using an outside resource. "We followed this approach for other disciplines, such as graphic design and paid ads, with equally desired results."
The result: Cook's team had more time to focus on work areas within their combined skillsets, and he was able to more quickly scale the business.
7. Overhauling Business Processes Organisation-Wide
Eric Mills, CEO of esports accessory brand Pro Support Accessories, shares an example of "one of the most significant improvements" he made at his organisation: transitioning the company to workplace collaboration tools.
Mills says his business is extremely dependent on different departments working together—especially customer service, marketing, manufacturing, and product development. That's why the company needed to improve communication and collaboration processes. After searching the market, he landed on a tool he found to be the best fit.
The result: Company departments are more in sync, communication is seamless, new employees are easier to onboard, and it requires less effort to improve business processes.
Conquer Your Business Process Goals With A Winning Collaboration Solution
Glasscubes can help you tackle a host of business process improvement examples and use cases. Centralise, organise, and search employee and client files quickly and easily. Ensure your entire organisation is able to stay connected internally and externally. Keep staff and clients on the same page with secure file sharing, task management, and threaded discussions.
With Glasscubes, you can:
Request files from clients in a secure, easy-to-use manner. Avoid the hassle of hunting down important information and doing follow-ups to get what you need.
Collect, process, and approve information through customisable, automated forms and workflows that include user assignees, assignee follow-ups, and completion alerts.
Create customised workspaces for each project team in your portfolio. Team members can share resources and communicate with one another in their specific workspace, and you can access them all for easy oversight.
Want to see how other companies are using Glasscubes to support their teams and address a wide array of business process improvement examples? Check out these case studies from happy clients.