Back to blog
Document Version Control: Advice From Industry Experts
on 6 January 2020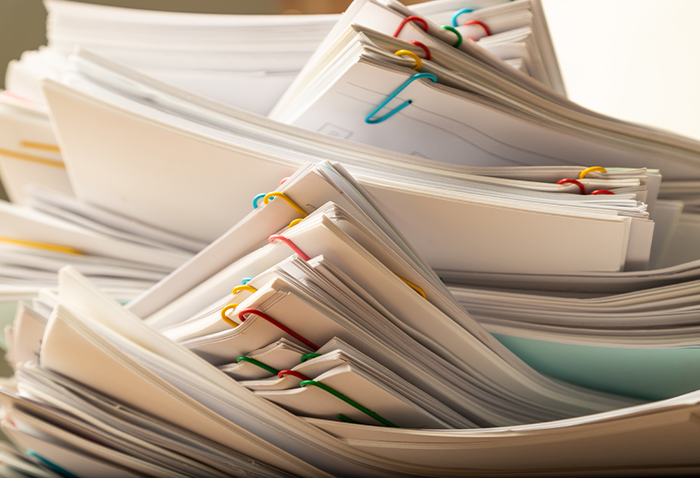 Many documents go through multiple revisions before being finalised. They get passed around in print, in emails, and through links, experiencing numerous changes along the way. As each team member accesses the document, it's important for them to know whether the version they're using is the latest.
That's why document version control is so important. Without it, you risk team members using the wrong version—and wasting valuable time re-reviewing and re-editing the correct version. Below, four experts share their advice on document control to help your team keep things organised.
How To Manage Version Control On Documents
"First and foremost is establishing clear standard operating procedures (SOPs) that govern your document control practices," says David Altemir, president and senior consultant at Altemir Consulting. This ensures a designated document custodian knows the appropriate rules of engagement for obtaining the necessary reviews and approvals prior to releasing the document to a client, internal team, or the company's official document library.
SOPs are often associated with becoming ISO certified, but Altemir explains that creating SOPs is necessary even if you aren't looking to become certified. Without SOPs for document control, teams tend to have their documents scattered across different personal computers, corporate servers, and internal websites. This leads to inefficiencies (Tweet this!) and inconsistent process outcomes.
Clay Lehman, CTO of Firm360, notes that keeping document history is another important point for managing version control. "It's essential that you maintain a clear history of all changes to the document, who made them, and when. Even better—ensure you have the capability to access previous versions of a document for reference, and to revert back if there's a mistake."
As for multiple contributors, Lehman recognises the collaborative benefits of simultaneous editing, but he also cautions against too many people working on a document at the same time. "Two users working in tandem on a document is one thing, but once you go beyond that you run into issues of someone's information getting overwritten."
Lehman also calls out the importance of locking documents against further edits. Many teams have review processes set up for either a manager or client to approve changes. If multiple people have access to the document, it can be changed at any time unless it's safeguarded in some way. "Once you are finished working on a document, lock it so no one else changes that version without the team's (or manager's) knowledge. This can help you avoid the headache of re-reviewing an inaccurate version."
Another document version control tip comes from Ian Peterman, CEO of Peterman Design Firm. Peterman's design team works with a lot of files in their workflow, many of which they share with clients for review and approval. He says it's important to only amend the revision number of the file name when making changes. For example, his team uses a simple R1, R2, R3 versioning schema for sharing files with clients, and modifies that to R1a, R1b, and so on for internal revisions. "This is important for client optics—we don't want them wondering why there may be 10 or more revisions on a document."
Knowing which team members are allowed to edit a document is another document control consideration. Heidi May, business advisor at Oasis Business Support, says that every document should have clear details about who can access and edit it—and to what extent. "For example, there may be a sensitive financial document like a balance sheet only a finance manager or accountant can change."
May notes that these personnel details should be reflected on the physical document, if printed. Otherwise, the team member's names can be recorded in an electronic list. Alternatively, if you have a document management system, you can assign members as authorised editors of the document.
May shares one more important point about document version control: "Having only one document in circulation is critical." Some organisations use a table of amendments that stays with the document and communicates its history; however, this is inefficient. May recommends using document version control software instead. "Such solutions make it easier to retain a single document, helping you avoid duplicating documents or working on the wrong document."
What To Look For In Document Management Version Control Software
As May called out, document version control software is an important tool to have. Lehman is a software developer, and he's built document management systems based on user requirements and feedback across industries. He recommends the solution have these features:
Versioning: It shows who made changes when, and allows users to view and revert back to previous document versions.
Locking: It allows users to "check out" a document, preventing other users from making changes.
Searching: It has a search function that makes it easy to find documents by title or content.
Accessibility: It enables access to documents anytime, anywhere—from a computer, tablet, or mobile phone.
Direct editing: It allows users to edit documents directly and automatically saves changes.
Notifications: It provides alerts when changes are made to a document, such as content being edited or approved.
Security: It has security features in place such as encryption to ensure documents are kept private. The documents also need to be backed up to avoid data loss.
Go beyond document version control with Glasscubes.
Glasscubes is your go-to document control and collaboration hub that combines communication, task management, and file sharing together to help your team reach optimal productivity levels. Take advantage of threaded discussions on each file so everyone is kept in the loop about its status. Enjoy automatic version control on any file you upload. Check out files to lock them from undesired editing.
Where other solutions stop at version control, Glasscubes takes document collaboration to the next level. Ensure everyone is on track for success with task management features that help everyone be in the know about who's doing what and when. Share files with other teammates, clients, vendors—whoever you want.
With Glasscubes, you can:
Store and share files in a secure location, complete with automatic version control. You can even create approval workflows and view clear audit trails of user actions.
Assign and manage tasks for different members of the team, and track them to completion.
Create customised workspaces for each project team in your portfolio. Team members can share resources and communicate with one another in their specific workspace, and you can access them all for easy oversight.
Never work on the wrong version of a document again! Request a guided demo of Glasscubes today.