Back to blog
Cloud File Sharing: A Must-Read Buyer's Guide
on 5 December 2022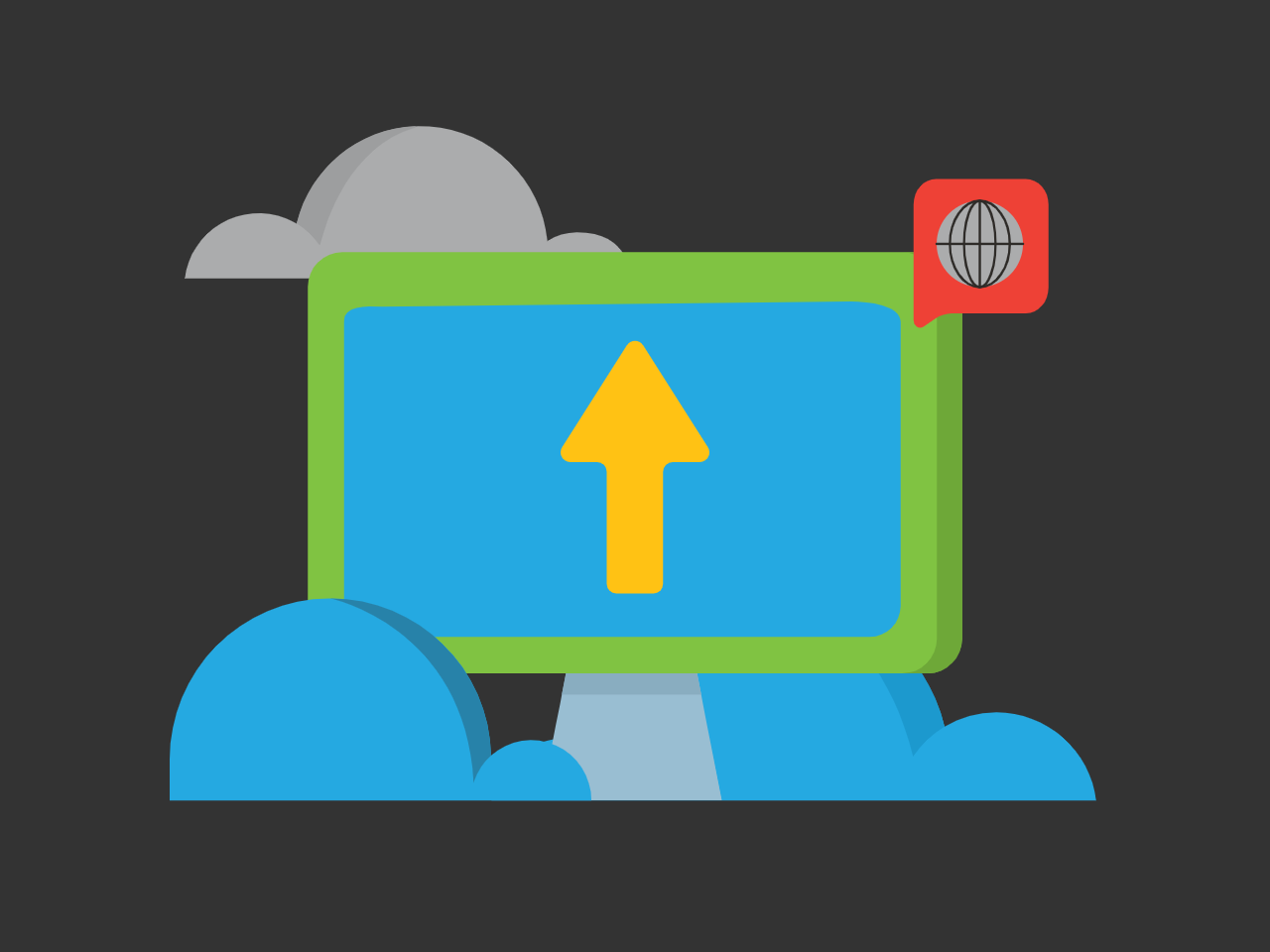 Cloud file sharing is thriving in the business world. The 2019 McAfee Cloud Adoption and Risk Report indicates that file sharing and collaboration tools comprise just over 20% of all cloud services in use per organization.
Compare that to the runner-up—finance tools, which trail behind at 7.5%—and it becomes very clear just how prevalent file sharing has become.
What is cloud file sharing?
Cloud file sharing is the use of digital solutions to securely store and share documents with different teams inside and outside of an organisation, regardless of where those teams may be located in the world. Whether you're sending a file to your coworker down the hall or a client across the country, cloud-based file sharing removes physical and geographical limitations when exchanging important information with relevant parties.
There are a few different types of cloud file sharing services:
One-off transfers. If you're just sharing files every once in a while, you may use a file transfer service that limits how many—or the size of—files you can share with other parties. These services are typically free and only store files for a short amount of time such as one week.
Standalone solutions. These file sharing services focus mainly on file storage and sharing features with a dedicated portal to keep files organised, but may also offer complementary capabilities such as eSignatures, watermarking, and HIPAA compliance.
Suite solutions. Given the typical intent of cloud file sharing in the business world—to increase efficiency—it's no surprise that it is often included as part of a collaboration suite that has the same intent. In addition to file sharing, the collection of capabilities in such a suite, like Glasscubes, generally includes communication, project management, and information workflows.
If you're considering adopting a cloud file sharing solution at your organisation, consider the factors below to select one that best matches your needs.
7 Considerations For Choosing A Cloud File Sharing Solution
1. Data Security
"Security concerns are one of the primary obstacles preventing business owners from adopting cloud file sharing," says Ligia Lugo, cofounder of The Daring Kitchen. "When you use a cloud storage service, you entrust your sensitive data to a third party with the assumption that it will be protected. Still, corporate leaders may be hesitant to entrust their data in light of the numerous reports of security breaches at large corporations around the world."
Lugo says most cloud storage providers have responded to these issues by enhancing their own security and implementing more advanced data protection protocols. "Ensure that the cloud storage provider you choose has sufficient security safeguards such as anti-virus software, data encryption, firewalls, and routine security audits."
Glasscubes, an all-in-one collaboration solution that includes robust cloud file sharing features, uses the highest levels of SSL encryption on data—both in transit and at rest.
2. Data Storage Location
Steve Rose, vice president at MoneyTransfers, says some would argue that it's of little consequence where your data is physically stored. "But ignoring this factor is a mistake. You have to consider the laws of the country in which your data is held. Do your research on the local legislation in each country and consider the potential risks involved." It's also important to consider the potential for natural disasters and other aspects related to locale.
At Glasscubes, client data is immediately synchronised and distributed across a minimum of three different physical locations in the U.K.—all a number of miles apart.
3. Data Backup & Recovery
Robert Smith, head of marketing at Psychometric Success, says it's critical that you consider how a cloud file sharing service handles data backup and recovery. "You may erase a file by accident or be the victim of a malicious attack that steals or corrupts your files. Whatever the case, you need a provider that will save backup copies of your files for a reasonable period of time so you can restore them should the need arise. Some companies offer 30 days, while others may store up to 180 days on higher subscription plans or for an extra fee."
Glasscubes uses data versioning to retain 30 days' worth of backups. We also employ a cold storage facility that provides a highly durable and secure destination for backup and archiving data offline. Customers who want to retain a backup locally can also make use of our offline backup tool.
4. Accessibility
"Today's mobile-first, remote workforce must be able to access files from anywhere, anytime—on desktops, laptops, tablets, smartphones, or whatever device they use," says Michael Lees, chief marketing officer of EZLease. "Between mobile-friendly web pages and mobile apps, users should be able to easily access files from wherever they happen to be working from in the world."
Glasscubes is a cloud-based platform accessible from anywhere, and on any device that has internet access. Plus, mobile users can download the Glasscubes mobile app from either the Google Play Store or Apple App Store depending on their operating system.
5. Auditability
Kyle Kroeger, founder of ViaTravelers, says auditability should be a key concern with cloud-based file sharing. "For example, when you send someone a file, you should be able to see whether the recipient has viewed it or shared it with anyone else. This information helps you communicate effectively with others and keeps everyone apprised of what has happened to the file while it was in transit."
Audit trails are built into Glasscubes—you can see who accessed which files (and when), what they did with them, when changes were made, and so on.
6. Collaboration
"Along with serving as a place to store all your important documents, many advanced cloud storage services also include tools for team members to collaborate together," says Travis Lindemoen, managing director of Nexus IT Group. "Your team could achieve further efficiency by taking advantage of these complementary features."
For example, Lindemoen says the service could enable users to not only store and share documents, but also write and edit the documents directly, discuss them in threads or comments, and tag people to notify them of updates or request their input.
Take advantage of threaded conversations in Glasscubes to have in-context conversations about files, tasks, and other content.
7. Integrations
"Does the cloud storage service integrate with tools you already use? This will have a direct influence on how smoothly the adoption process goes, which in turn affects how quickly you can make good use of the platform," explains Jonathan Merry, cofounder of CryptoMonday.
Merry says the ideal solution should readily integrate with your existing tools, workflows, and processes. "If the file sharing solution doesn't support your current tech stack, then it might be better to look for an alternative."
With Glasscubes, you can enjoy integrations with popular tools such as Zoom, Microsoft 365, and Microsoft Teams.
Additional Considerations For Large Enterprises
While the above considerations apply to companies of any size, larger enterprises may want to be even more discerning about certain elements before choosing a cloud file sharing service:
Service-level agreements (SLAs). "SLAs specify the provider's responsibilities and promises to the client upon signing up for their services," says Spencer Reese, CEO of Military Money Manual. "These agreements explain what type of data will be saved, how it will be stored, how often you'll have access to it (i.e., uptime), and other crucial aspects that could mean lost productivity and money should they not be fulfilled. Inspect the SLA carefully to ensure it meets your needs."
Scalability and reliability. David Zhang, CEO of Katebackdrop, says some larger enterprises may also need to consider the scalability and reliability of a cloud file sharing solution. "If your business has many employees or is rapidly expanding and needs to share many files, look for a solution that not only offers high bandwidth, large storage capacity, and solid uptime, but can also be scaled up to suit more advanced or demanding needs."
Customer support. "Larger enterprises should consider the provider's customer support offerings. Ensure that the provider has a robust customer support infrastructure in place to help your various teams if they run into any problems," says Umar Farooq, owner of Laptopar.com.
"I have been using Glasscubes for just over two months now and it has been very useful. In the beginning it took a moment as we had to onboard 300 members; however, we received incredible support from the Glasscubes team— and this support is ongoing, providing great value."
—Kieran Chandler, via Trustpilot
Supercharge your team's efficiency with more than cloud file sharing—go full collaborative commando with Glasscubes.
All-in-one collaboration solution Glasscubes enables you to share documents with employees and clients, stay in touch with key stakeholders, and manage projects large and small—all with an easy-to-use interface that ensures customers can start using the portal the same day you grant them access.
Use Glasscubes to:
Want to see how other companies are using Glasscubes to practice seamless cloud file sharing and so much more? Check out these case studies.