Back to blog
The Top 7 Challenges Faced By Auditors In Accounting
on 14 June 2022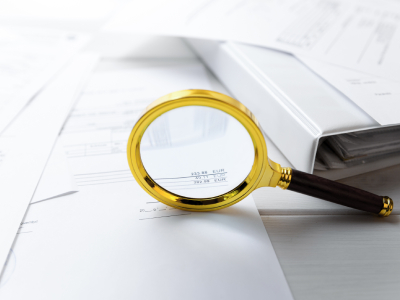 The role of an auditor is anything but easy with the many audit challenges that come their way. After all, they're the last line of defense to ensure accuracy and compliance.
Specifically, auditors in the accounting space must review and analyse sensitive financial records with respect to tax laws and governmental regulations. This requires specialised knowledge so they can properly identify discrepancies and fraud.
But there are a number of specific challenges faced by auditors when carrying out audits, not to mention the general challenges they face as part of their profession. We explore both types of challenges below.
7 Challenges Faced By Auditors In Accounting
1. Revenue Recognition
"One of the biggest audit challenges that comes up is revenue recognition," says Marcin Stryjecki, SEO project manager at Booksy. He notes that auditing is a methodical, complex job that requires incredibly close attention to detail. But clients often don't operate with the same rigor.
In many cases, audit evidence is too weak or vague to make clear determinations about whether claimed revenue is valid. The lack of evidence makes it difficult for the auditor to produce accurate results.
"The solution to the lack of evidence is for the auditor to conduct a substantive test for completeness on all revenue-related documents, such as sales invoices, to verify authenticity," Stryjecki explains.
2. Fraud
"Unfortunately, fraud is more common than we'd like to believe," says Stryjecki. "As far as audit challenges go, this is one that auditors are constantly looking for when reviewing documentation. It carries serious implications."
As Stryjecki explains, fraud may be common, but it isn't always done maliciously. Clients may lack understanding regarding their financial operations. However, it's the auditor's responsibility to identify and record any fraudulent activities, regardless of intent.
3. Inventory Inaccuracy
Inaccurate inventory can be costly in terms of money, time, and energy. What causes it?
Product damage
Mislabeling and misidentification
Use of manual or paper-driven picking systems
Flawed stocking processes
Lack of cycle counting
"Sometimes, businesses are just downright lazy when it comes to inventory," says Stryjecki. "Regardless of the cause, inventory inaccuracy becomes a headache for auditors—definitely high on the list of audit challenges that concern accuracy."
What's the solution to this challenge? Stryjecki says auditors can demand to see inventory records and processes prior to the audit to "nip this problem in the bud" and, when necessary, insist that the business perform a new inventory check.
4. Information Delays
"We've observed greater delays in receiving financial information from clients across industries," says Tyler Davis, a CPA at SimplifyLLC. The cause? Many clients and auditors have transitioned to remote work, and they haven't exactly been in sync since. "Auditors are accustomed to traveling to client locations and being onsite where they can interact with client staff in person. Learning how to effectively perform an audit offsite has been a challenge for many in the industry."
Davis adds that even when auditors and client staff do work together at the client's place of business, there are pandemic aspects to consider. "Auditors must abide by the client's health and safety precautions, in addition to their own firm's protocols."
5. Talent Retention & Development
"Of all challenges faced by auditors today, the most pressing is the shortage of talent," says Zach Reece, a CPA and COO of Colony Roofers. "The industry has found it difficult to find young people willing to dedicate their careers to accounting in general, much less the specific role of auditor."
Abir Syed, a CPA and partner at UpCounting, agrees with Reece on the importance of the talent shortage. Syed notes that accounting has historically been an industry with a tradition of overworking people—and often not paying well enough for those labor hours.
"Younger generations entering this industry have less tolerance for that type of work demand," Syed explains. "But this tradition is deeply embedded in senior leaders and veteran professionals at accounting firms, and it's difficult for them to shake it."
Syed adds that there's a demand for accounting staff outside of the public accounting space, which encourages unsatisfied auditors to leave their public accounting jobs for ones in different sectors that require fewer hours but offer higher pay. "This exodus exacerbates the staffing shortage because the same amount of work must be spread across the remaining auditors, which adds further stress and motivates them to leave. It's a vicious cycle."
How can the talent shortage issue be resolved? Reece says one way is for industry members to adopt a broader view in recruiting talent. "Most accounting firms only go to the big schools to recruit talent, but we have to expand our search to community colleges, HBCUs, and colleges in smaller counties."
What actions can you take to keep your accounting function on track for success? Here, business and finance leaders share useful accounting best practices to get you started.
6. Job Stress
As Syed alludes to in the preceding point, auditors are more stressed out than ever before. Over time, the role of an auditor has not only become overburdened with additional auditing rigor but also less intellectually stimulating. He says this is partially due to large audit scandals and increased regulation, along with big accounting firms that have created stricter methodologies for auditing.
"So you have more checklists and more testing, with decreasing need for auditor judgement and creativity," Syed explains. "Not only does this increase the amount of work an auditor must do, but it also makes the work more mundane and less appealing. These are all stressing factors for many auditors."
7. Outdated Skills
"There has been an explosive use of advanced technology in business, and clients have been adopting one solution after another," says Reece. "Auditors must be aware of cybersecurity, cybercrime, and increased data usage in accounting operations. Technology evolves faster than humans do—keeping up is challenging for the accounting industry, but it's important."
Davis calls out a specific technology clients use today: automation. "Clients are investing more in automated work papers and artificial intelligence (AI), or bots. Auditors must now not only audit the output but also evaluate these systems for control purposes. This can be a real challenge due to the speed at which these systems are being implemented."
Justin Nabity, a financial expert with multiple certifications and CEO of Physicians Thrive, adds that the latest innovations around real-time analytics and AI are impacting all key accounting areas, such as financial reporting, cash management, accounts payable, and month-end close processes. However, many companies are still working with outdated accounting systems. "That's why skills around cloud-based accounting software are some of the most in-demand for auditors and finance professionals."
So, what kind of resolution is appropriate here? "I think the solution to overcoming the technology challenge is to require auditors undergo appropriate training so they become tech-literate and understand all the intricacies of technology, cybercrime, and cybersecurity," Reece explains.
Echoing Reece's comments is John Russell, a 20-year accounting veteran and partner at Russell & Co Chartered Accountants: "The rise of AI and automation in the financial sector means that we all need to keep ahead of the curve and boost our knowledge, expertise, and skills. We must place an emphasis on cloud-based platforms, ERP systems, data analytics, and similar technical areas."
Overcome Many Of Your Audit Challenges With The Right Collaboration System
Glasscubes is a robust collaboration solution and client portal that ensures your entire organisation is able to stay connected internally and externally—regardless of workforce size. Secure file sharing and task management ensure your auditors and clients stay on the same page.
Security is a top priority within Glasscubes. Once data reaches our servers, they are immediately synchronised and distributed across a minimum of three different physical locations within the UK. In addition, access to our client portal software uses the highest level of SSL encryption to ensure the transfer of your data is secure between you and our servers. Further, we encrypt all data at rest for ultimate peace of mind.
Our solution helps everyone stay in the loop on the latest updates and share what's most important—all while keeping work moving efficiently. Use threaded discussions to keep conversations in context, whether discussions deal with client tasks or important project files. From task management to communication to file sharing, our platform helps you stay in touch and on top of things all in one place.
With Glasscubes, you can:
Request files from clients in a secure, easy-to-use manner. Avoid the hassle of hunting down important information and doing follow-ups to get what you need.
Collect, process, and approve information through customisable, automated forms and workflows that include user assignees, assignee follow-ups, and completion alerts.
Create customised workspaces for each project team in your portfolio. Team members can share resources and communicate with one another in their specific workspace, and you can access them all for easy oversight.
Want to see how other companies are using Glasscubes to support their teams? Check out these case studies.