Back to blog
5 (Valuable) Local Government Software Solutions
on 31 May 2019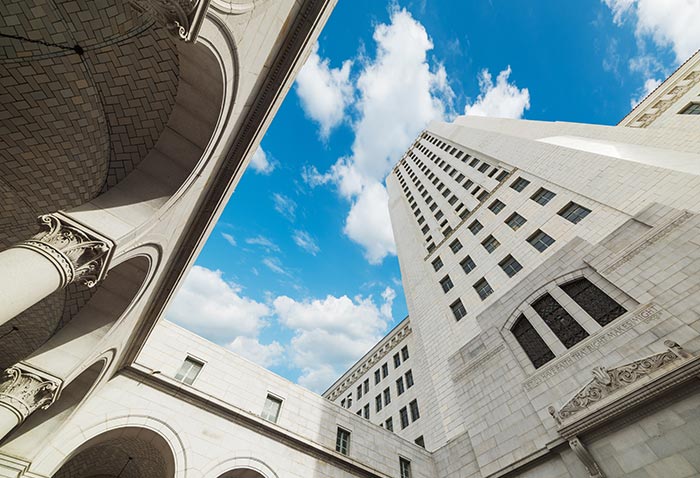 Unlike the private sector, the public sector includes a host of organisations owned and operated by the government. Government agencies function differently and are regulated more significantly than most in the private sector and, therefore, have a unique set of needs.
Local government software solutions attempt to address these needs, but which ones actually succeed? (Tweet this!) We highlight a few that just might fit the bill below.
5 Useful Public Sector Software Solutions
Although not solely a government software company, eBacon is a cloud-based government contracting compliance software aimed at helping both local governments and construction contractors maintain compliance with applicable, prevailing wage laws and reporting requirements. "Our solution allows local governments to easily keep track of reporting from construction contractors, while encouraging and empowering construction contractors to maintain compliance," explains Abel Hegyes, marketing specialist at the company.
Hegyes says the system constantly verifies compliance and makes reporting easy for construction contractors working on government projects. "We are the only cloud-based compliance platform that integrates all parts of the payroll and HR workflows to streamline the entire compliance process."
Serving municipalities, tribal nations, and special districts, AccuFund is financial management software focused on document management, reporting and visualisation, and payroll functionality. Its goal is to "help you streamline your financial workflows and better serve your constituents." The platform can be deployed in the cloud or on-premise, depending on your organisation's preferred method.
AccuFund's core accounting feature is a general ledger for all financial data, but it also includes add-on modules for tracking and paying bills, managing cash receipts, and reconciling bank accounts. For more niche needs of different districts and localities, the platform includes other add-on modules for court fines management, utility billing, permits and inspections, property tax billing, and more.
Joanne Levine of Govlish says that government terminology is a complex language all its own, and it can be extremely difficult to decode. "According to Google Index, government terms—like OSDBU, LORACS, and SME—are searched online no fewer than 14 million times per month."
Govlish seeks to provide clarity to the often-confusing terminology that exists within government spaces. The software is a unique database that offers instant access to more than 240,000 federal and state government terms and acronyms. It eliminates the mystery of "government speak" and saves searchers time, money, and frustration. It can be a valuable resource for government workers, contractors, NGOs, elected officials, media, public policy students, citizens, and even lobbyists.
Dossier Systems is a fleet management software that claims to "turbocharge your fleet's productivity and efficiency." The platform is meant to be scalable and can be used by smaller, single-user fleets as well as fleets with tens of thousands of assets across hundreds of locations.
This software is designed to provide a comprehensive overview of your fleet assets. It includes a daily reminder dashboard that provides real-time tracking information; predictive scheduling & maintenance that includes automated reporting; warranty management that tracks warranty costs and other data; and other useful features.
"Reinvent the way organisations spend," reads Procurify's website. The main way it does this is by enabling you to control, track, and report spending. It also includes purchase order management, delivery authentication, and approval routing functionality—where you can design your own approval structure based on aspects such as dollar thresholds, departments, locations, and more.
Other features of the platform include the ability to control access rights across teams, departments, and locations; three-way matching of invoices, packing slips, and purchase orders; expense tracking; and cost allocation.
Need a local government software solution for better communication and collaboration? Try Glasscubes.
Glasscubes is an easy-to-use collaboration solution that gives your government agency the tools needed to communicate efficiently, share files securely, and manage projects small and large. There's no formal training required to get up and running—which you can do in just a few hours.
With Glasscubes, your teams can:
Store and share files in a secure location, complete with automatic version control.
Assign and manage tasks for different members of the team and track them to completion.
Communicate practically anywhere through threaded discussions on the general message board, on specific files, on assigned tasks, or through instant messenger.
Add Glasscubes to your software mix to unify your collaboration efforts. Start your free trial today.