Back to blog
Cross-Functional Team Leadership: 4 Must-Have Skills (+ Examples)
on 28 February 2020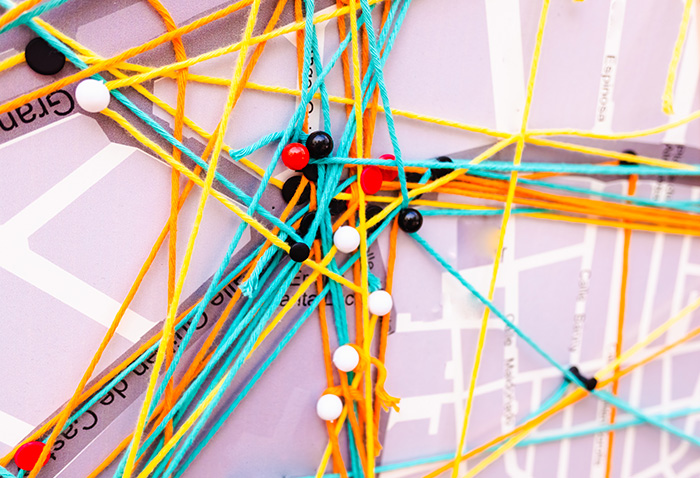 Cross-functional teams come in all shapes and sizes—marketing and sales mashups, product and engineering collaborations, customer service and web design partnerships, and more.
The value of cross-functional teams is increasing, as today's complex projects and strategic initiatives require a mix of talent and expertise across functions. These teams need an integrated approach to leadership to thrive and complete projects successfully. But what cross-functional expertise is needed to ensure leaders are up for the challenge? Experts share their advice below.
4 Skills Necessary For Effective Cross-Functional Team Leadership
1. Systemic Thinking
Dr. Robert Satterwhite, partner at Odgers Berndtson, says cultivating systemic thinking is key to leading a cross-functional team. "It's about understanding the 'big picture' and the interrelationships of all major processes, programs, and activities—including how changes in one function impact other functions—to help drive aligned strategies and objectives."
For example, before making any major moves, a newly hired executive might first spend time speaking with his new cross-functional team consisting of the heads of each department. He'll learn more about the inner workings of the organisation, including what was going well and what wasn't. He would try to get a feel for the company culture and current morale, and meet with customers in different markets to get a voice of the customer point of view. Externally, he would examine trends and industry patterns to fully understand the relationship between the market and the company's technology, processes, products, and pricing. Once he collects all these insights, he would be ready to facilitate a three-day workshop with his team to create a clear mission, vision, and strategic agenda that considers the unique offerings of each department and champions collaboration between them to reach organisational goals.
2. Interpersonal Savvy
Also recommended for cross-functional team leadership: interpersonal savvy. Dr. Satterwhite says this skill is about maintaining a flexible communication style and adapting a given message to create buy-in and alignment among colleagues and stakeholders. "This includes establishing joint goals around which to collaborate with others despite diverse personalities, drivers, and motivators."
Using another example of a newly hired executive, consider one that receives several requests from the sales team to change the structure of their compensation plan. She builds rapport and trust by inviting the heads of HR, finance, and sales to lunch and hearing their thoughts on compensation. She takes in their input and discusses the concerns of the sales team. Together with the department heads, she works to conceptualize a more transparent compensation plan. After discussing the lunch result with the sales team, they buy into the message and agree to finalize the plan with the department heads in the near future.
3. Listening
Those with cross-functional expertise also typically have what's considered a basic skill but is actually one in short supply: listening. (Tweet this!) Amie Devero, strategy consultant and executive coach, says leaders must often bring a goal to the team without a clear idea of what each team member will do specifically to achieve it. However, each member knows their own expertise, so leaders must give them the opportunity to voice it. "To successfully leverage those diverse skills requires keenly listening to how each person will contribute, then planning accordingly."
Devero shares an example of a CTO of an emergency management company. His job requires that he coordinate the expertise of a huge team of people who write code, liaise with public safety agencies, and design and operate the technology. Much of his time is spent listening to the various functional leads to understand their contributions to addressing client needs. He then uses those insights to better help clients and negotiate partner relationships.
4. Resourcefulness
Devero also recommends honing your ability to be resourceful. For example, you may want to hold your team accountable for delivering products and services on time, but you first need to provide them with the tools and resources to do so—whether it's hiring additional manpower, finding the right information, or developing a new process.
For example, a CEO has a very skilled marketing team that somehow misses too many deadlines. Holding them accountable proves difficult until he identifies the issue: a combination of perfectionism, a missing skill set, and delays from the design team. The CEO talked with the marketing team about how perfection can be the enemy of good, and quickly hired an editor to remedy the missing skill component. Talking with the design team helps him realize they were overburdened, inspiring him to hire an additional designer to handle the high workload. These changes help the two teams work more seamlessly together and deliver work on time.
Support your cross-functional team with the perfect tool: Glasscubes
Glasscubes is collaboration software fit for every functional area. Whether your team is collaborating with marketing, customer service, or engineering, you can handle it all: communication, task management, file sharing, and more. Threaded conversations are featured everywhere—from uploaded files to social feeds. You can keep everyone on track to success with robust task management features that help you know who's doing what and when. Plus, share files with key stakeholders—from teammates to clients to vendors.
With 4.5-star rated Glasscubes, you can:
Store and share files in a secure location, complete with automatic version control. You can even create approval workflows and view clear audit trails of user actions.
Assign and manage tasks for different members of the team, and track them to completion.
Create customised workspaces for each project team in your portfolio. Team members can share resources and communicate with one another in their specific workspace, and you can access them all for easy oversight.
Honing your cross-functional expertise can only take you so far. Go the distance with Glasscubes. Start your free trial today.