Back to blog
Accounting Automation: 5 Benefits Your Firm Should Consider
on 14 October 2021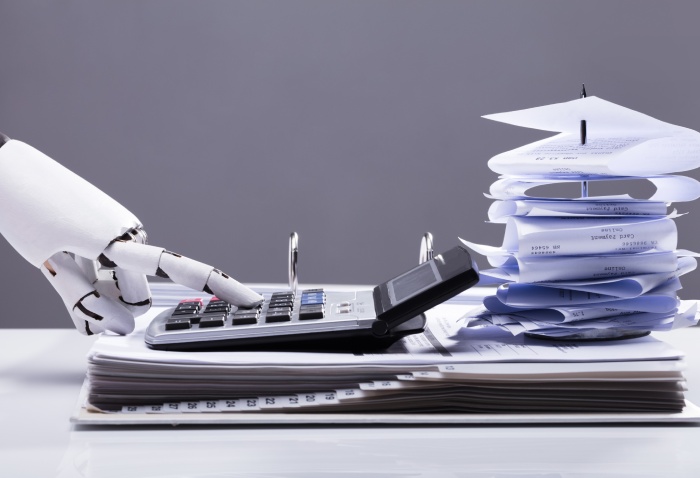 Let's talk about accounting automation. Yes, I know this may sound like a dry topic, but I promise you'll find this article at least moderately interesting—unless you'd rather not find new ways to make your accounting firm more efficient.
But chances are you do if you've stumbled upon this piece.
And don't worry, we're not just sharing our own opinion on the subject. We actually reached out to several experts who will provide their own commentary about automation in accounting, finance and auditing.
You already know that accounting is full of tasks that, while simple, are time-consuming. They can be performed with one hand tied behind your back, and it often feels like that's exactly the case—these tasks limit you from focusing on strategic matters, building relationships with clients, and other pressing concerns. This is where accounting automation enters the picture.
What is accounting automation?
Accounting automation is the practice of using technology to automatically complete tasks and processes that accountants typically handle manually. Tasks that may be large time suckers—such as requesting (and re-requesting) files from clients and keeping track of what you've received—can be addressed easily with the right software solution.
As an accountant, you've been there—having to email, call, or even visit a client to get documents necessary to address their financial concerns. With accounting automation, you're reducing or eliminating the need for direct human involvement. The solution will handle the document requests, follow ups, and tracking of received materials.
Some of the benefits of accounting automation should already be apparent from the above example, but I want to be explicit. Keep reading to see what kind of value this practice can generate for your firm.
5 Accounting Automation Benefits (With Examples)
1. It saves time.
One of the most significant benefits of automation in accounting finance and auditing is the time savings. A system often performs exponentially faster than a human on simple tasks that don't require judgement.
"For example, accounting automation saves time in budgeting expenses, comparing actuals to budget, and generating year-end tax reports," says Sue Hirst, director of CFO On-Call. "An automated system removes the need for manual data entry and error-prone spreadsheets, which means your team can focus on more strategic work instead of spending time on repetitive tasks."
Jeremy Yamaguchi, CEO of Lawn Love, uses accounting automation to copy information from his spending account and business bank account directly into his company's accounting spreadsheet. "We also use it to create a detailed report of cash flow and to predict cash flow from month to month. Not only does this automation save us time, but it also ensures we're always looking forward."
2. It improves accuracy.
Human error is common in accounting, even for longtime accountants and bookkeepers. No one is perfect, and oftentimes things simply get overlooked due to stress, lack of sleep, high workloads, and so on—though some processes seem to be more susceptible to errors than others.
For example, reconciliation is a tedious process that requires hours of data entry and is often prone to error, according to Stacey Kane, business development lead at EasyMerchant. "Automating this task will save time and ensure data accuracy to avoid mismatched numbers in your account balances. You reduce time spent on reconciling statements and lower the risk of duplicate transactions."
Hirst agrees, saying that automating the reconciliation process can help companies ensure their financial ledgers are correct. "This leads to fewer errors in report writing and less time spent waiting on funds to be transferred into the right accounts. While these might not seem like huge tasks, it is one that many companies underestimate when saving time with accounting automation."
3. It lowers costs.
Saving time and reducing errors has a natural side effect: lowering costs. While there is an initial cost in purchasing and implementing one or more technology solutions, accounting automation produces ongoing cost savings in multiple areas.
"Automating payroll can cut processing costs significantly—sometimes by as much as 80%—when you consider the reduction in mistakes," says Andre Kazimierski, CEO of Improovy. "It also cuts down on time spent on payroll. You can easily automate payroll by using software designed for this purpose."
4. It makes data retrieval faster.
In the past, accountants had to store documents in physical storage facilities. To retrieve a document, you had to go find it in a filing cabinet. "Sometimes, files weren't even in the same building! That made retrieval a huge headache," says Amber Morland, CEO of WinCope.
Technology has digitised documents, storing them in centralised repositories accessible through the web and mobile devices. "Accounting automation goes one step further in enabling automatic retrieval of files as part of structured workflows," Morland explains.
5. It aids compliance.
Tax compliance is often a major issue for many business owners, especially those just starting out and who have little to no experience in handling tax compliance matters. "After all, the tax code is often a complex web of rules that even the most experienced accounting professionals tend to struggle to understand," says Eden Cheng, co-founder of PeopleFinderFree.
However, Cheng notes that many accounting solutions can often help business owners more efficiently calculate tax requirements on transactions. "This is especially valuable for those carrying out business across state or international lines."
When it comes to cloud accounting vs. traditional accounting, what's the difference? Which approach is best? Find out in this article.
What kind of accounting automation solution can help your organisation?
One valuable solution your accounting firm can take advantage of is a client portal. Glasscubes falls under this category. It streamlines collaboration internally and externally, organises and prioritises workloads, and automates mundane administrative activities.
Consider a few areas you can automate with Glasscubes:
Approvals. Do you need approvals for client files, employee expense reports, or other key documents? You can build an approval workflow in Glasscubes and loop in as many people as you need to for approval. The workflow moves information to the next responsible party as soon as the current one signs off.
Payroll. Instead of emailing back and forth with your client, use an information workflow to create a more seamless payroll process. Create a form, have clients complete and submit it, and then watch the form be routed to various parties for task handling and approval according to your directions.
Audits. When performing an audit, you often need tons of information from clients. Document requests can easily reach into the hundreds. Instead of hunting down and tracking receipt of each file, automate it with a file request. Clients receive an email that links to a file upload area—and if they don't respond in a timely manner, they automatically receive reminders.
In addition, our solution helps everyone stay in the loop on the latest updates and share what's most important—all while keeping work moving efficiently. Use threaded discussions to keep conversations in context, whether discussions deal with client tasks or important project files. Plus, secure file sharing and task management ensure your accountants, auditors, and clients stay on the same page.
Keeping Your Data Secure
Security is a top priority within Glasscubes. Once data reaches our servers, it is immediately synchronised and distributed across a minimum of three different physical locations within the UK. In addition, access to our client portal software uses the highest level of SSL encryption to ensure the transfer of your data is secure between you and our servers. Further, we encrypt all data at rest for ultimate peace of mind.
Beyond providing a secure infrastructure, Glasscubes also enables you to assign varying levels of access to each client's portal, so that different user roles (e.g., partner, relationship manager, administrator, etc.) can access data relevant to those roles. You can even restrict access to individual files and folders.
If you'd like a demonstration or want to see how other accountancies are using Glasscubes, learn more here.