Back to blog
How to Be a Remote Worker, Part 1
on 30 May 2017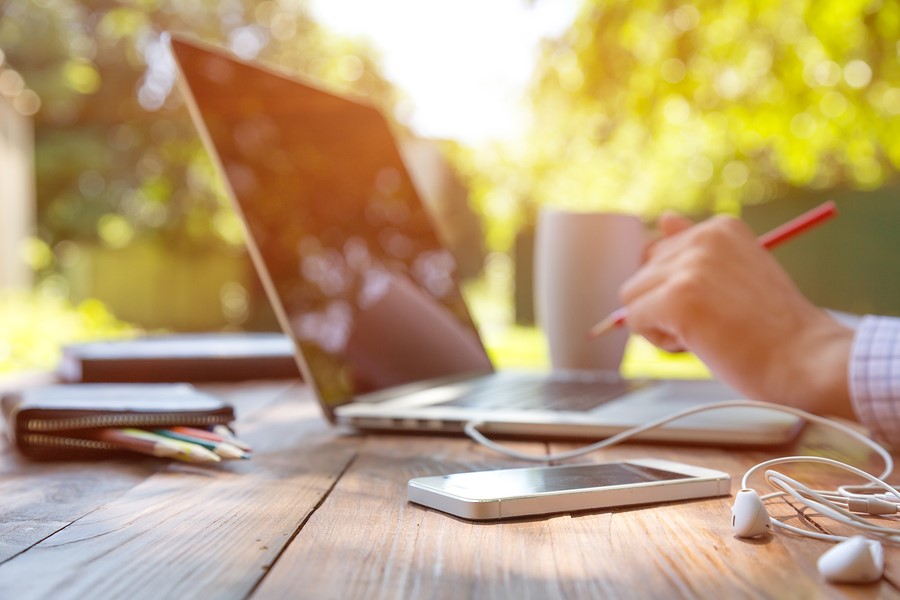 Just imagine that the commute is done as you saunter down the stairs first thing in the morning; the queue at the coffee shop is forgotten as you make yourself a nice cup and some breakfast "to go", as in "to go upstairs"; and you always dress smart for work, if smart means your dressing gown… 
…Well, for many, this is no longer a dream, it is a reality, as more and more people are able to work remotely. But, and there is always a "but", it isn't easy and it may not be for everyone. You lose social and human interaction, and you may even feel a little bit lonely from time to time. You also need a good degree of discipline and focus. Fear not, there is help at hand in the form of Glasscubes' online collaboration software, helping you to maintain focus and productivity.
You will be working hard, of course, but you will suddenly be working smart, and what's more, it adds value to your contribution. You are suddenly more of an asset to your employers, and who knows what that might mean in the long run? Here we look at some basics on how to be the best remote worker, and what you will need to do to succeed. Remember, it may be a dream role, but if you do it right, it may be your very next role too. So what will you need? 
Communication
Obviously, you will need certain tools, like a stable Wi-Fi connection, laptop, etc. You will have to communicate with others, but working remotely and the right team collaboration software allows for more focused communications, with less waffle and more detail. Because you do not have the benefit of face to face at all times, your descriptive skills will improve and you will be able to get your point across more succinctly.
Time Zones
Your team may be global, and team members may not always be online when you are, but offline file syncing means your contribution to the project is automatically uploaded to the shared workspace whenever you have an internet connection.
Nothing
Suddenly, no time is spent doing nothing – as can often be the case in a traditional office environment, with gossip or undue time spent on the consideration of irrelevant emails. Your communications will be project-led, targeted and productive, meaning that time is no longer wasted and more can be done over the course of a day – which will not go unnoticed.
Peace
Having a quiet area, or peaceful moment away from "chatter", or from noise such as ringing phones, text messages or the hum of nondescript kitchen activity, can really help focus the mind and improve creativity and thought. This within a traditional office environment is rare, so make the most of it when you can.
Work Area
Ideally, you should have an area reserved for work that can be closed off after a day is done, so that it doesn't intrude into your home life. Likewise, home should not encroach upon your working day. There is a need for delineation.
Breaks
At the office, you would naturally get up, go for a wander, have a chat to a colleague, and so at home you should have breaks away from the project you are working on. Make them structured and even-timed. If you do not factor in proper breaks your productivity will eventually begin to suffer, as will the quality of your work.
Scenery
From time to time, make a change, go out to maybe a library or coffee shop to work. Glasscubes facilitates remote working, meaning you can continue making your contribution wherever you feel most productive. Online collaboration allows for this degree of freedom and independence, so use it to your advantage.
Travelling
On a trip out of town? No need to let your time away become an obstacle to productivity. If you wish to continue working, you can, whether you're in the garden, on the train, enjoying an impromptu picnic, or on the coast. That's the beauty of online collaboration – you remain as connected as you need to be.
The benefits of being a remote worker can be felt as much in your personal life as they can in the cold, hard evidence of the work itself. All you have to do is understand how to get the most out of being remote.
Glasscubes is a user-friendly collaboration software for teams. Connect everyone that you work with in an online workspace that improves the way you share files, manage projects and communicate with each other.
For more information, contact us by calling +44 (0)20 3274 2310 or email us at enquiries@glasscubes.com
Follow us on Twitter and Facebook for more industry related news and topics.