Back to blog
Your Go-To Guide For Construction Project Management
on 6 November 2018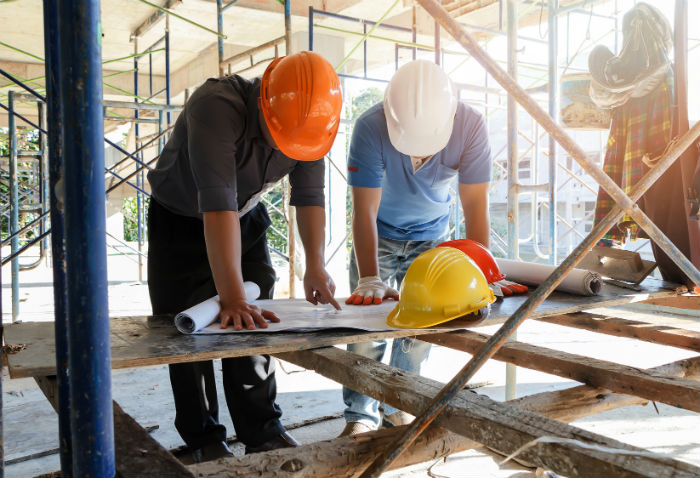 Like other disciplines, construction project management (PM) deals with the standard scope, time, and budget concerns. However, there are several aspects that make managing a construction project unique compared to the likes of a software development or writing project.
To highlight these distinctions, we reached out to veteran project manager Brian Lutzio. He has over 20 combined years of experience across construction project management, mechanical engineering, and procurement. He's also managed construction projects ranging from $1 million to $2 billion, making him well-versed in all aspects of these complex undertakings.
As we explore the finer points of construction project management below, Lutzio provides expert recommendations and examples from his experience to ensure your construction project proceeds with minimal hassle.
What unique challenges are associated with construction project management?
Physical assets add complexity.
"Remember that you're building something. So, there are lots of moving pieces—both conceptually and physically. That's what is different about construction. In other PM disciplines, you're not dealing with a large physical footprint or the tons of equipment it takes to saw wood, move steel, or pour cement. It takes a lot to create or modify a house or manufacturing facility. Whether industrial, commercial, or residential construction, you have to coordinate to the Nth degree to keep everything and everyone together," Lutzio shares.
Cost and schedule overruns are common.
Like any project, labor represents a substantial portion of the budget. Unfortunately, human productivity and efficiency is severely lagging in construction compared to other industries.
Lutzio explains why: "Oftentimes, this is due to the poor coordination of raw materials and equipment, which can quickly diminish your budget. What looks like a $5,000 mistake initially could easily multiply to $50,000 when you consider the human and equipment dependencies. For example, having to keep a rental crane for an extra few days due to misestimating how long a segment of work takes could cost thousands.
"Money is being spent across the industry to solve this problem. But from what I've observed, it's not working."
Naturally, such errors also impact the schedule. Misestimating work pushes finish dates back, which could have a domino effect on other planned work and material deliveries. Even small mistakes can create huge headaches.
Injuries and liability come into play.
Construction sites and equipment present the unfortunate and unavoidable reality of people getting hurt. Whether due to personal negligence or equipment mishaps, injuries are more commonplace in construction than other projects. In fact, Eurostat cites over 1/5 of all fatal accidents at work in the European Union were in construction (2015).
"This calls into question the safety measures employed at job sites. I stress safety above all else on my projects, as I want to make sure that everyone on the project goes home in the same state they came in," Lutzio expresses strongly. "From a business standpoint, there are also liability concerns—who's accountable legally and financially? That's handled in the contract."
What key areas should be included in a construction project management plan?
A construction project management plan sets the stage for how your project will proceed. Without proper planning, your project runs a higher risk of being over budget, behind schedule, and possibly not even completed. (Tweet this!)
"A successful construction project starts with a solid plan," Lutzio says. "But you need the right people providing input for the plan to be worthwhile. They need to have specific knowledge and experience of construction projects.
"After creating the plan, it needs to be updated frequently—cost, schedule, all aspects that have an impact on project success. After hiring contractors and gaining a better understanding of real costs, you'll invariably realise the initial estimations are not accurate. You must then update accordingly and measure against the plan moving forward."
While each section of the plan plays its part, Lutzio emphasises three areas.
Safety
With human life and health on the line, safety is a prime concern that must be fully addressed in the plan. Detail on-the-job risks, corporate procedures, job safety analyses (JSAs), and required personal protective equipment (PPE) such as gloves and steel-toed boots.
"Hand injuries are typically the most common on construction projects, so getting down to the nitty gritty of which glove type and size is best for the job is a reasonable level of detail. You also need to describe the behaviors and mindset people need to have while on site. Make 'safety first' something everyone focuses on. In most cases, even assigning personnel to safety-focused roles is a sound approach, such as one safety manager for every X number of laborers (30 to 50 is not uncommon)," Lutzio explains.
Project Controls
This is another area Lutzio puts a lot of time and emphasis on. Controls around cost and scheduling are important for ensuring the project remains feasible. "Even if the technical competency is there during the design and planning phases, that doesn't necessitate the project going well or efficiently over time," he calls out.
What elements are needed for controlling the project?
Baseline—This gives you an initial set of resources to execute the project on. Anything that comes up outside the baseline should be addressed as a change order with the appropriate stakeholders, whether that be in the form of additional funds, time, or other resources.
Progress Measuring—First, you must define how to measure progress, then you create reporting around it. For example, what does being 50% done mean? What must be completed before being able to make that claim? In addition, are the schedule and budget on track with scope progress?
Contingencies—To mitigate the chances of your project going off-track, outline predetermined courses of action and recovery methods for identified risks.
Communication & Change
Communication and change go hand in hand. When change on a project occurs—as it always does—you have to document and communicate it to the appropriate stakeholders. Failure to communicate even minor changes could negatively impact the project, spinning things out of control. In addition, you may need approval before making certain changes, which may require additional funding or client approval.
An example of a seemingly "small" change: "There's always something that isn't planned—a shipment arrives late, several laborers don't show up, equipment isn't available when needed, an out-of-scope effort presents itself as something easily handled.
"That last one is especially tricky. I reiterate that any effort outside the baseline needs to be handled through a formal change order. Even if the effort seems quick and easy to handle, there's often an unforeseen aspect (or two) that will make that effort longer than anticipated. And if you don't do a change order before putting forth the effort, you have to bear that cost and may not ever get it reimbursed."
Types Of Construction Project Management Software
Numerous software products are applicable to construction projects:
AutoCAD for general design and drafting. It's a popular program used for all types of design applications, including blueprints.
RISA 3D for structural engineering design. Similar purpose as the preceding, but more suited to large structures.
Microsoft Project for general project scheduling and planning. It's a standard tool that's been used in construction and other disciplines for many years.
Glasscubes for mid-level construction projects with moderate complexity. It's simple to set up and popular with users.
Primavera for project scheduling and planning as well. However, it's arguably more robust than Microsoft Project, making it more suited for extremely complex projects with thousands of dependencies.
Bellwether for procurement (buying equipment and other resources).
Aconex for document management, since there are tons of documents on construction projects. It's an Oracle product, so it's established in the industry.
Keeping track of laborers, documents, and change orders has never been easier than with Glasscubes.
Glasscubes helps keep your construction project on track—from breaking ground to the grand opening ceremony. Create separate workspaces for different stakeholders—an intranet for project personnel and an extranet for the client, for example. Manage resources and tasks from project start to completion. Control documents easily with the check-in/check-out feature. Communicate change orders to key stakeholders with threaded conversation to ensure everyone's on the same page.
Get the comprehensive SaaS solution that fully enables project management—from file sharing to communication and more. Start your free trial today.