Back to blog
Accounting Website Design: 9 Examples From Firms Around The World
on 30 September 2022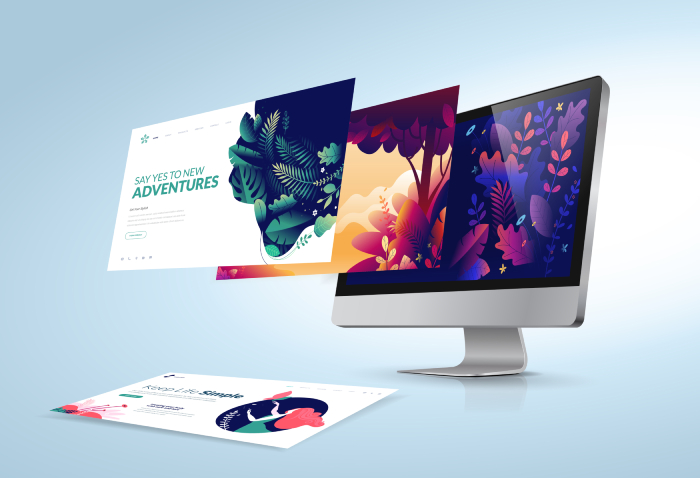 Your accounting firm could be the best in the industry, but prospects won't get to experience the value you provide if they're turned off by your website. Yes, in addition to growth, client experience, and pricing, you must also consider your web presence.
Your accounting firm's website design is important because it reflects your company's vision and your brand.
But that doesn't mean you can't look to other accounting websites for inspiration. To that end, we reached out to accounting, marketing, and design professionals and asked them to share the accounting websites they believe are particularly well-designed. Check out their top picks and reasoning below to inspire your own design efforts.
9 Examples Of Top-Notch Accounting Website Design
"Accounting websites with well-considered color schemes always catch my attention," says Francis Fabrizi of Keirstone Limited. "The color scheme is one of the first things a website visitor notices, and it can either turn visitors away or draw them in depending on how well it's executed."
Fabrizi says Islebook-keep's color scheme was inviting and inspired him to learn more about the company. In his exploration, he discovered another desirable element: "I like the personal elements it incorporates—being able to see the faces of the accountants is comforting, especially as you likely won't meet the accountant face-to-face since so many are now working remotely."
This site is another of Fabrizi's favorites, primarily because the firm clearly lists its services in an interactive menu on the home page. "You immediately know what the firm can do for you and, assuming you're looking for those services, decide whether it's worthwhile to read the descriptions of those services and keep perusing the site."
"Most accounting websites don't provide a price list—instead, the firms opt to have you contact them directly for a quote," says Fabrizi. "Accounted For has done something interesting by including an in-depth questionnaire for prospects to complete. While lengthy, you receive a clear quote at the end that delineates between upfront costs and monthly fees."
Why does Fabrizi like this design element so much? Including the questionnaire is beneficial for both parties. The prospect knows how much the firm's services will cost and can decide whether to move forward. The firm has, in a few ways, prequalified the prospect prior to them reaching out.
"Indevia's website makes it immediately obvious what the company does with the tagline 'The Trusted Accounting Solution' at the top of the page," says Dean Kaplan of The Kaplan Group. "Many accounting websites make the mistake of being so enamored with beautiful images, complex animations, and fancy design that they forget to state what they do."
In addition, Kaplan says he likes the site's use of quirky illustrations because it "gives off a friendly, informal vibe and makes the design stand out from the typical glossy corporate images featured on other accounting websites."
"Perkins Accounting is a standout in accounting website design because it goes against the stereotypical grain, adding some warmth and highlighting company culture with a video of their team at work and smiling for the camera," says Marina Vaamonde of HouseCashin. "Wherever you can bring attention to the great people behind your business, you'll build trust, credibility, and stronger brand memory."
Ruben Gamez of SignWell believes a characteristic of good accounting website design is making effective use of white space. "In that manner, Pearl Chartered Accountants' website is a great one to emulate. Often, less is more, because this minimalist approach makes the text and images on the site pop."
Gamez also notes that the firm splits its services into separate landing pages for specific accounting needs, which maximizes SEO. By creating service pages like Accountants for Landlords and Accountants for Contractors, the firm is using crucial keywords that can help boost its Google rankings on several accounting-related queries. "The firm implements a well-rounded SEO strategy while informing users of its specialties."
"This website highlights some crucial stats on tax savings that are prominently displayed above the fold, so users don't have to scroll to see the potential benefits of their services," says Fernando Lopez of Circuit. "The quicker you get down to business, the more likely users will read your message instead of navigating away or closing their tab."
Lopez notes that the website's call-to-action (CTA) buttons are also placed in prominent places, making it easier for prospects to reach out. "The primary purpose of your site is to convert visitors to clients, so these buttons need to be located appropriately, clearly state their purpose, and be large enough to easily click, even on smartphone screens. Accounting Partners addressed all these points with their CTAs."
John Li of Fig Loans says Gurian CPA Firm designed an "excellent" color scheme. Rather than choosing primary colors as their main scheme, "the firm chose the color of money—gold. Fitting given it's an accounting firm. In addition, by adding pops of blue and dark backdrops, it's effectively created a feeling of luxury as you navigate the site. Your color scheme communicates mood and should be contrasted to create interest and draw a user's eyes to certain areas of each page."
Adil Advani of Stream Digitally says PwC's website is useful to review for both new accountants and established ones gearing up for a redesign. "The site is professional and modern, yet still approachable. The design is clean and easy to navigate, which is important for any website, but especially for an accounting firm where users might be looking for specific information or want to quickly find a specific page."
Advani also thinks carving out part of the site to share knowledge is a standout design element. The site includes a lot of useful information for users, whether they are potential clients, current clients, or employees. There is a section on the site devoted to thought leadership articles and another section with resources such as tax guides and industry reports. "This shows that PwC is not only a leader in the accounting industry but also a trusted resource for information and advice."
A Must-Follow Tip For Accounting Websites
Fabrizi is currently going through a redesign of his website and shares a key tip if you're planning on doing the same:
"Use a temporary site that gives visitors basic elements such as booking a consultation, links to social media, and contact information. A single page will do. This is essential to avoid missing potential clients until the new site goes live, as sometimes the design process may take a while."
After redesigning your accounting website, consider redesigning the client experience with Glasscubes.
Your shiny new website is sure to bring in more clients, but how do you ensure you're equipped to handle the higher workload without dropping the ball? That's where Glasscubes, an all-in-one collaboration solution and client portal, enters the picture.
Glasscubes helps accountants collaborate seamlessly with clients so you can focus on delivering great work and building long-lasting relationships. Keep track of multiple client projects with customised workspaces, securely store and share sensitive documents, assign tasks to clients or employees to complete, and more.
Glasscubes enables you to:
Gather information from clients in a timely manner and automatically chase overdue or missing items.
Simplify communication with clients and strengthen your working relationship.
Ensure information is acted on as it is received by replacing repetitive actions with a custom, automated workflow.
Glasscubes is also security-minded: All data is protected by SSL encryption, and distributed across multiple physical locations across the UK to ensure high availability.
If you'd like a demonstration or want to see how other accountancies are using Glasscubes, learn more here.