Back to blog
Ditch Spreadsheets and Get Your Practice Back on Track
on 9 May 2023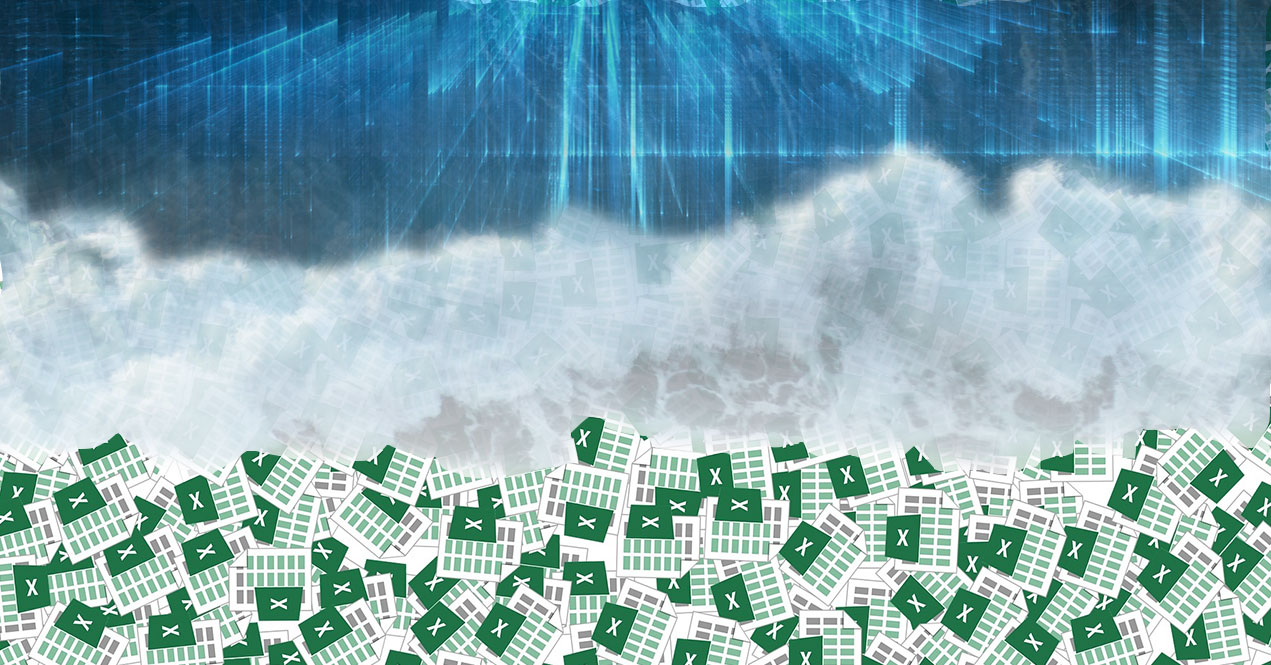 Spreadsheets. For accountants, they're a fact of life. From the one-person practices to teams of decision makers in large multinational businesses, spreadsheets are central to all manner of projects and tasks.
Although it may be hard to picture life before Excel, some forms of spreadsheet have been used to crunch numbers for hundreds of years. Paper, pencil, and the dreaded erasers made way for digital documents in the 1960s, and then in the 1980s the granddaddy program of them all entered the picture and revolutionised business all by itself. Originally called Multiplan in 1982, Excel was renamed by Microsoft in 1985 and the rest is history as it transformed the accounting profession with such force that Planet Money dubbed the electronic spreadsheet "the language of finance".
Just over a decade later 1996, Microsoft revealed it to be the world's most popular spreadsheet application in a press release hailing 30m users with lots of illuminating testimonials.
That was 26 years ago, however, when there were only 100,000 active websites on the entire internet and the Spice Girls were top of the Christmas charts. Although much has changed in accounting (and music) over the decades, the addiction to spreadsheets is one aspect where many accountants remain stuck in the past.
The risks of over-relying on spreadsheets
Excel's flexibility and ubiquity – it is now used by around 1bn people according to Microsoft – means it is often stretched beyond its means. Project and resource mapping, and keeping track of outstanding client requirements, are just a handful of examples of where better, more targeted software is available, and that's before we even dig into issues of errors creeping in.
Some of the biggest flubs in accounting history, including a famous blunder at JPMorgan where an incorrect Excel entry led to a loss of more than $6bn, stemmed from over-reliance on a spreadsheet in lieu of using more suitable solution.
It's a different world today where advances in cloud computing and online collaborative workspaces allow bookkeepers and their clients to work on things together, at the same time, wherever they are in the world.
Why it may be time to step away from the spreadsheet
Human errors are not worth it
According to Market Watch, up to 88% of spreadsheets contain mistakes, which isn't overly surprising given they're compiled by humans. "Nobody likes to think they can duff up something as simple as putting numbers into a spreadsheet, but it's surprisingly easy and it's happened to the best of us at some point," says Michael Godsmark, managing director of Woodville Accountancy. "All it takes is a tired brain on a deadline, an unexpected distraction or an unfortunate case of fat fingers."
One wrong formula could mean a botched tax calculation, a ticking off, or even a fine from HMRC, Michael says, which in some circumstances could mean curtains for the business. Several CFOs at major corporations have told staff to stop using Excel, as the errors that repeatedly occur are becoming too expensive to justify its use.
Your not-so-flexible friend
How did a bit of digitised graph paper with some hidden scripts built in become so unwieldy you need a PhD in computer science to get a song out of it? Well, that may be an exaggeration, but even with all its wonderful macros and other tricks, Excel falls short when the job at hand is to stay on top of certain projects and deadlines where client engagement is required. 
Software with the power to craft automated workflows can bridge that gap. Particularly around busy season, forward-thinking practices are adopting automation to reduce the need for human input and ensure data flows around forthcoming reports are where they need to be.
Spreadsheets also lack the functionality to continually update team members or whoever else is in the loop on project critical matters, whereas curated online workspaces allow for targeted conversations regarding missing information or other outstanding data.
But sharing is not always caring
Excel gained cloud functionality a while back, but that doesn't make it the best option for many collaborative accounting projects.
Sharing a spreadsheet where the contents need to be constantly updated, such as matters of availability, skills and cost expectations, or client data submission efforts, is a recipe for disaster.
There are workarounds and formulas for most things, but these methods are not sustainable, especially around large reports where efforts are fluid and people are constantly moving around. Again, it's often not the software itself that is responsible for errors, rather how it's used, particularly in high-risk situations.
Centralised platforms with dedicated collaborative functionality are built specifically to handle tasks such as scheduling, or balancing multiple deadlines across multiple clients. Automated workflows can generate alerts whenever there is a clash, while secure workspaces allow teams of any size to share live assets in seconds.
Over-reliance on spreadsheets is bad for business 
JPMorgan had six billion reasons to ditch spreadsheets, but there is one overriding motive for accountants to look elsewhere; time.
Spending endless hours updating custom spreadsheets is a productivity killer along the lines of leaning too much on email, which can seriously harm the bottom line.
The best practice is to augment Excel and its equivalents with software that complements their strengths, knowing where a spreadsheet does the job and where alternative specialist solutions can significantly bolster efficiency and eliminate manual errors.
Adopting new technology can be a challenge, but doing so will allow you to create a more streamlined and efficient practice, without losing yourself in a never-ending sea of Excel tabs.
Set yourself and the team up for success
Have you ever managed a team's workload using a spreadsheet? Perhaps you haven't, but are you having difficulty prioritising or delegating work effectively to your team? Check out our 4 Step guide to effective workload management.
Are you motivated to take the stress out of those last-minute rushing of deadlines? Effective workload management can really take the stress out of the process and make things run more smoothly. Contact us and let us explain how we can help.