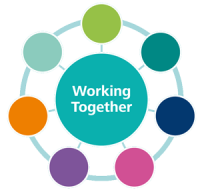 WORKING TOGETHER PARTNERSHIP are one of 13 acute care collaborations, which have the aim of linking local hospitals together to improve their clinical and financial viability. Six months after migrating from Huddle to Glasscubes we asked Andy Baker, their migration lead and Procurement Specialist, for his feedback on the migration and how their users had adapted to the new platform.
What were your main concerns when considering migrating from Huddle to Glasscubes?
"Our main concern with migration was the loss or corruption of data stored in the existing platform."
Were any of your concerns subsequently realised during your migration?
"None of our concerns were realised."
Is there anything that the Glasscubes Migration Team could have done to improve your transition?
"I don't think there was anything more your team could have done."
What user feedback have you had?
"Feedback has been very positive, especially as you had the time to spend with our Comms Lead and brand the landing page."
Do you have any other comments or feedback for us?
"No further feedback other than to wish you continued success from a satisfied client."
ANDY BAKER


Procurement Specialist, Working Together Partnerhsip